Right up to the day before her flight to Bangkok on 18 March 2023, School of Management and Communication (SMC) student Swee Qiao Ting was still busy going through her packing list to make sure she hadn't missed out anything important.
"This is the first time I'll be away from my family and friends for five months! So, I felt a little anxious but also excited at the same time," said Qiao Ting, 18, a third-year student from RP's Diploma in Business programme who would be interning at the Chulalongkorn University in Bangkok.
Together with her is her schoolmate, Nurul Amirah Binte Mustafa, 18, also from SMC. Amirah said: "I think going for internship itself is a huge challenge but going overseas to complete my internship programme is a new challenge for me. I'm worried if I am capable of being independent to survive overseas for five months without my family."
Their apprehension aside, both of them shared that they are looking forward to the next five months in the Land of a Thousand Smiles.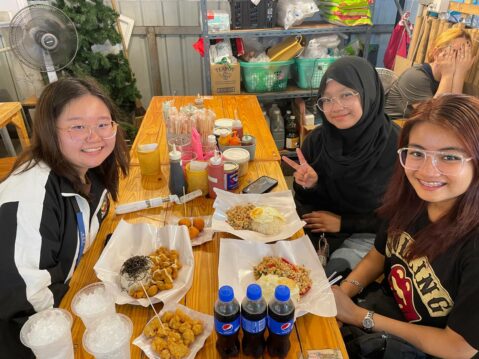 HOME AWAY FROM HOME
According to RP's Office of International Relations (OIR), 38 students representing 15 diplomas will be interning in Thailand in Academic Year 2023 Semester 1. Except for two School of Applied Sciences (SAS) students who will be based in Pattaya, the rest will be serving their internship in Bangkok. This is one of the largest number of students interning in any country in any semester.
Besides Chulalongkorn University, the RP students will be interning in prominent organisations such as Underwater World, DHL, and Triumph Aviation.
According to OIR, one interesting project that students interning at Chulalongkorn University will be working on is the "Bangkok Cultural Sites" programme.
Chulalongkorn University with support from the Bangkok Metropolitan Administration created a compendium to showcase cultural sights and heritage in and around Bangkok in a book.
The interns in interdisciplinary teams will apply what they learn from their diploma to bring to life the cultural sites captured in the book by Chulalongkorn University. Besides that, they will also have an opportunity to host activities, learn new skills and apply their skills sets in a dynamic environment.
OVERSEAS EXPOSURE
OIR Director Dr Terence Chong said: "After being indoors during the pandemic years, travel has resumed and we are glad that RP students are taking the opportunity to go out and explore the region.
"While Student Overseas Trips and International Service-Learning Projects provide good exposure to students, there is no better opportunity than an Overseas Internship. Students not only gain hands-on experience interning in reputable organisations, but Overseas Internship is about self-development – deeply understanding overseas culture, improving your communications skills, adapting to change and sometimes adversity and making life-long friends, which students may be able to call upon many years after graduating from RP."
There are other RP Students interning in Vietnam, Indonesia, Maldives and New Zealand in Semester 1. In Semester 2 as more countries open up and travel resumes, OIR expects more internship opportunities for students in the ASEAN, China and India region.
Madam Sheila Sawal, 46, parent of SMC student Sofia Binte Mohammad Fahmy, said: "Through this overseas internship, I hope Sofia can step outside her comfort zone, adapt to new surroundings, and work environments and develop a greater sense of independence and self-reliance. This kind of exposure to different cultures and ways of life can broaden her horizons, increase her empathy and understanding of others and make her a more well-rounded individual."