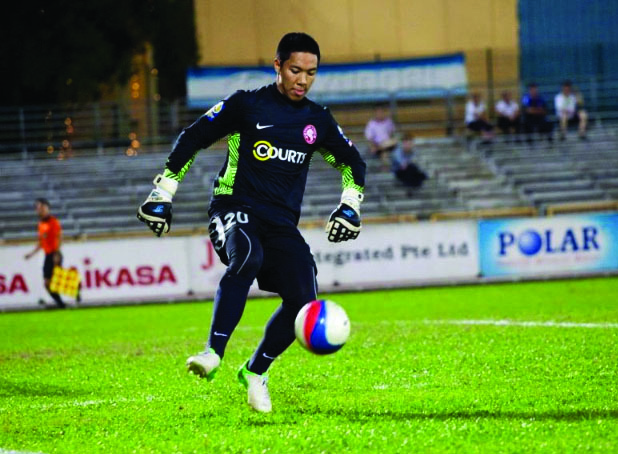 Representing one's nation is no easy task. Hard work, sacrifice and dedication are needed. The Republican Post sits down with ex-RP student Syazwan Buhari to talk about his life as a professional footballer.
Legendary Brazilian soccer player Pelé once said that success is no accident. This is indeed the case for RP graduate, Muhammad Syazwan Bin Buhari. The Young Lions goalkeeper has represented Singapore in international matches since he was a teenager.
A big part of his life has been spent on training grounds. "Depending on the fixture, training sessions can vary. During a busy game period, training can be as much as six times per week, eating up entire weekends,'' said 21-year-old Syazwan.
Despite having to fast during Ramadan, Syazwan attends trainings and matches regularly. "Coaches that I've been training under respect this period and they normally tone down the training intensity unless there's a game coming up,'' he said.
Admitting that it was easier managing his time while he was a student, Syazwan faces more challenges as a full-time NSman as he is unable to attend some trainings and matches. "Travelling is also a challenge," he added.
Syazwan also had to make sacrifices in his social life. His girlfriend, Syahirah Mohamed, 21, who supports his passion, feels the strain. He said: "Honestly, it bothers me sometimes that we have so little time together. It's not easy but we make sure we support each other."
But Syazwan is reminded that these sacrifices are worth the achievements like qualifying for the Asian Football Confederation (AFC) under-16 championship finals in 2007. "Not only because we are the first team in Singapore to do so, but to do this in front of both of my parents who travelled all the way to China to witness the qualifier was satisfying,'' he said.
The footballer, who has met famous players such as Pelé and Andy Cole from Manchester United, also had his bitter moments. "As a goalkeeper, we are the last line of defense and people will always spot our mistake when goals are conceded. The most painful was in 2007 when a mistake caused my team to lose.
We lost the chance to win the tournament, where the prize was to represent Asia in the World's final which was held in Old Trafford, home ground of Manchester United."
Local support
Having travelled abroad for competitions, seeing a full house at the stadium is something he looks forward to whenever he competes overseas. "Let's say we go to Indonesia, even if their field is not well maintained, the stadium is always full of spectators," he said, something he hopes to see in our stadiums for local matches.
However, he also feels that things are getting better for local soccer players.
"There is better support and  the younger boys have a chance to go overseas. There were not many people watching the S.League before. Now, every club has their own fan base," said Syazwan.
No matter how wonderful the glory, Syazwan knows that a football career is short-lived. "As footballer, it is always important to have a back-up plan, as injury is inevitable,'' he said.
The Diploma in Sports and Exercise Sciences graduate stated that if he were not a soccer player, he would still be in the sports industry. "Specifically, I'd prefer to work closely with sportsmen – either as a physiotherapist, coach, sports trainer or part of the backroom staff," he said. But for now, he is not hanging up his boots just yet.