Walking into the BFF Climb gym at King Albert Park, you might feel intimidated.
After all, when faced with walls up towering at five times your height, loud music blaring in the back and spider-like humans sprawling and pulling themselves up the wall with no effort, you start to think whether or not you have made the right choice wanting to try out sports climbing for the first time.
However, you will soon find out that behind these walls is a sport with a community that lifts each other up – literally and figuratively.
WHAT IS SPORTS CLIMBING?
According to the Olympic Channel, sport climbing is defined as competitive climbing, and it covers three disciplines – bouldering, speed climbing and lead climbing.
For bouldering, which has seen a rise in popularity in Singapore, includes a climber following a set of routes up the wall, with points awarded based on the difficulty of the route. Additionally, it is the only one out of the three disciplines that is done without a safety rope.
Climber Goh Xuan Le, 18 , puts it simply: "Finish the route whatever way you can, with what you're given – you are allowed to do whatever you want, anything is legal as long as you pull yourself up the wall."
The climber was first introduced to the sport in Singapore Polytechnic, and soon made his mind up to join his school's rock climbing CCA, citing how the sport was picking up and becoming a trend:" I just thought to myself, it's time to pick up a sport, and I've been hooked ever since."
Another climber, Harriman Yuen, 20, cited that he joined the sport after being won over by Sasuke (Ninja Warrior) – a Japanese obstacle course show that has seen immense popularity worldwide. "I saw a lot of ninja-warrior people climbing also, so I joined climbing too."
GETTING A HOLD
However, despite the popularity of the sport, some sport climbers will confess that they had reservations and fears going in.
"Back then, I've seen some climbers twist their ankles, dislocate their knees, and it's actually quite common when people take nasty falls," says Xuan Le. "But if you take proper precaution and use the proper techniques, chances are, you won't sustain that kind of injury."
Harrison also admitted that he had 'no idea' what he was doing the first few months when he started climbing, and only improved with his coach's guidance.
As for tips for beginners to get over their fear of falling? "Don't be afraid of falling and getting injuries," he says. "Usually for climbing, you fall more than you get up (the wall)."
ROAD TO THE OLYMPICS
Even so, not many might know that the sport actually debuted at the 2018 Youth Olympic Games at Buenos Aires, where it was proven to be successful. But unlike other more mainstream sporting disciplines, sports climbing was only recently introduced to the 2020 Tokyo Olympics, alongside surfing, skateboarding, karate, baseball and softball, as host countries are allowed to propose new events to add to their programmes.
"There has been a lot of hype in the climbing community cause we've finally gotten a spot," piqued Xuan Le. However, with a global pandemic determining the fate of the Tokyo Olympics, sport climbing's debut at the global sporting event might just have to wait.
For the Olympics, the three disciplines will be completed in a triathlon format, with the combined scores at these events determining the very first Olympic climbing champions – a format that many in the climbing community are not exactly pleased with.
Despite the format, Xuan Le elaborated: "We are still glad to see that our sport is being represented in such a wide-scale competition, and for it to be cancelled this year – it's quite sad."
CULTIVATING VALUES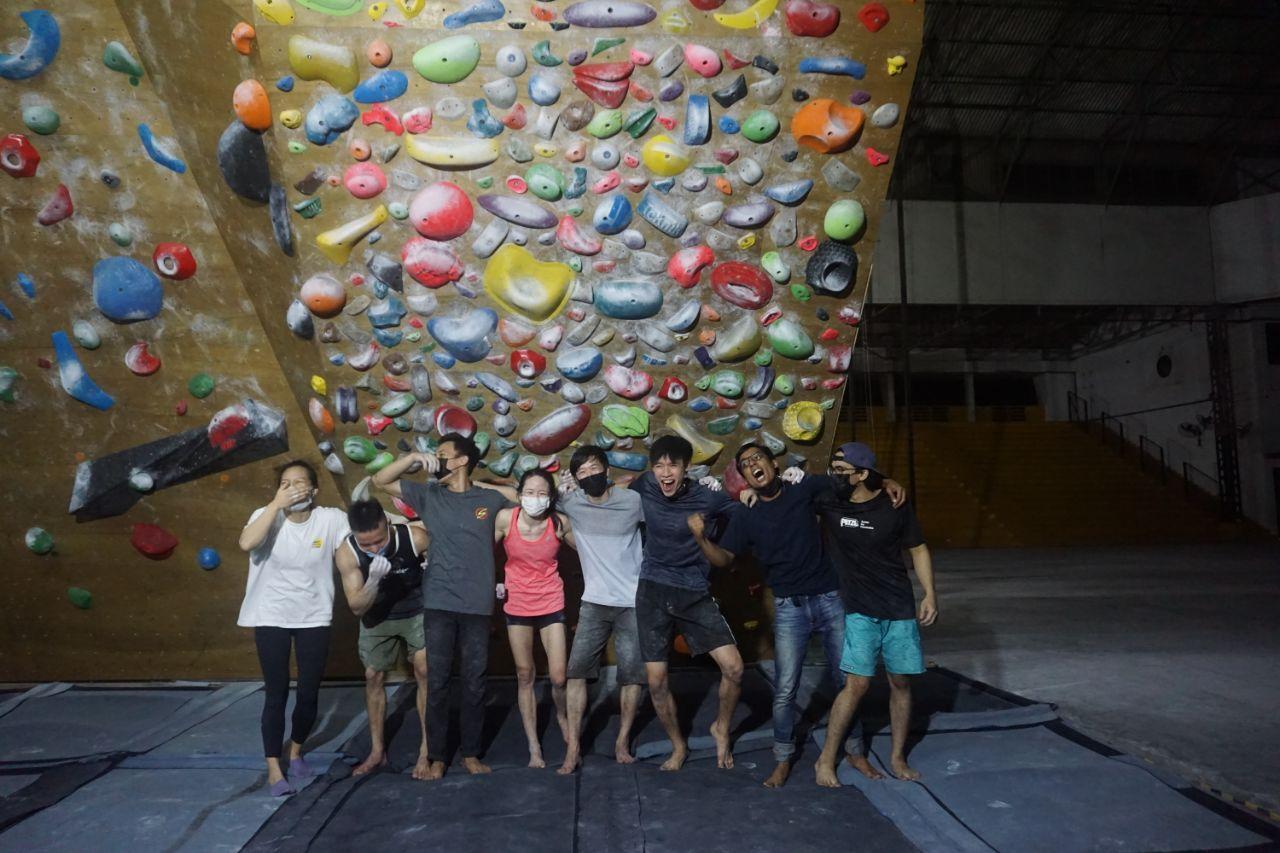 Walking into a climbing gym will show you that the climbing community is a close-knit one, especially with how everyone would stand around to cheer on their fellow climbers, even if they might be complete strangers. "Especially being such a communal sport, people stand around the wall and watch each other climb, and we all become friends."
"Like if you're walking around outside in your plain clothes and you see someone you know right, and you kind of give each other the look – it's quite like a secret society," laughs Xuan Le. "It's pretty cool."
For many, the sport enabled them to pick up values like resilience and to look at things from a different perspective, through constantly trying out difficult routes and looking at different ways to scale up the wall.
For Xuan Le, a close-call with an amputation for his finger due to an injury reaffirmed his passion for the sport, "Seeing how big the scar was, I also wondered how I would ever do it again, but I'm glad that I did."
For the future of sports climbing in Singapore, the latter had this to say: "We're headed in a good direction and we're only getting stronger."
Well, with sport climbing requiring 650 muscles across the body, you would too, once you get started.
This feature piece was written and selected as part of an industry project with SportSG for M314 Feature Journalism.