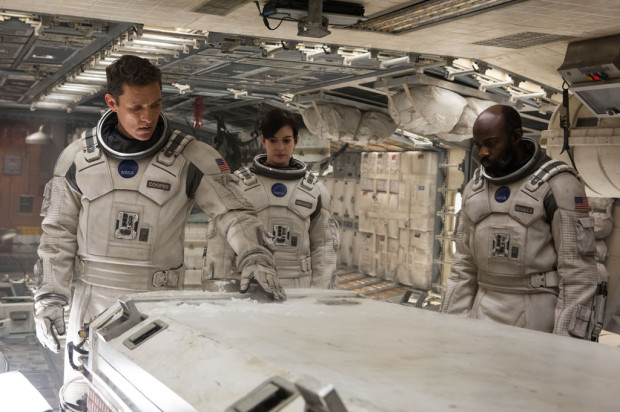 From the classics like Star Trek and Star Wars to today's Doctor Who, there have been plenty of shows to appeal to sci-fi fans. However, years of space-time-continuum movies could not prepare us for this silver screen sensation.
Christopher Nolan's Interstellar has been described by many as mind-blowing as well as mind-bending, and it can be a little difficult to follow if you have no knowledge of relativity. However, this movie added family drama to the mix, giving everyone something to relate to.
The story starts with a family in a post-apocalyptic world where all scientific breakthroughs in the past are considered myths. They live and work in a corn farm to provide food and other resources for everyone in town. But this simple life is too dull for the likes of ex-astronaut Cooper (Matthew McConaughey) and his 10-year-old daughter Murph (Mackenzie Foy).
With the help of a ghost-like being, Murph and her father discover NASA, which had supposedly been closed down years ago. Cooper is then convinced by his old friend from NASA, Professor Brand (Michael Caine), to go on an expedition to another galaxy with Brand's daughter Amelia (Anne Hathaway), Doyle (Wes Bentley) and Romilly (David Gyasi) to find a planet suitable for the human race to flourish.
Granted, the beginning of the movie is rather slow moving. But once the cast sets off to space, the audience isn't allowed even a second for a breather. Every scene will keep you on the edge of your seat.
If not for the story, watch it for the spectacular cast and their realistic, impeccable performances. McConaughey gives a raw and heartfelt performance, especially when displaying his close knit relationship with his daughter.
Jessica Chastain, who played the adult version of Murph, is a key character in the story, and she gives a convincing portrayal of a daughter who follows in her father's footsteps and yet resents him for leaving her when she was a child.
For Anne Hathaway, her role in this movie is completely different for what we are used to seeing. This is the first time we are seeing her in a role of someone in the scientific field and she effortlessly played it. As the lead scientist on the expedition, the team relies on her to find the suitable planet to save the humans from extinction.
Even if no one in the cast is your favourite, watch the movie for the visuals. The cinematography and effects in this movie are hypnotic, displaying space in such a stunning manner that the audience feels both fear and awe. Planets, wormholes, suns – they are all spectacular and deserve to be enjoyed on the Imax screen.
Special mention has to go to the music. The soundtrack by Hans Zimmer, whose last Nolan film was The Dark Knight, plays a huge role in keeping the high-strung mood of the movie and adds to the majesty of the space scenes.
Overall, this movie is one to remember. Very highly recommended.