While most people know Laanya Asogan as the dark-eyed darling of the local pageant scene, one little-known fact about the 21-year-old is that she used to be a rough-and-tumble tomboy.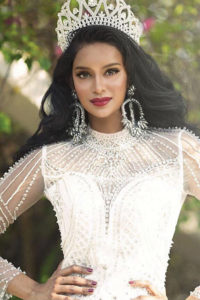 As a primary school student, the Sports and Exercise Sciences student who graduated in 2016 could often be found in a tee-shirt, shorts and sneakers – a departure from the feminine jumpsuits and dresses she sports today. "I was very athletic. I was all about getting out there, getting dirty, getting tough," said the former Dunman Secondary School basketball player. "My mum would insist that I was the dirtiest girl in Singapore."
"If I was told that I would be Miss World Singapore one day, I would yell and cry. I never thought I would be cool enough," laughed Asogan when asked how her nine-year-old self would react if she knew she would clinch the title at her pageant debut.
All through her school life, the only competitions she participated in were sports-related and were never based in the pageant industry.
And then the Miss World competition came up last year. Spurred on by Asogan's mother and her best friend Lisa Marie White – who was Miss Universe Singapore in 2015 – she decided to throw her hat into the ring as a fun adventure. She wanted to try something different, to challenge the superficiality of pageants.
Becoming Miss World Singapore
"I wanted to be adventurous. I wanted to understand what it was like to be in the shoes of a beauty queen. I wanted to have a taste of that life, and to see if it would change me," said Asogan. According to her, the win was "the biggest shock of my life".
With little to no knowledge about pageant competitions, Asogan relied on her mother, or as she calls her, "Momager", to help her do research on the competition and its previous winners. Chandrita Asogan, 49, was part of the Singaporean modelling industry in the 90s. She was on the cover of Motherhood magazine in the 90s. With firsthand knowledge of how gruelling the industry can be, she was able to give tips to help her daughter.
Asogan says that learning and sharing about the diversity of cultures was one of the many highlights of her experience. One of her best memories took place in Sanya, China, where the competition was held.
She was able to bond with fellow Miss World contestants such as Miss Kenya and Miss Hong Kong through the camaraderie they developed over the challenging and demanding process.
Despite just being crowned Miss World Singapore, Asogan has never been a stranger to fame.
Her debut on the small screen
Prior to clinching the title, she starred in Sent – HBO Asia's first comedy-drama series which debut last September – where she played main character Jay's fiancée. It was her first time working alongside popular local actors such as Haresh Tilani and Adrian Pang.
"The best part about being on set is that you're being treated like a queen. They make sure that you're on set and will get everything done. It was the best time of my life," said Asogan.
Besides dabbling in acting, Asogan aspires to play a more active role in the local theatre scene. She works at pop-up restaurant ANDSOFORTH as a freelance performer. At the quirky nomadic restaurant, actors perform a scene of the chosen storyline at each meal – such as Alice in Wonderland.
Performers serve and interact with patrons in character, and one of Asogan's first roles was as the Cheshire Cat from Lewis Carroll's classic fantasy.
"Working at ANDSOFORTH has taught me to be more expressive in my acting and to pay more attention to the audience," said Asogan.
However, things have not always been smooth sailing. Last November proved to be a tough period for Asogan, who had to manage an extremely busy schedule.  Besides working around three to four times per week doing ad hoc modelling and dancing gigs, she has lessons in the day at Kaplan Singapore, where she was pursuing a degree in Psychology.
Asogan found herself struggling to keep up with her school work. "Over time, I realised that I cannot be a robot, and I have to choose my battles. So, I chose to do lesser jobs and to focus on my studies," she said.
As she alternated between sleeping, working, and studying, she had to sacrifice her social life. She was unable to meet up with her friends often, which led to misunderstandings between them.
"A lot of my friends haven't been able to tolerate my lifestyle. Some of them gave up, and that's when I realised that these were not the people for me."
Despite her hectic lifestyle, Asogan has one bulwark against her struggles – her mother.
"My mum is my strength, she helps me get through everything. When I come home with a sulky face, she knows what to do. She cheers me up and takes me out for dinner. My mum is my best friend, she knows how to fix me. That's what she's been doing my whole life."