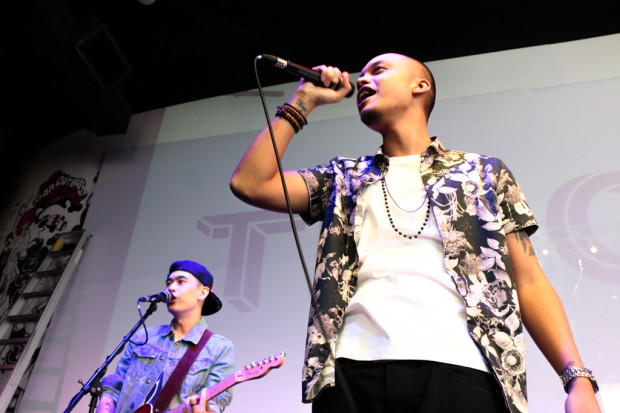 At Trick's maiden showcase, the hip hop duo's warmth and interaction with their fans was as memorable as the music they churned.
Marc Lian and Richard Jansen performed as newly signed Sony Music artistes at Hood Bar on Sep 27. The crowd of 100 were treated to 45 minutes of Trick's past and new songs, characterized by their signature fast-tempo lyrics.
The duo kickstarted their performance by performing one of their original compositions The Life, followed by covers of various K-pop songs, such as Ringa Linga by Taeyang or Who you by G-dragon that they tweaked to match their identity. The lyrics were changed to fit into their own personal styles and arrangements.
After the covers, Trick went back to their own material, namely hit single Up All Night and the catchy BPM, which Lian and Jansen explained was written about having feelings for someone.
Throughout the performance, the duo constantly talked with the crowd, asking them to come close to the stage and reminding them to support local music. The crowd responded in kind, singing along to their familiar hits. At the end of the evening, these fans flocked to the meet and greet booth in the bar for autographs and photos.
A pleasant surprise also awaited Trick – champagne bottles were popped and a cake presented by their diehard fans to celebrate their latest milestone.
Trick ended their set with an acoustic version of their latest single "Sunshine". The audience was all smiles and sang along to the lyrics, and it must have warmed the hearts of the duo as these fans have been with them since the beginning of their journey.