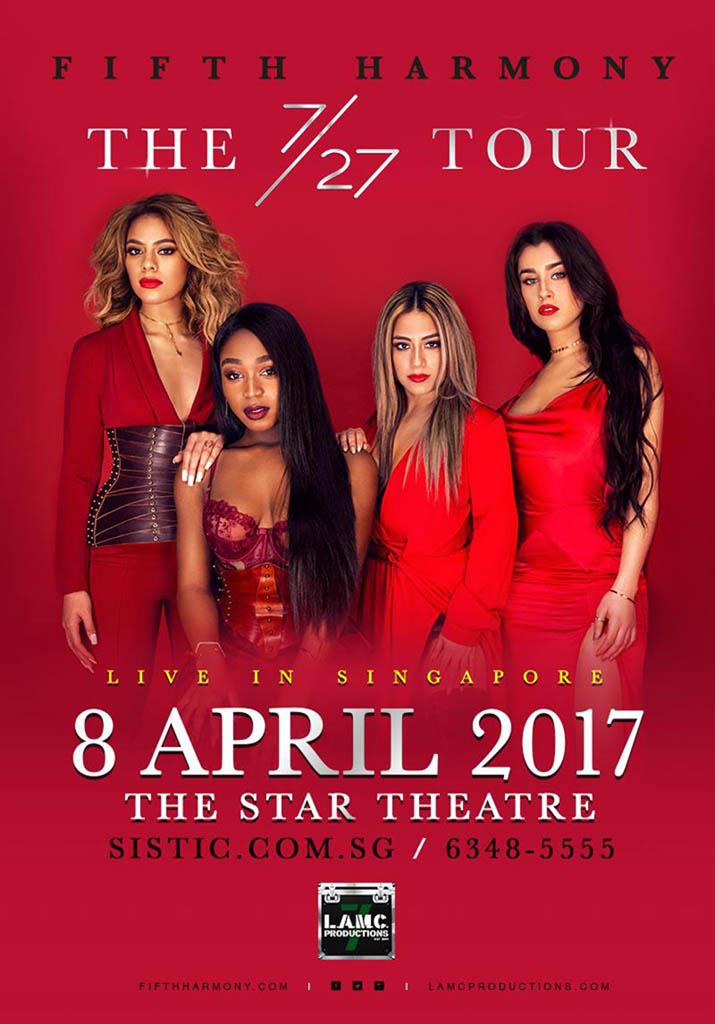 When the lights went out at 8.18pm at The Star Theatre on April 8, there was a sudden surge of energy as fans of Fifth Harmony screamed their lungs out to welcome the quartet's first performance in Singapore.
Although the 5,000 seater auditorium was not filled to the brim, the crowd support more than made up for it.
Formed in July 2012 on the second season of X Factor US, Fifth Harmony was signed to Simon Cowell's record label Syco after finishing third in the reality TV singing competition. The group was originally made up of five members Ally Brooke, Dinah Jane, Lauren Jauregui, Normani Kordei and Camila Cabello. But Cabello left her squad in December 2016 to pursue her solo career.
Despite losing one member, Fifth Harmony's new vocal distribution showed no signs of any weakening. The set list for the night contained songs with upbeat and slow melodies which showcased each member's unique vocal range. Dinah's ad-libs in Worth It and Ally's high note in This Is How We Roll were simply mind blowing.
Loudest cheers on the last leg
Fifth Harmony opened the Singapore leg, their last one, of The 7/27 Asia Tour, with their chart-topping, girl power anthem, That's My Girl. They really underscored the term girl power with the all-girl live band that backed the quartet for the night.
After the first song, Lauren cajoled the audience that Singapore had an obligation to be the loudest crowd since it was the last stop of their tour. Indeed, the crowd went wild with their next song, Miss Movin' On, the group's first single.
Possibly energised by the crowd, the girls did not take any break throughout the 90-minute show. Yet, they maintained their energy, hitting their high notes almost effortlessly. Their stamina is especially impressive considering that most of their songs involved energy draining choreography.
On top of singing and dancing, the girls took turns to stop in between their set to interact with their fans, thanking them for their continuous support. Just like in any other shows, Dinah asked everyone to support their girl Normani on Dancing with the Stars, another reality TV competition, and spoke about the importance of family.
Overall, the concert was a wonderful experience, full of energy and good vibes. I must say that the presences of an all-girls live band to back their performance gave an edgy feel to their songs. Their stage presence and sincere engagement with their fans was definitely a plus point. On behalf of all Harmonizers – the groupie name for fans of Fifth Harmony – I can say that the concert was a perfect symphony and we can't wait to welcome them back to Singapore for their next tour.