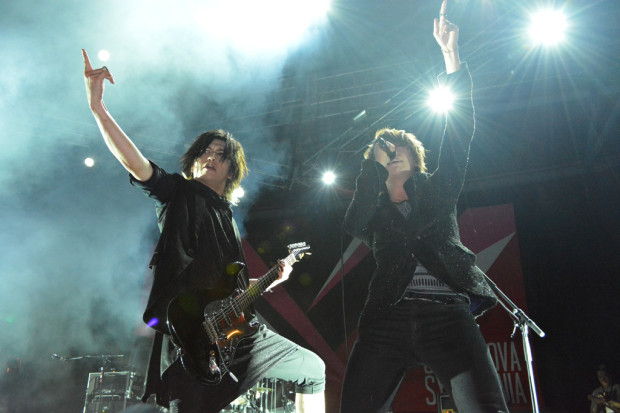 Visual-kei band Alice Nine was the latest Japanese rock band to grace the sunny shores of Singapore when they took to the stage on June 28 at The Coliseum, Hard Rock Hotel. It was their first full concert here, part of their SUPERNOVA SYMPHONIA 2014 world tour marking their 10th anniversary. This is their second visit to Singapore, the first being a short appearance during the Sundown Festival in 2012.
The intense Singapore heat certainly didn't stop their fans' enthusiasm as scores of people were seen queuing outside the concert venue a few hours prior to the start, all in hopes of getting the best view they could of their idols.
The atmosphere reached a crescendo when the members of Alice Nine – vocalist and leader Shou, lead guitarist Tora, second guitarist Hiroto, bassist Saga and drummer Nao – waltzed onto the stage. Without wasting any time, they played three songs from their latest album – Shining, +- and Seven.
The band managed to please both their new and older fans by playing songs from their current and earlier albums. They drew a raucous response from the crowd when they performed Kowloon Nine Heads Radio Show, a track from way back in 2006.
They continued to amaze the crowd by flawlessly executing many of their hits such as Blue Planet and Velvet, each showcasing the strengths of each of the members. Shou's smooth vocals were ably accompanied by the slick and precise strumming by Tora and Hiroto, while the rhythms were kept by Nao and Saga.  Throughout the concert, Alice Nine drove their fans into a frenzy with their constant fan-service moments, acting out various "relationships" within the band that any fan, also known as a Number Six, would recognise.
After 16 songs, the band quickly exited the stage but the fans weren't about to let them go. They cheered and cheered, shouting "An ko ru, An ko ru!" (encore) until Alice Nine strutted back onstage.
Before starting the music again, the band members took the opportunity to talk to the fans. Nao certainly stole many hearts when he exclaimed in strong Japanese-accented English: "My heart… my heart… my heart, cannot take it! Cannot take it!"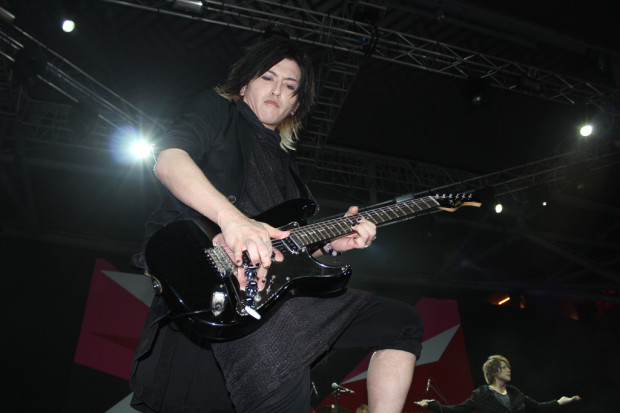 They delivered Shunkashuutou and The Beautiful Name as the crowd sang along, pounding their light sticks and fists into the air, right to the last moment, unwilling to let the night end. Some of were even reduced to tears.
Unfortunately,  all good things come to an end and Alice Nine had to take a bow after their near two-hour performance. However, they hesitated to leave the venue as much as their fans , thanking their audience profusely with Hiroto saying: "Singapore, mata ai mashou (Singapore, let's meet again)! See you again. I love you!" before finally leaving the stage.