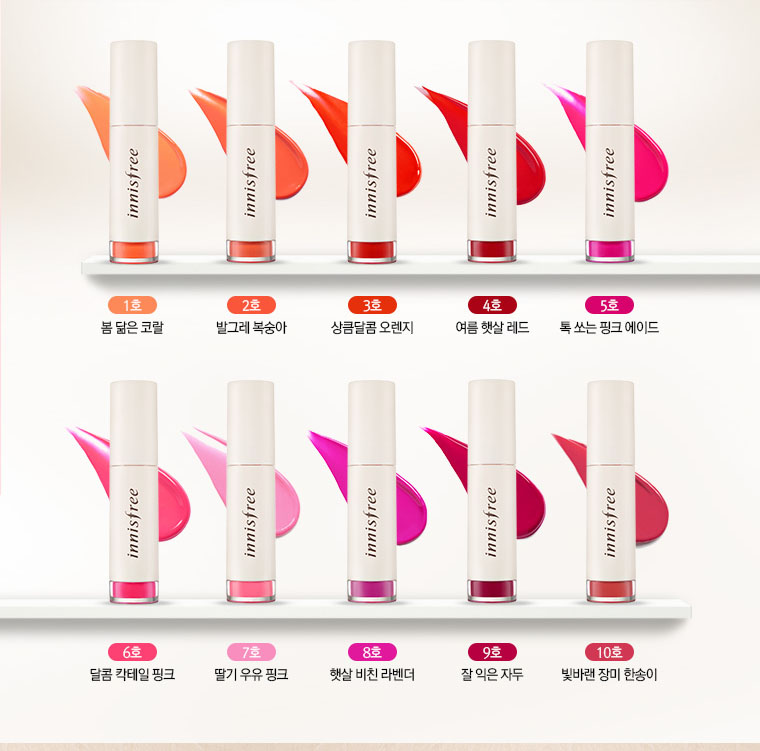 Korean beauty cosmetics have been making a name for themselves here with endearing packagings, seductive fragrances paired with reasonable prices. With more ladies wanting to look like their K-Pop idols, bright lipsticks, stains and tints have now become commonplace in their make-up routine.
The new lip product from Innisfree Singapore, Vivid Tint Rogue, features a three-in-one product: Lipstick, lip tint and lip-gloss with Jeju Camellia oil that moisturises the lips. Bid farewell to parched lips, even in Singapore's humid climate.
Vivid Tint Rouge comes in 10 beautiful, alluring shades that add a pop of colour when needed. The 10 colours are Spring-like coral #1, Flushed Peach #2, Fresh & Sweet Orange #3, Summer Sunlight Red #4, Spicy pink Ade #5, Sweet cocktail pink #6, Strawberry Milk Pink #7, Lavender in Sunshine #8, Ripe Plum #9 and Faded rose #10. In particular, Summer Sunlight Red #4 has been especially popular among consumers with its bright and long-lasting colour.
Packaging
The beige-white tube features a sleek screw-open cap with a water-sliding applicator and a thick soft-sponged, which offers a more precise and smoother swipe. The tube measures approximately 9cm by 1.9cm, making it light, handy and suited for carrying around. Its size also fits perfectly to the contours of the female hand. In addition, it features a transparent bottom that allows for easy and accurate comparison between colours and shades.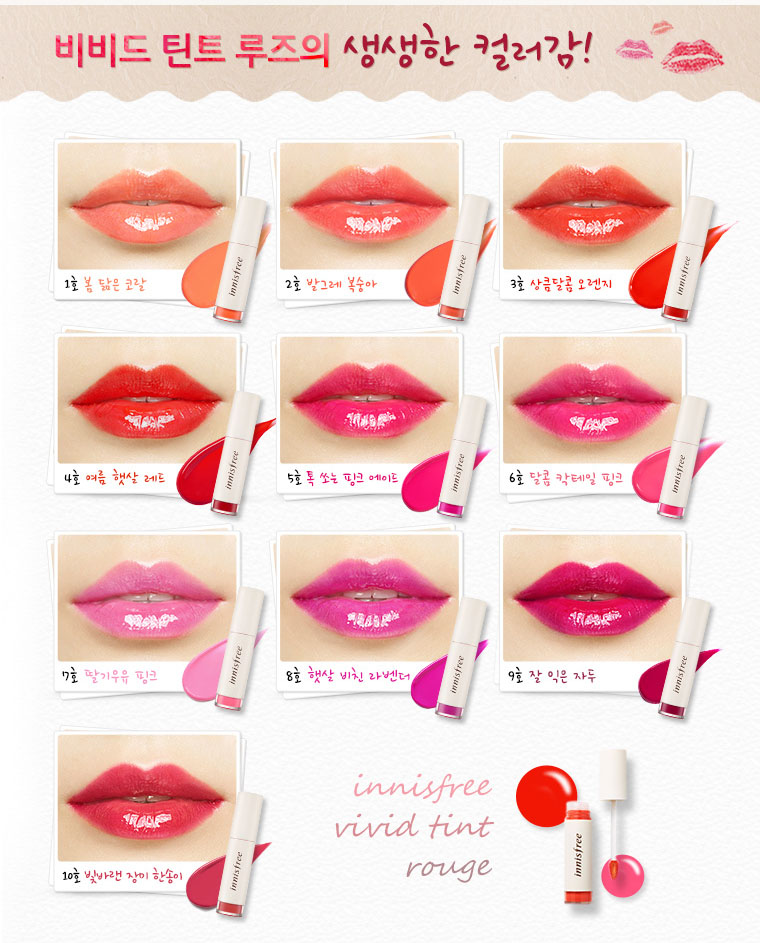 Scent, colour and taste
The lip tint has a pleasant sweet smell and cherry taste. It is also heavily pigmented, ensuring a very rich colour on application. Summer Sunlight Red #4 features a bright red shade that makes your lips look glossy and fuller. While competing lip products feel sticky on the lips upon application, the Vivid Tint Rouge has minimal to no stickiness at all.
Staying Power
As compared to other lip tint products from etude house or benefit, the colour of this product vividly stays on your lips for over five to six hours even after having your meals. This can save you the hassle of constantly visiting the ladies for touch-ups.
Even if the colour fades throughout the day, you will still be able to see a light rosy shade on your lips that give off a healthy look. On top of that, despite being long-lasting on your lips, it does not leave an unbearably hard stain to remove from your fingertips after application unlike competing lip tints, you can easily wash it away with soap and water and you are good to go.
Application
The intensity of colour can be controlled during application. Full-colored lips can be attained through the use of provided applicator, or can be dabbed on the lip using fingers if a lighter shade is preferred.  Personally, I prefer dabbing the product for a more natural daily look while still providing a tinge of colour.
A full-lip application will produce a darker and fuller look, which adds a degree of sophistication to your look – perfect for parties and events. I also love the creamy consistency of the Vivid Tint Rogue as the product spreads evenly and does not sink into the fine lines of your lips.
Final Verdict
In my opinion, the Vivid Tint Rouge is a product I will buy again, even though the brush is too thick. For starters like me, it was a challenge to apply the product onto my lips while staying within the lip line. This was especially difficult when tracing the cupid's bow of my lips. That said, you will get the hang of it after a few tries. Also, the vivid tint rouge is slightly expensive for a lip tint – its retail price is $16.
However, it is not often that you will find a product that has the vivid colour of a lipstick, the durability of a tint, the finish of a lip gloss, the moisture of a lip balm and a variety of colours to choose from that will complement every type of skin tone. This product is perfect for on-the-go women looking for a fuss-free lip product that will fulfil all her needs.