It felt like the good old days again as alumni from the School of Engineering (SEG) gathered on campus last Friday (23 Sep) for their annual Homecoming event.
Many of the attendees rushed down from their workplaces; some of them had not met for over two years, so there was a lot of catching up to do. The hall was abuzz with conversation and laughter.
It was a momentous event for SEG, which hosted close to 200 alumni at the much-anticipated in-person homecoming event. This was almost double the number of attendees from pre-pandemic times.
Mr Udaya Kumar, an SEG senior lecturer who was part of the organising team, said: "We're really excited to see all the alumni back on campus after the pandemic and we're glad that our alumni and the lecturers could see each other again face-to-face."
The SEG alumni Homecoming, held on Sep 23, 2022, was attended by lecturers and alumni from the early 2000s to the most recent graduates looking to network with peers and lecturers, as well as to keep up-to-date with SEG and alumni-related matters.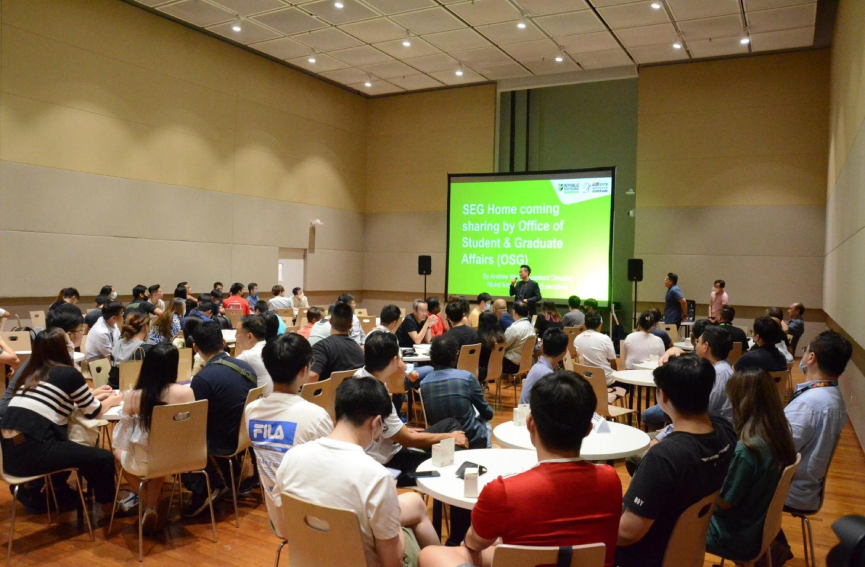 The event began with a welcome address by Mr Soh Lai Seng, Director of SEG, followed by industry updates.
During his sharing on Continuing Education and Training, Mr Teh Kim Yew, Programme Chair of the Work-Learn Programme spoke about the Fourth Industrial Revolution. He also introduced the Robotic Process Automation (RPA), a one-day course for alumni to keep up with the current engineering industries.
The second was on alumni matters, including the Alumni Strategy and Club Republic news, by the Office of Student and Graduate Affairs (OSG).
The night was then capped off with a catered dinner spread.
JOY OF REUNION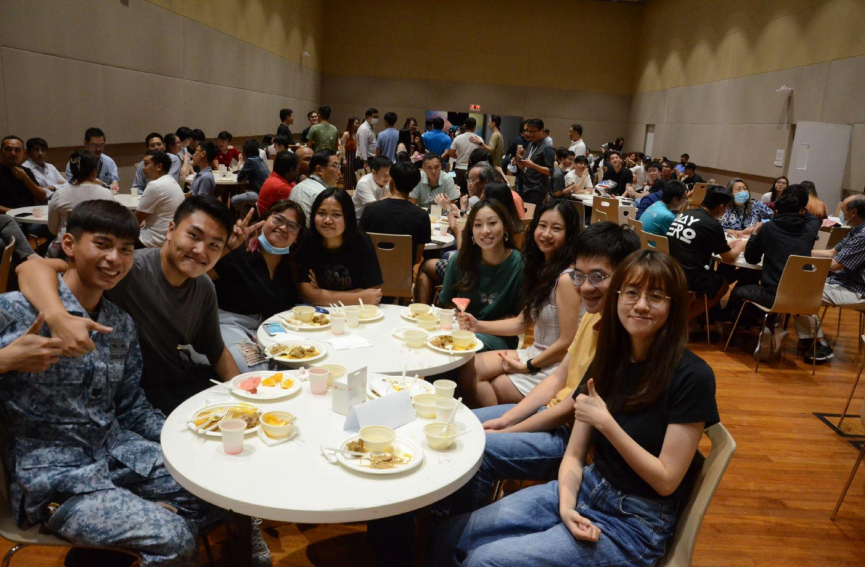 For many of the alumni, the Homecoming event was a chance for them to catch up with lecturers and fellow alumni, as well as to keep updated on happenings since the pandemic.
"The highlight of the event would be seeing familiar faces, reconnecting with peers and catching up on where they've been for the past few years," said Muhammad Haziq Isfendi, a 2015 Engineering System and Management graduate who is currently employed at Applied Materials.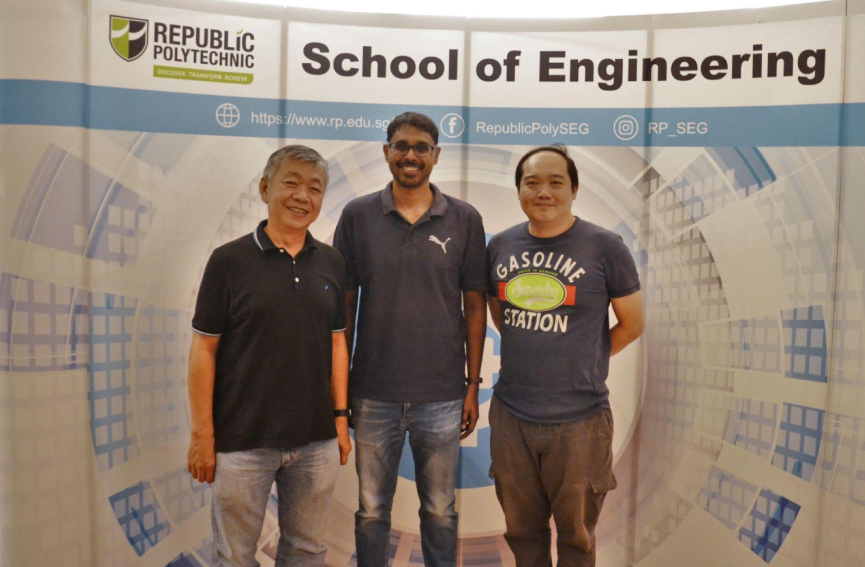 Mr Billy Wan, a graduate of RP's CET engineering course, cited a number of reasons for returning to the Homecoming event, including the sense of affiliation and attachment to the school, maintaining connections with old friends and lecturers, as well as keeping updated with SEG matters.
Many also quipped that the free food was a strong incentive for them to attend the event, or that peers and facilitators had encouraged them to come back to campus.
EXPRESSING GRATITUDE
Among the lively music and clamours of hearty chatter and laughter, the alumni carried hearts full of nostalgia and gratitude for the campus which shaped countless memories and developed them into industry-ready professionals.
"RP prepared me in a way where it's more of a stepping stone for me to figure out what I actually wanted to do," said Mr Murdifi Muhammad, a 2012 Aerospace Avionics graduate, who recently completed his PhD studies.
When asked why he pursued his PhD studies, Mr Murdifi gestured to his lecturer: "At that time, I wanted to be in academia, so my facilitator, Mr Udaya here, is like a shining example to me. He's a great example of being a very good teacher, mentor, and now friend after I graduated."
ENGINEERING THEIR SUCCESS
During his speech, Mr Soh expressed his hopes that the alumni would be role models for the current student batch. Having gone through their education at RP, these alumni are able to understand the struggles current students may face during their studies at SEG and can therefore offer valuable insights and advice for these students.
"Right now it may seem a bit difficult, but eventually you will push through and you will succeed. No matter how difficult it is, just continue moving, don't give up," said Mr Murdifi.
As a female engineer in a male-dominated field, Miss Ni Qing Qing, a 2016 Electrical and Electronic Engineering graduate and current teaching assistant at the National University of Singapore, urges females who are passionate about engineering to pursue their dreams.
"You may become the star of the class. Girls tend to be more careful and detail-oriented so you definitely have some advantage [over] the rest," said Miss Ni, who is encouraged by the rise in female engineers in her class.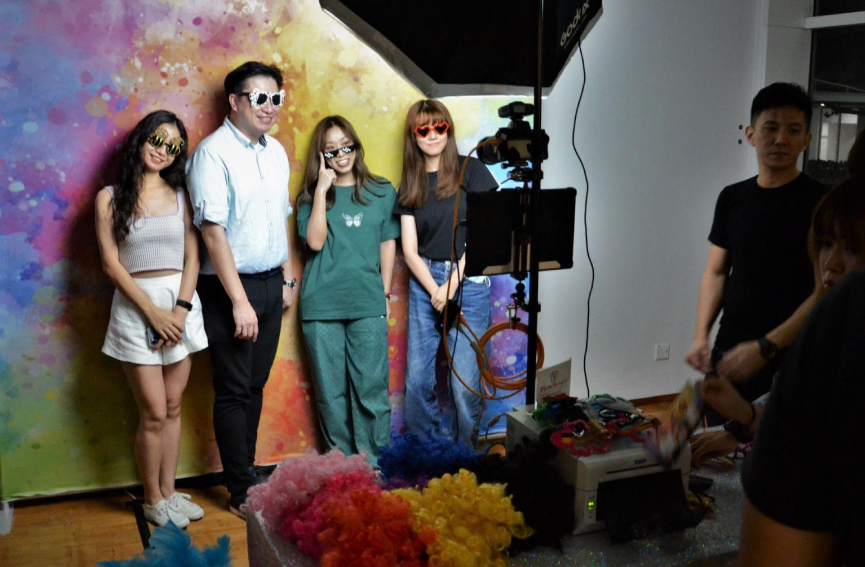 As the event came to a close, everyone bade farewell, some reluctantly. It was definitely a night to remember.
*Editor's Note: This article has been corrected for attendance numbers and the designations of newsmakers. We apologise for the error.