An open dialogue session on race and religion among youth turned out to be more comfortable than imagined for the participants.
Conversation with Purpose (CwP)'s Conversation on Race held its Harmony Arena: Legion of Allies forum on Nov 27 at the Red Box as an avenue for the youth to have an open an honest discussion on the sensitive subject.
The Conversation on Race is a youth project funded by the National Youth Council (NYC).
The highlight of the session was a new board game called Beneath the Surface that helped facilitate the conversations. It was chosen by the youth leaders of CwP as an opportunity to approach the sensitive topic of race among Singapore youths.
Launched by the NYC on Nov 19 this year, the game is part of the Forward SG initiative to engage youth on what keeps Singapore united. Through a digital poll by NYC, the response from 800 youths showed a desire to strengthen social harmony by bridging racial and religious differences.
The initiative was proposed by youth leaders Nazhath Faheema and Ahmad Firdaus Daud as a way to fulfill the need for more resources to facilitate respectful dialogue around sensitive issues. The cards provide an avenue for participants to discuss difficult topics such as casual racism and workplace discrimination.
DISCUSSING RACE THROUGH A BOARD GAME?
The session, by CwP, opened with ice-breakers as well as an activity to get everyone to share about their opinions on a wide range of topics, from durians to whether Singapore has been effective in tackling race and ethnic relations. Participants could move around the room on an imaginary sliding scale to express how much they agreed with a given statement.
Once everyone warmed up to each other and opinions were free-flowing, the groups were sorted into separate tables to begin the game officially.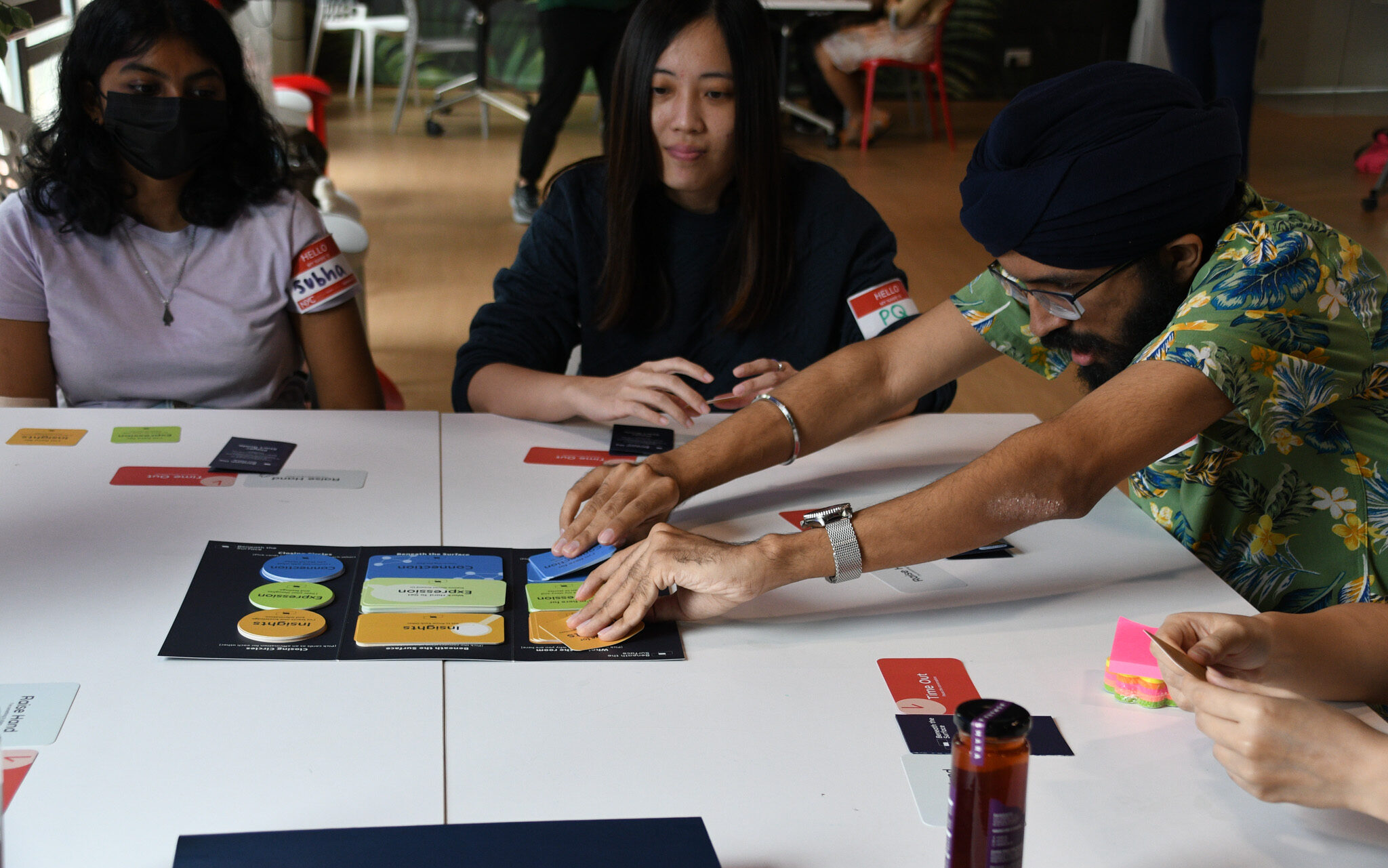 Each table held 4 to 5 participants and a facilitator. The board game itself contains three segments – "Who's in the room", "Beneath the surface" and "Closing circles". Getting to know and trust each other is an important aspect of the game, where participants spend a lot of time searching for common topics to converse about and looking to build common ground.
After the introductions in the "Who's in the room" segment, the game starts proper. Cards are grouped into Insights, Expression and Connection. These are three stages that lead participants through discovering common ground, delving into a scenario on race relations and breaking down their thoughts, and finally reflecting on the new things they found out in the session.
Through Beneath The Surface, NYC hopes to be able to go beyond racial inclusion and involve more youths to achieve a less divisive and more unified nation.
"Through [NYC's] surveys we know that youths think Singapore is heading in the right direction to being racially inclusive, yet many feel more work is needed. To build a future together we need to emphasise our common values and find common ground. This is what the toolkit is for and we hope it will empower youths to listen, learn about one another and create safe spaces for one another," said Chief Executive of the National Youth Council David Chua.
A SPACE TO EXPRESS
Lin Uen Fang, 31, a Taiwanese national who moved to Singapore 20 years ago, signed up to participate in Harmony Arena: Legion of Allies forum because she was curious to know more and wanted a safe space to discuss her culture and interact with people.
"I wanted to gain more knowledge and insight from this programme," said Lin.
"I'm really happy that I can get out of my comfort zone and talk to the people here. After this experience, I realised I would like to make new friends from different cultures, it's very enriching and nice to know such people."
Far'ain Jaafar, the lead facilitator at the forum, said participants benefitted through their sharing. "While they played the game I saw them grow in their mindset, become more inquisitive, and want to understand further about things they didn't know," said Far'ain. 
Facilitating the Beneath the Surface game required training from NYC, and Far'ain shared that it could be challenging even getting people on the same page.
"It certainly can be difficult if the participants themselves come with biases. Instead of wanting to grow from being curious or wanting to grow from this experience, they can refuse to let go of what they believe."
Far'ain drove home the message that Singapore youths need to be proactive and take a leading role in building racial and religious harmony in Singapore.
According to NYC, conversation cards facilitating discussions on local-foreign interactions and intergenerational differences will be developed subsequently.
The board game will be distributed through self-help groups such as SINDA and MENDAKI, and student networks in IHLs, such as the polytechnics and Institute of Technical Education (ITE) from December 2022 onwards.
Editor's note: This article has been edited for factual inaccuracies which include the name of the organiser of the event and the name of the event. We apologise for the errors.