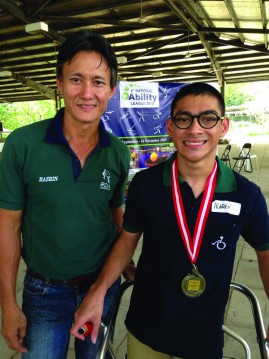 If you have seen horse racing or equestrian events on television, then you will know that horseback riding, much less racing one, takes years of practice. Many in the sport start out young, like Naren Lee Sankar.
But what is amazing about him is that he is not like most of them.
The 20-year-old student from CEC's Diploma in Mass Communication (DMC) was born with cerebral palsy, a condition that results in impaired muscle coordination.
However, over the years, he has slowly overcome some of the limitations that come with this condition to achieve as much as, if not, even better than others.
Naren was introduced to horseback riding when he was seven by his mother.
Where most of us spent our time at playgrounds and watching cartoons, he was already busy honing his skill of horseback riding.
However, the obstacles that he had to overcome over the years were plenty. One of them was, of course, physical.
"When I was young, I could not even turn my hands. Horseback riding requires you to use your hands a lot.
Even up until now, I have difficulty using my hands but horseback riding has really helped me a lot. It's a sort of fun physiotherapy," said Naren while illustrating how difficult it is to rotate his wrists.
Despite the pain and considerable discomfort, Naren and his mum kept up with the lessons.
As he grew stronger, so did his skills. The three medals he has earned so far – the latest being the National Disability League Dressage Test which took place last November – are a testament to that.
"I never thought that I would achieve this much because of my condition, but in the end I realized that everyone is good at something and only you can prove yourself wrong," said Naren.
Although Naren is not born in the Year of the Horse, he definitely embodies some of the creature's qualities – leadership, self-improvement and strength of character.