When Changi Bay Point Park Connector first opened, the media likened the scenic route to Jeju Island — yes, the popular island in South Korea full of picturesque sea views. Naturally, I was sceptical; I refused to believe Singapore had such beautiful coastal scenery hidden away from the city bustle, one I was quite swamped up in.
With a penchant for good views and nature, I grumbled at the thought of my hectic school schedule disrupting my trips to local parks and trails, places which allowed me to escape from the city and unwind in nature.
So despite wanting to visit Changi Bay Point for quite some time, I put my plans on ice. If you're thinking, what about your weekends? Aside from my laziness, I often chose to stay in and recharge from the school week. Another deterrent was that Changi Bay Point was on the other side of Singapore, since I live in the West.
But when the term break came, I no longer had excuses to delay my plans. Besides, I wanted to unwind and relish the soft sea breeze and pristine coastal views. So, I decided to make my (long) way down to Changi Bay Point on a weekday evening, since I was no morning person.
Getting there is no mean feat – If you don't live in the east, taking the MRT down is already a chore.
The easiest way to get there is by car to Changi Beach Car Park 7, or via bus 35 from Bedok or Tanah Merah station towards the "Bef Changi Ferry Rd" bus stop. Do note that bus 35 does not operate on Sundays and public holidays!
The stretch from the bus stop to the coastal route is about 10 minutes on foot (or five if you're fast). If you plan to cycle along the scenic route, there are SG Bike bicycles you can unlock which are parked conveniently near the bus stop. Otherwise, you may also rent a bicycle from the bike hut at Changi Beach Park.
At the end of the densely forested path, you will find the first cycling bridge and a panoramic seaview.
The route itself is 3.6km long, so it is a walkable distance for a stroll or a quick cycle along the Changi Bay Connector. To avoid the hassle of renting a bike, I chose to walk — which was still therapeutic if not for the evening heat. On a weekday, there were few visitors to the area, and I felt weaved into the serene atmosphere as I walked in solitude.
En route to the boardwalk, expect to see a lot of sea-facing benches where you can take a pit-stop to enjoy the view. The route also presents many photo ops with pink natal grass, lalang grass and flower patches that offer a nice earthy balance from the sea view.
Further ahead, you will soon reach the boardwalk and waterfront lookout point, which I found to be one of the key selling points of the place. Visiting in the evening was also a plus because of the pretty sunset view overlooking the horizon with waters that stretched for miles you can even catch a glimpse of Johor's hills.
The view is especially breathtaking when the tide is low and the shore emerges to separate bodies of water that break the visual monotony of the vastness. A frisson of awe swept over me as I gazed at glowing waters that reflected the sky's hues at sunset and watched tiny people fishing on the breakwater from afar.
After a couple of sea view and skyscape shots, I continued further down the forested path. Since the route is located just next to an airbase, the atmosphere was occasionally filled with engine roars from the overhead flying planes, yet they don't drown out the distinct sounds of nature.
Soon after, you will find the second boardwalk. The zig-zag walkway brings you close to the water's edge and leads up to the restroom where you can stop for a toilet break.
At the restroom shelter, I stopped at the vending machine for a cold soft drink, a welcome sight in the stifling heat. With my canned drink in hand, I took a moment to take in the scenic view and cool down before continuing my journey.
Beyond this point, there is not much more to see. If you continue further down, there is a long stretch you can thread along to get closer to the coastline. Otherwise, you may venture to a path leading to the forested areas for a couple of photos. Do also look out for lone 'floating' trees in a high tide.
You may continue on the Park Connector Network towards Punggol or East Coast Park. Alternatively, if you are on foot and wish to end your journey, it is best to head back the way you came as there is no public transport accessible endpoint or round-back route.
If you're taking the bus back to Tanah Merah or Bedok station, do start heading back when the sun sets since bus 35 stops operating at 7.30pm!
The sunset beyond the ocean horizon was a sight for sore eyes as I picked up my pace and headed back for the bus stop, letting the ambient sounds of chirping birds and chatter from visitors fill my ears while I let go of my worries.
SINGAPORE'S JEJU ISLAND?
After visiting Jeju Island during the September term break, I will answer your burning question – Does Changi Bay Point really look like Jeju Island?
The short answer is no, although there are many similar elements between the two. Changi Bay Point does boast seaside views and coastal boardwalks, but are the waters as clear and blue as the ones in Jeju? Not really. The notorious heat in Singapore also makes the walk at Changi Bay Point more tiring (also a reason to visit in the early morning), but if you visit Jeju in Spring or Autumn, the air-con temperature makes for an enjoyable experience.
So unless you're planning a trip to Jeju soon, Changi Bay Point is a decent alternative offering coastal views in Singapore. Not to mention all the photo-worthy spots! Another plus point is that Changi Bay Point tends to have few visitors on weekdays, while scenic coastal spots in Jeju Island are chock full of tourists all year round.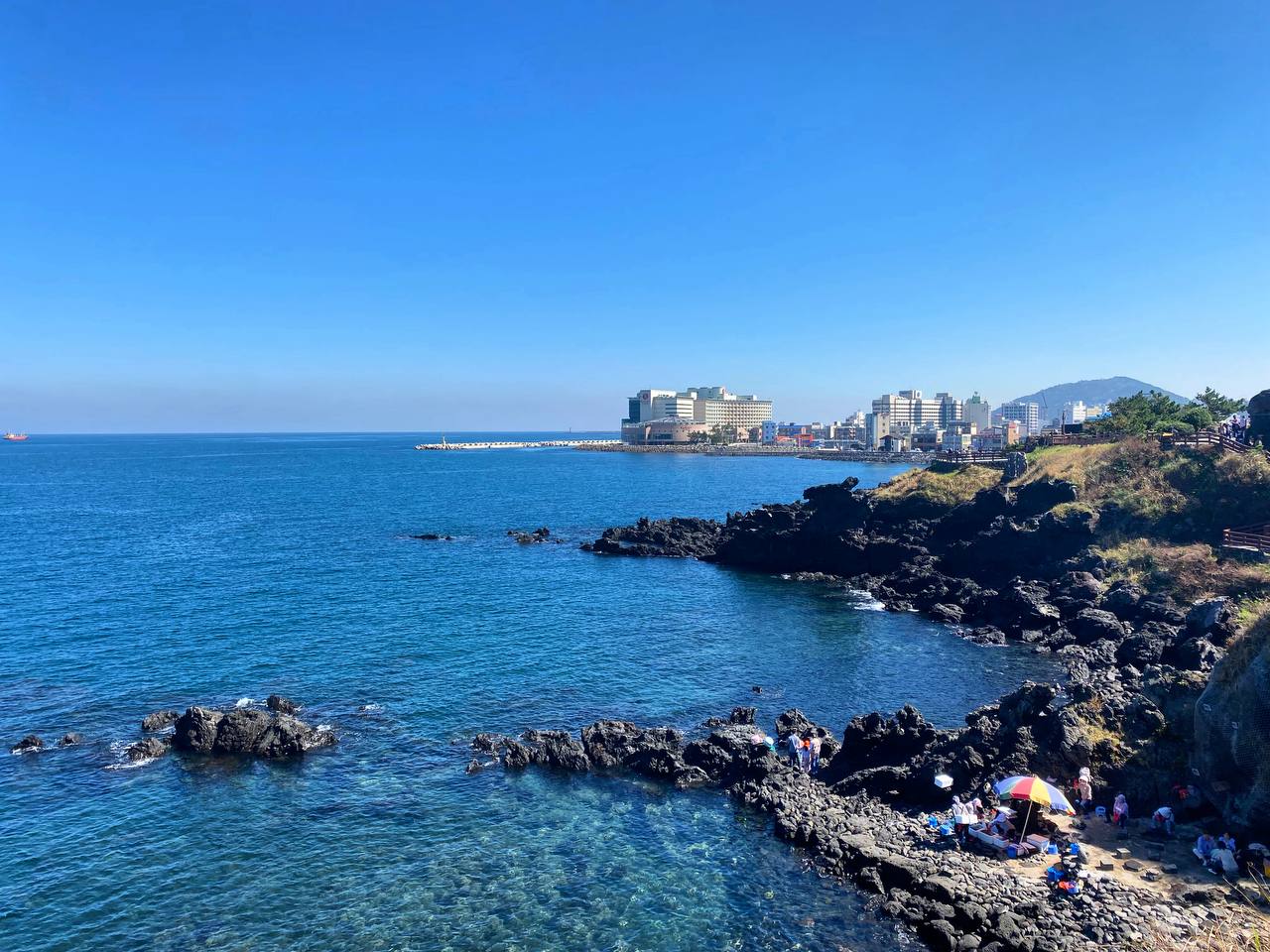 So if you find yourself cooped up at home during the holidays or want to take a breather from school on the weekends, do consider planning a trip to Changi Bay Point for scenic coastal views and a therapeutic walk (or cycle) in tranquility.