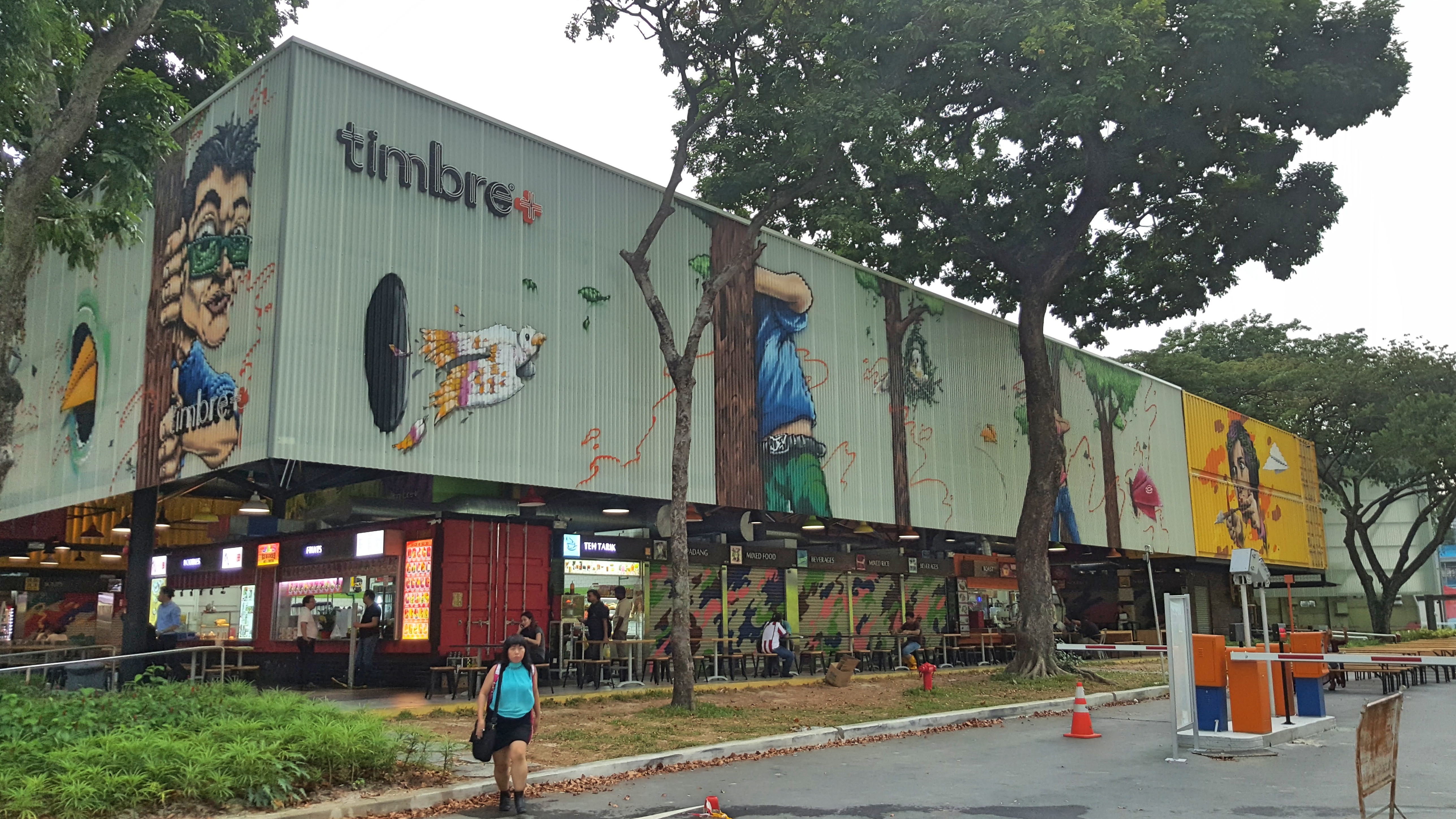 At one glance, Timbre+ looks just like any other hawker centre, with its typical tables, stools, fluorescent lights and a row of stalls selling familiar favourites like "Teh Tarik", "Ban Mian" and "Mixed Food". However, Timbre+ is anything but typical.
A clue to this can be found on its façade – the shipping containers decorated by graffiti-styled drawings remind you that you're about to enter a hipster locale.
True enough, once you step inside, you will find international flavours including French and Spanish cuisine nestled among the 35 food stalls that occupy this 24,000 sq ft gastro park.
And, unlike other traditional hawker centres, Timbre+ is an inviting place for young, urbane professionals to hang out and chill with friends over food and drinks after work. This is aided by the live music performances that happen every night from Mondays to Saturdays.
However, the music could get rather loud at times, which makes Timbre+ not the ideal place for intimate conversations. On my visit there, I also found Timbre+ could get rather stuffy even with the many fans operating at top speed to circulate the air. I found the main area in front of the stage to be the warmest. So pick your seats wisely!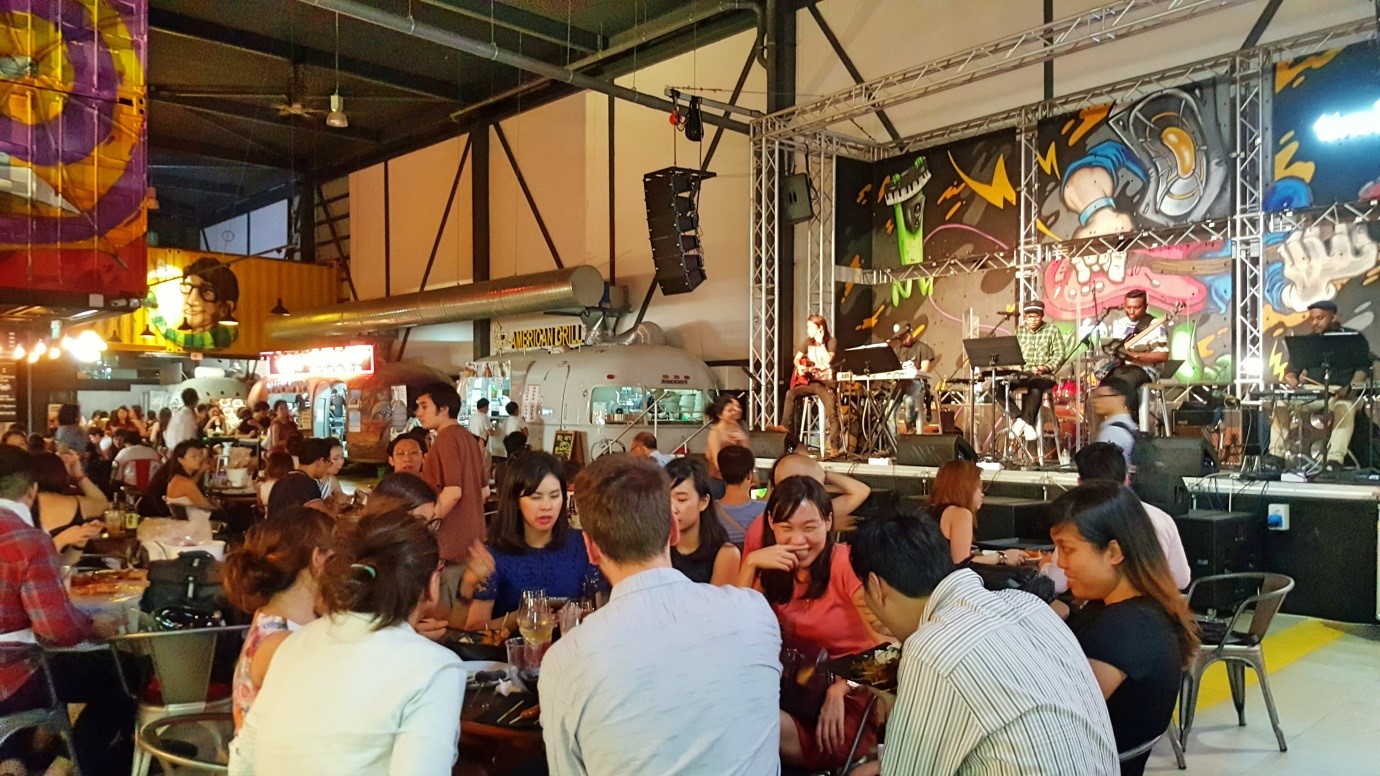 Despite all these, I found Timbre+ to be a trendy, hip and interesting place that many people would enjoy. And, the best part of it is the reasonably-priced food, which makes it a wallet-friendly place for students like me.
I patronised four stalls – Food Anatomy, Kush, Chit Chaat Chai and Teppei Daidokoro – during my visit. Of these, my favourite was the Food Anatomy, followed by Chit Chaat Chai.
1. Food Anatomy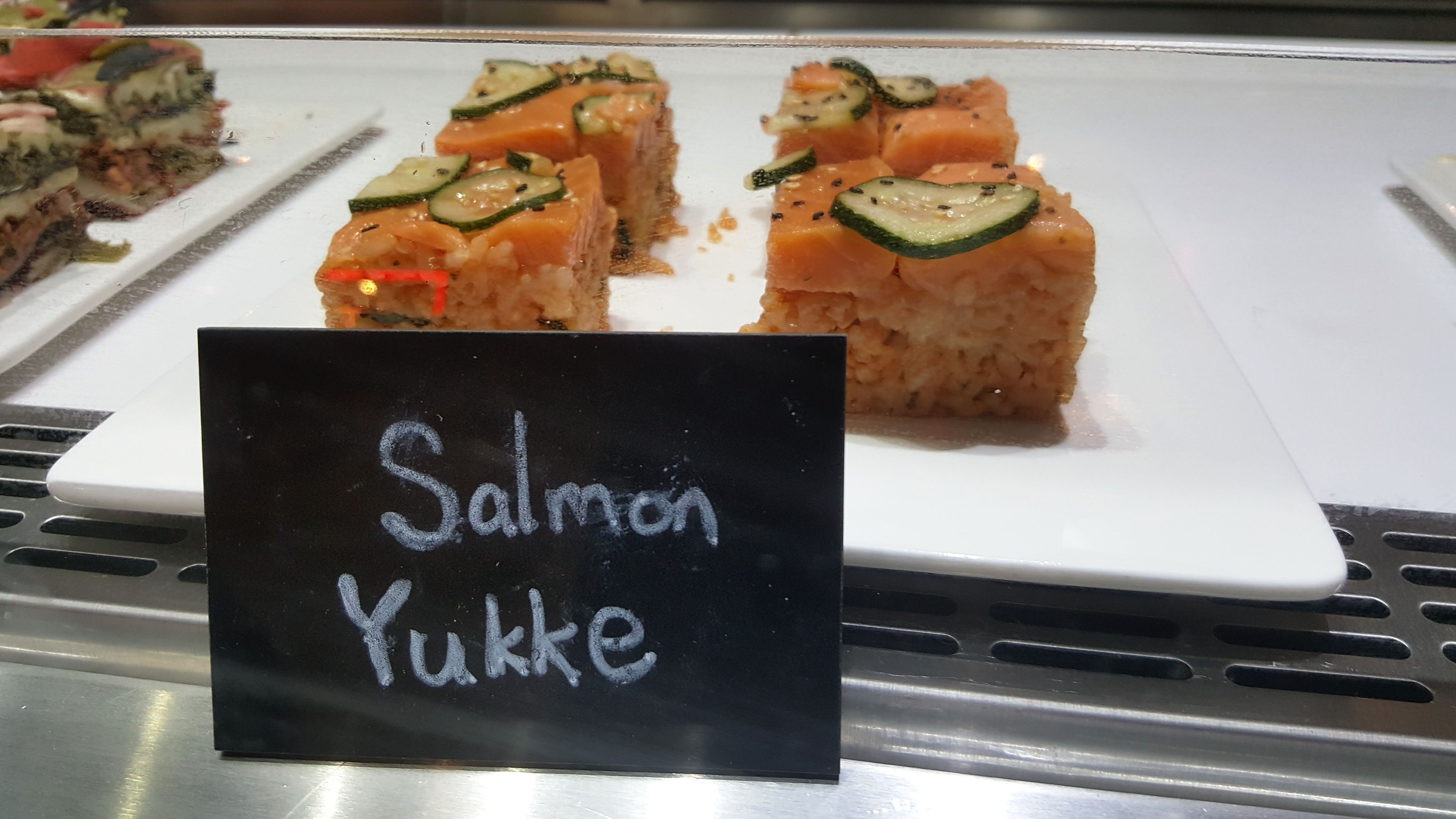 What attracted me to this stall is that what you see is not quite the same as what you get. For example, the Salmon Yukke, which was one of the three food items I bought from this stall, appeared like a carrot or orange cake from afar. But, it is actually a layered food block with marinated rice as the base and topped by generous servings of raw salmon. The salmon slices were thick and tasted great, complementing every other ingredient in the food block. My favourite item overall. The other two food blocks I bought – which are similarly designed as cakes – were the Teriyaki Chicken Pasta and Organic Lasagne. The teriyaki chicken which was served on top of spinach pasta was flavourful but the pasta was not. The Organic Lasagne was nicely layered with generous amounts of spinach, cheese and pork. Every mouthful was satisfying and I would definitely go back for more.
Price: $3.50 for one, $9.80 for three.
Overall Rating: 4/5
2. Chit Chaat Chai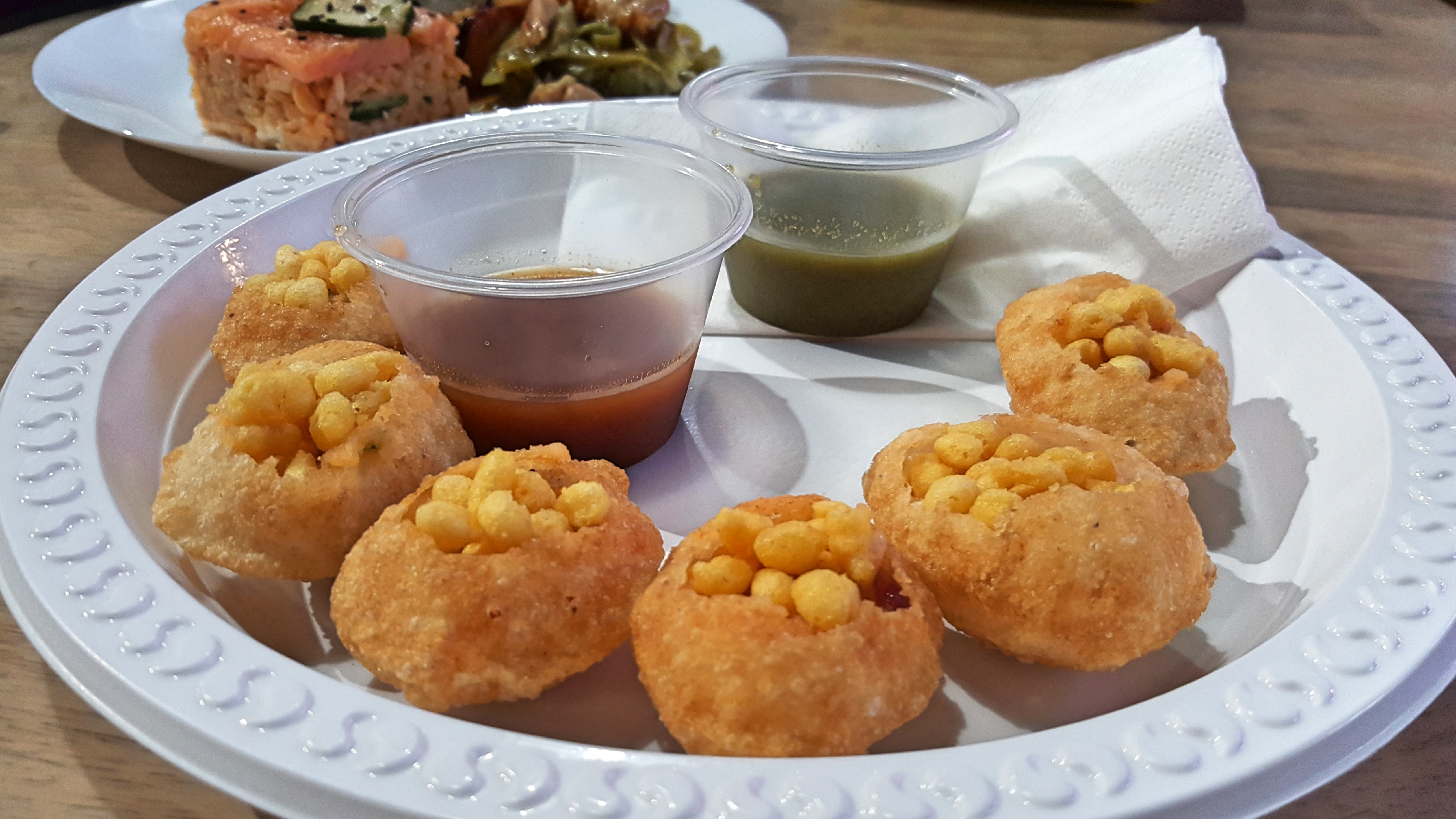 Owned by Gayatri Restaurant, Chit Chaat Chai offers authentic Northern Indian street-food. Panipuri was one of the better dishes I tried at Timbre+. The dish came with six hollow crisp Puris stuffed with potato, onion and chickpeas. The Puris were served with tamarind chutney and green chutney. Pour the chutney into the Puri and pop it into your mouth and your senses would be greeted with a burst of flavours. The tamarind chutney was sweet and tangy, while the green chutney was spicy, sweet, zesty and minty. The flavours and textures were overwhelming in the best possible way.
Price: $5.00
Overall Rating: 4/5
3. Kush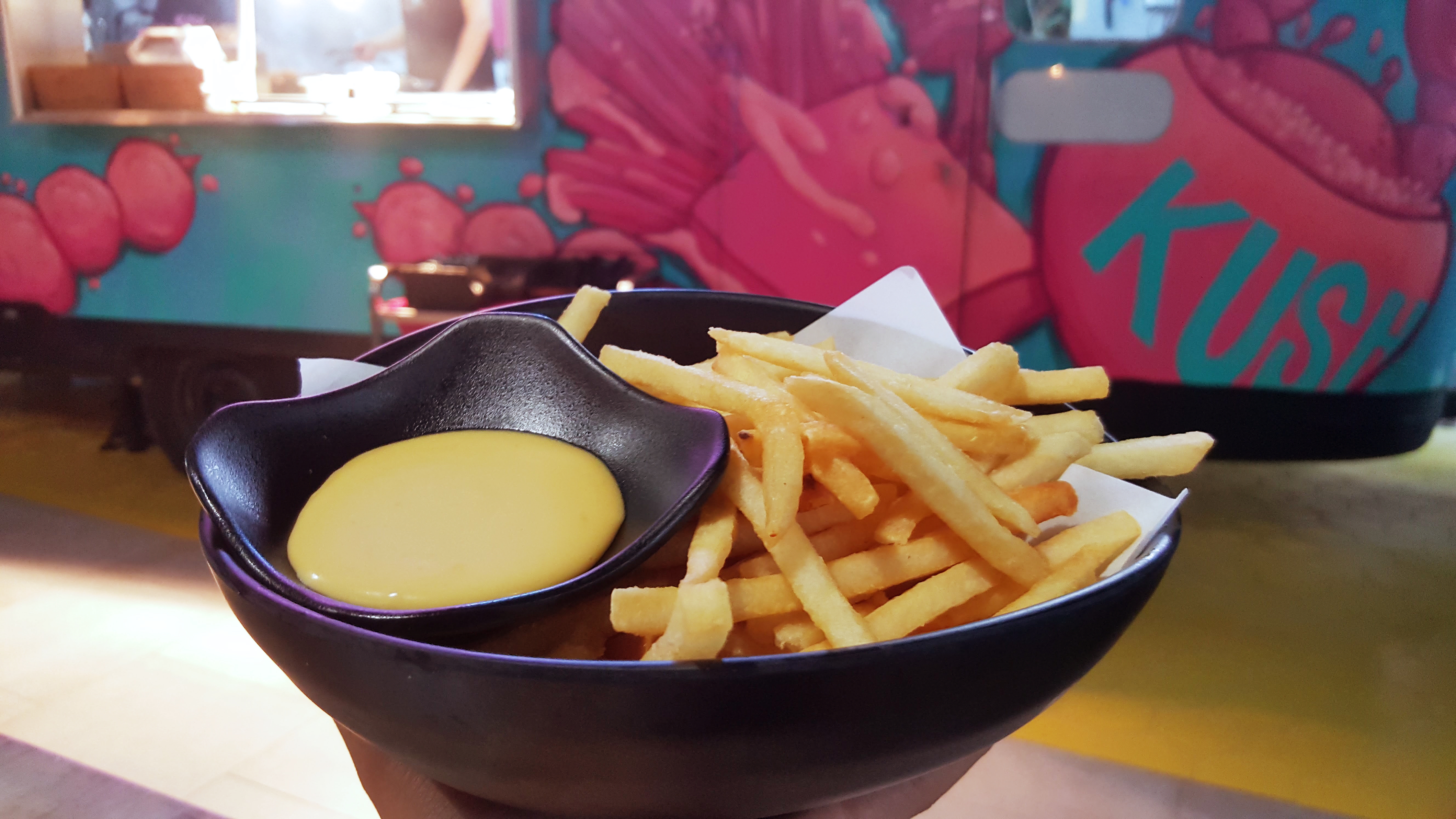 I stopped by Kush for its Salted Egg Yolk Fries. If I had to describe what this tasted like, I would say "Murukku Fries". The fries were nice and crisp just like the murukku snack. But, the sauce, while having a smooth consistency, was just too thick for my taste. As a Salted Egg Yolk Fries fan, I was quite let down.
Price: $8.50
Overall rating: 3/5
4. Teppei Daidokoro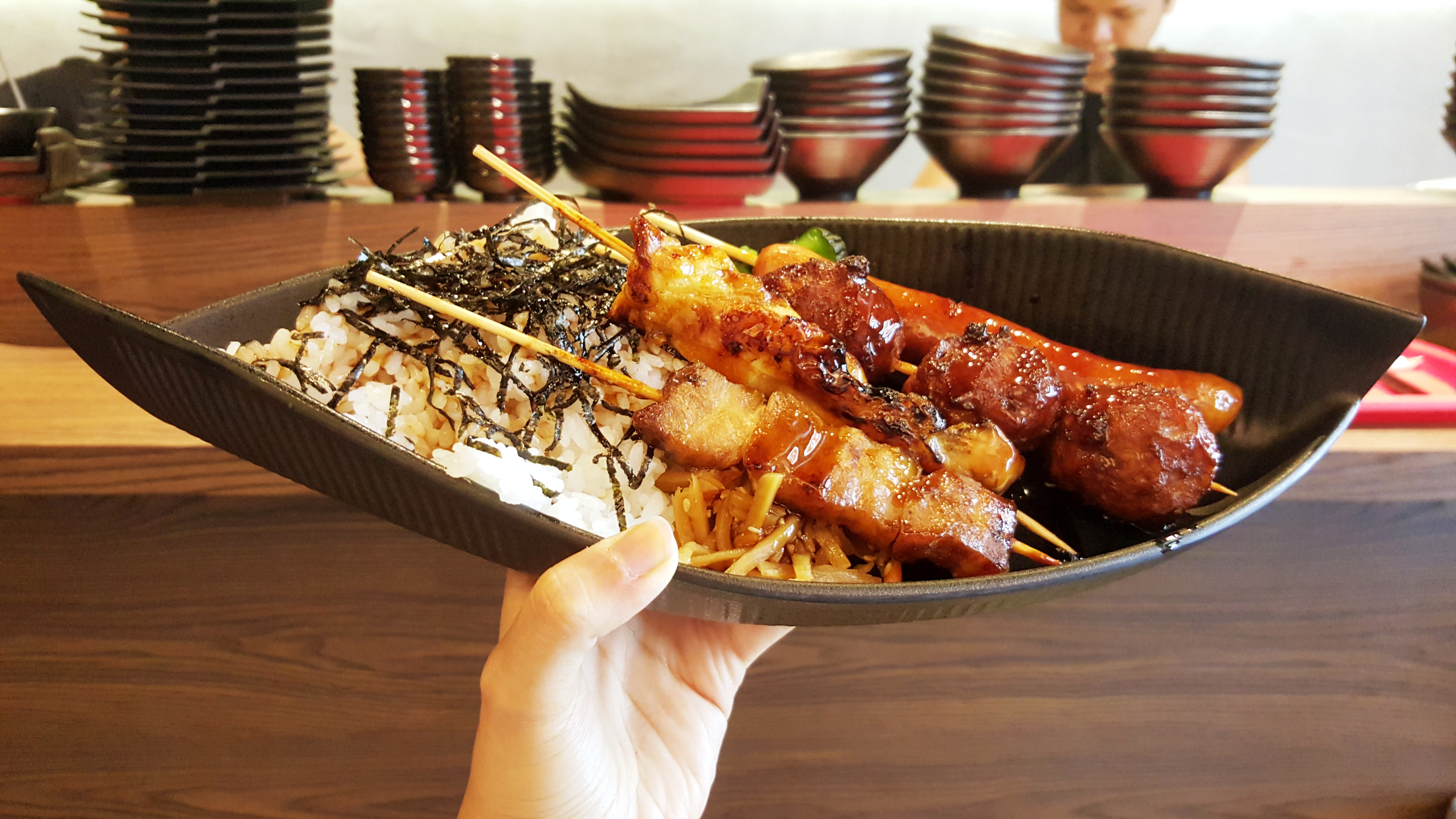 I had heard good things about Teppei Daidokoro's supposedly mouth-watering yakitori skewers atop their rice bowls. So, I came with high expectations, which were raised even higher seeing the long queue which usually indicates popularity and quality. Thus I felt disappointed when I was served. The rice lacked sauce and the pork and chicken were tough. The meal was mediocre, at best. Certainly, not worth the hype.
Price: $8.80
Overall Rating: 2/5

Timbre+
Where: 73A Ayer Rajah Crescent, JTC LaunchPad @ one-north.
When: Opens from 6am to midnight (Monday to Thursday) and 6am to 1am on Fridays and Saturdays. It is closed on Sundays. There are live music performances on Monday to Saturday nights.