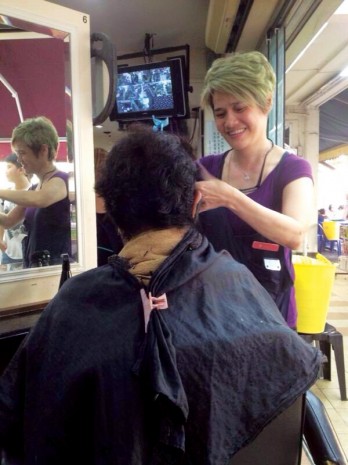 Located near the bustling Chong Pang Community club is a fairly non-descript hair salon, tucked in between a 7-Eleven famous for selling prize-winning lottery tickets and a dental clinic. Called Cardinal, this is no ordinary salon.
For starters, on most days it is packed with people from all walks of life – toddlers, teenagers, tottering elderly carrying canes and some in wheelchairs, men and women of all ages. The sheer number of people that go in and out is due to one main thing: how affordable a haircut here is.
In a time when everything is expensive, Cardinal offers an unbeatable deal: $5 for a quick snip for men and $8 for women. If you need to wash your hair, for $12 you also get a good 10-min neck and shoulder massage. And if you wish, there is always a manicure and pedicure to be had – while your hair is done.
Established in 1987, Cardinal is run exclusively by a group of 10 gregarious women. Headed by 45-year-old Madam Gan Sek Hoon, she is like a mother hen who barks orders, soothes nerves and cajoles customers into trying treatments or upgrading to better shampoos. All of these are done with military efficiency – no hair cut is more than 15 minutes.
"I used to take around an hour to complete a haircut when I first started," said Madam Gan. "Now, I take only five to 10 minutes per haircut."
But the fast and loose vibe that Cardinal gives is not the only reason people flock here all week.
"The prices are very reasonable compared to other salons in Yishun where they charge you $10 and above," said Mr Venkat Rao, 38, a regular patron of Cardinal. "Not only that, the quality is comparable to other shops because the hairstylists here are very efficient."
With each haircut being completed so quickly, one may think that Cardinal compromises service. But service is something that Madam Gan also takes pride of. "To us, there is no such thing as difficult customers. If the customers are not satisfied, then the fault lies with us," said Madam Gan.
This warm service has indeed paid off because it is what keeps customers coming back for more. Miss Denise Seah, 22, is one such customer. She visits Cardinal whenever she needs to get her hair done because the friendly stylists there has made her feel comfortable with the salon's environment.
"It is always nice coming to Cardinal because the stylists are very friendly and will keep chatting to you," said Miss Seah. "They will make sure you like your hair and will even crack some jokes to try to make you smile."
Madam Gan says she will be run Cardinal as long as she can because it is more than a business to her. In time, she has come to be a very important part of the community too.