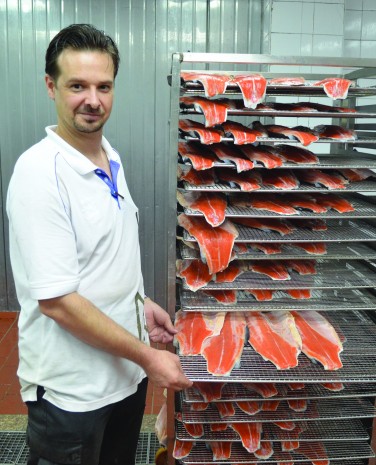 Wholesale factories and shops can be found in the vicinity of Woodlands Terrace and 15 Woodlands Loop.
It may be the best kept secret in Woodlands – a row of wholesale food factories that sell delectable goodies for a steal. People who know this food haven in the Woodlands Industrial Estate come by regularly to stock up on seafood, vegetables, cakes and cookies. Along Woodlands Terrace, wholesale factories can be found producing and exporting their products to supermarkets, hotels and restaurants on a daily basis.
One such factory is Fassler Gourmet, located in 46 Woodlands Terrace. This factory will certainly tingle the taste buds of sashimi and seafood lovers. The factory is known among customers for their fresh sashimi and smoked seafood products.
"I found out about Fassler Gourmet a few weeks ago through Google maps," said Jared Goh, a second year School of Infocomm (SOI) student. "Since then, I have been coming here almost every Wednesday after school because of the fresh sashimi the factory offers."
The brainchild of the fresh sashimi that set tongues wagging at Fassler Gourmet is the result of various precautionary measures taken by the factory. These measures include storing the sashimi in a freezer room with a temperature of between zero to two degree Celsius. This could be the reason why customers have been returning to the factory to purchase sashimi from them.
"Our customers usually come in during the weekends," said Mr Bruno Gillet, 42, manager of Fassler Gourmet. "From what I see, most of them are familiar faces returning to our factory to purchase our products."
The factory sells ready-cut salmon sashimi at $18 per 500g which adds up to about 40 to 50 slices. The same amount would set you back at least $50 in Japanese restaurants.
Sashimi is not the only main attraction for Fassler Gourmet among customers. The factory is also popular for many other products.
"Our smoked seafood is very popular among customers as well," said Mr Gillet. "The ones which appeal to the customers the most include smoked salmon and smoked mackerel."
Another customer whom we met was Mrs Joy Chung, 38, who works in real estate sales. "I usually come here for their pre-packed soups which are very delicious. One pack is about $3.80 and they have a wide variety,'' said Mrs Chung. She found out about these factory sales because she used to work in the area. Even though she has moved office, she still comes by once a week. She suggested we visit J&C Bakery down the road. "Their cakes are so yummy!"
Located in 15 Woodlands Loop, J&C Bakery's products have been a popular choice for festive occasions like Hari Raya.
"Our brownies and cakes are usually sold out during Hari Raya," said Mr Kelvin Goh, 53, director of J&C Bakery. "This is because of the overwhelming amount of orders we receive before the festival."
J&C Bakery's most popular products include chocolate brownies, marble cheese brownies and banana cakes.
Customers who buy from J&C Bakery have been going back every year to purchase these desserts from them for special occasions. This could be because J&C Bakery not only offers delicious products, but also sells them at reasonable prices. A box of six brownies costs about $4 while the price of cakes is about $5 a box.
"I like buying desserts from J&C Bakery because they are both cheap and tasty," said Muhammad Nailul Adib, a second year student from School of Engineering (SEG). " My personal favourite is the chocolate brownies."