Design for Success

by
|May 23, 2021 -- Updated 13:19
Print
STA graduate Roshini Erlapasamy was in the midst of her engineering course in Ngee Ann Poly when she decided to switch to RP's Design for User Experience diploma course
By Chong Jun Xi, Damian
When Roshini Erlapasamy enrolled in Ngee Ann Polytechnic's Diploma in Marine & Offshore Technology (MOT) course in 2017, she had the impression that it was similar to the Design & Technology (D&T) in secondary schools.

Roshini, 21, recalled: "I saw the course structure and I was very interested in the third-year specialisation (track) which was designing ships. But I did not think through thoroughly and carelessly signed up for the course."
While she struggled with the engineering modules, she excelled in the design subjects. That prompted her to rethink her choice of diploma course.

She said: "I very quickly realised that I did not like the engineering part of the course, I liked the designing and the hands-on modules of the course, which I did well in."

Making the switch
After one semester at Ngee Ann Polytechnic with a Grade Point Average (GPA) of 2.10, Roshini decided to make the bold move.

She started researching design courses to enrol in following academic year. Republic Polytechnic's (RP) Design for User Experience (DDUX) in the School of Technology for the Arts (STA) caught her eye as it provides a good mixture of both product design and user experience design modules.

However, switching to RP's DDUX was a giant step for Roshini.

"There was fear while waiting for my acceptance. What if I can't keep up? What if I realise that I don't want to do design and change course again? It was very scary to change courses," she said.

Her fears were unfounded as she blended very well with the culture in RP. She enjoyed the problem-based learning (PBL) system where she could immediately apply her knowledge to real-life industry problems. Roshini was awarded module prizes and the Director's Roll of Honour for four consecutive semesters. She was surprised as she did not expect to be inducted into the Director's Roll of Honour in her first semester. However, that spurred her to work even harder in following semesters. "There is, of course, pressure to keep up with your GPA, when you see your name on the Director's Roll. Even your friends think you are special because you're on the list. Somehow you just have to keep up," said Roshini.

Grateful to lecturers
Roshini credited her academic success to a few lecturers of STA, namely, Mr Christopher Ong, Mr Garion Goh, and Ms Murie Chow. She thanked these lecturers for giving her many opportunities, guiding her, and moulding her character during her study in RP.

Ms Murie Chow, the acting assistant programme chair of Design for User Experience, said that Roshini displayed a "quiet confidence", which she believed to have contributed to Roshini's achievements today.

"Roshini is a student who knows what she wants, and when she sets her mind on something she would put in her best to achieve the goal. I think that she can relax a little and be playful once in a while," said Ms Chow.

Currently, Roshini is awaiting her university acceptance at Singapore Institute of Technology (SIT).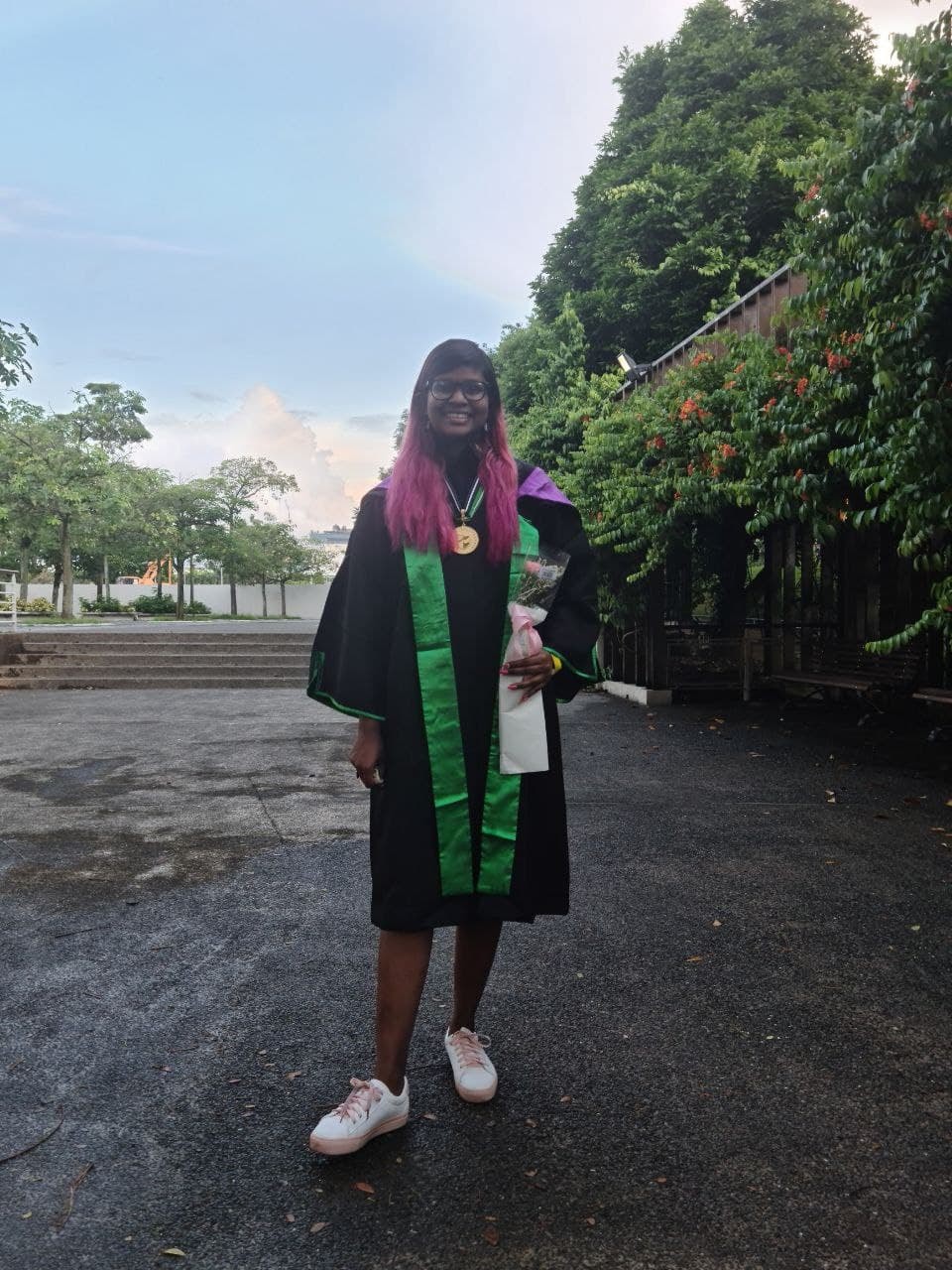 Change before it's too late
Roshini urges students who are thinking of changing courses to take the leap of faith and venture into a course they prefer. She thinks that it would be very miserable to study something you have no interest in for three years.

"If you graduate with a bad GPA, you cannot get into university and you're stuck with a diploma you don't want to use. Even if you have a good GPA and you wish to switch courses in university, it's very difficult because you are stuck with people who already have three years of experience. You will be very lost," she said.

She also advised current DDUX students to work hard for their first semester in RP and avoid being distracted by the fun culture in RP.

"I will miss the culture, my lecturers and my friends. The three years here have been really good, I've never regretted changing my course," said Roshini.

360 views