As a little girl, I was thoroughly enchanted by Enchanted – a medley of animation and live-action visuals that featured brilliant storytelling. It was a one-of-a-kind movie that can only be described as a love letter to Disney lore.
Every single aspect of the film worked harmoniously to provide an unforgettable experience to the audience, from the plot to the performance of the actors.
15 years after the original movie came out in 2007, Disenchanted was released on Disney+ in 2022.
The 2022 film featured a star-studded cast of Amy Adams, Patrick Dempsey, James Marsden, and Idina Menzel, who reprised their roles as Giselle, Robert Philip, Edward, and Nancy respectively.
Gabriella Baldacchino replaced Rachel Covey as Morgan Philip, and Maya Rudolph stepped in as the new villain of the film, Malvina Monroe — with Yvette Nicole Brown and Jayma Mays playing her minions.
AFTER HAPPILY EVER AFTER
10 years after the events of Enchanted, Giselle, Robert, 16-year-old Morgan, and baby Sofia decide to make the move from New York City to Monroeville, a town in suburbia.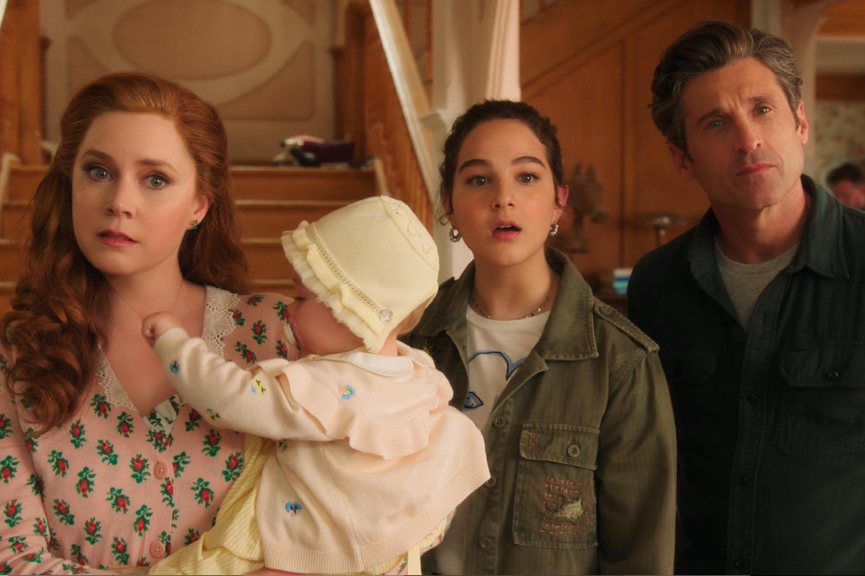 A chain of unfortunate events befell the family, leading to Morgan exclaiming that Giselle would never be her real mother. Hurt, the latter used an Andalasian wishing wand to wish for a fairytale life.
Giselle's wish came true, and the world around her got a fairytale makeover. Monroeville became Monroelasia, and everyone transformed into fairytale counterparts of themselves. Robert became a gallant adventurer, and Morgan adored Giselle once again.
Though this is a dream come true for Giselle, she soon realised that this life came with consequences: the queen bee of the town, Malvina, took on the role of the evil queen, and Giselle herself turned into a wicked stepmother, with Morgan suffering the brunt of her actions.
She transitions from her kind to malicious persona throughout the film. While the former tries to break the spell, the latter is adamant about dethroning Malvina to become the villain of the town.
It is a race against the clock to reverse the spell before it becomes a reality, and for Giselle to realise what a true fairytale life with her family entails.
IMPECCABLE PERFORMANCE
Amy Adams' performance was sensational and entertaining to watch. Her transitions from sweet Giselle to wicked stepmother were flawless.
She displayed excellent control over her voice, and her hand gestures matched each persona she embodied, making her a nuanced character that engaged the audience superbly.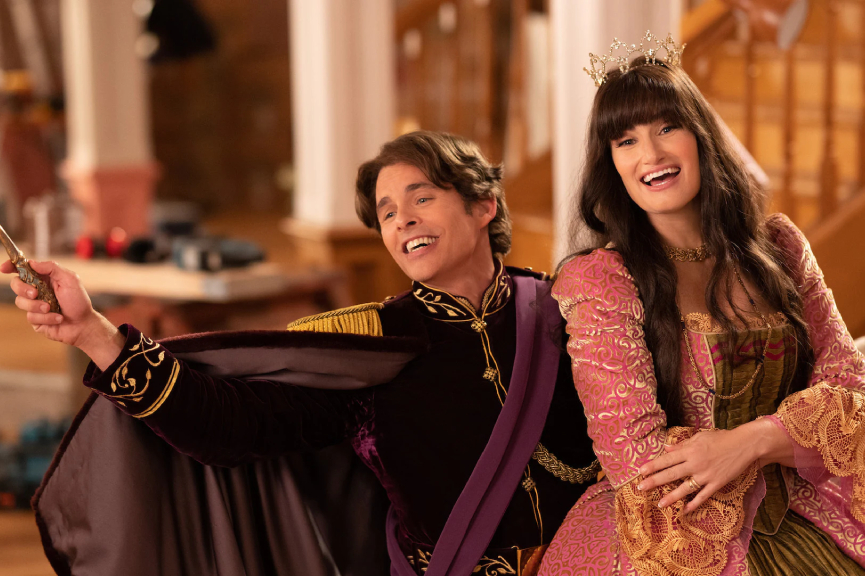 Idina Menzel delivered a breathtaking performance, with her strong vocals carrying her two songs, The Magic of Andalasia and Love Power, beautifully.
In Enchanted, the Broadway legend had a song cut from the film, which was a grave injustice to her talents. Love Power showed off her famous belting and channelled Defying Gravity from Wicked. It is truly a treat for the audience.
NEW VILLAIN ON THE BLOCK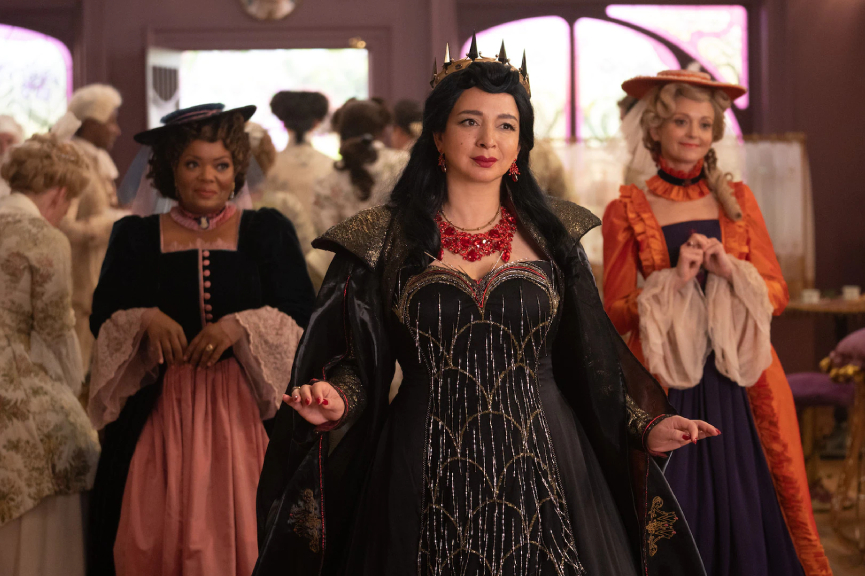 Maya Rudolph's Malvina Monroe replaced Susan Sarandon's Queen Narissa as the villain in Disenchanted. The Saturday Night Live alumna injected some humour into the role via her expressions, delivery, and her musical number — making the role lighter than Sarandon's.
Queen Narissa was a villain through-and-through, with no viable redemption arc. She was pure evil, and Sarandon delivered perfectly.
Malvina, on the other hand, could have been played with more depth.
Her insecurities fueled her viciousness, and there could have been a heavier emphasis on that. It should be something that the audience can see the more they progress in the movie, not blatantly called out by another character.
WHAT ABOUT THAT TRUE LOVE'S KISS?
Patrick Dempsey's role in this movie was very lacklustre, and his appearance felt more like a cameo than a part of the main cast.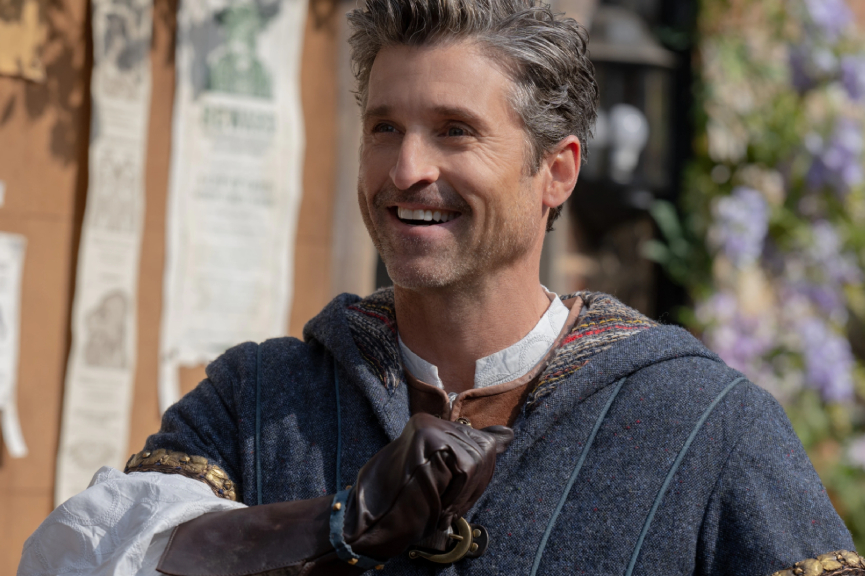 In Enchanted, he was the "prince" that swept everyone off their feet, from the couple's meet-cute to the famous ballroom scene at the climax of the movie.
However, his scenes felt more like an afterthought in the sequel as there were barely any scenes featuring the couple, with Robert out looking for adventures. Although, it fitted with the "Cinderella's absent father" trope that allowed Giselle's role of wicked stepmother to shine through.
Dempsey and Adams have such good chemistry, and this movie would have been a fantastic opportunity to explore Giselle and Robert's story after a decade. The addition of a baby to their family showed progress in their relationship but felt like more of a tool to fix a plothole than to add value to the film.
Overall, I enjoyed the Disney easter eggs and seeing my favourite characters come back to life. However, the film felt like a disappointing excuse to revive the first film, which had been done so well.
Disenchanted was unable to capture the magic that Enchanted had done so charmingly well as it felt forced — even the animated scenes were not as soft and warm as the ones featured in Enchanted. As a fan of the predecessor, the sequel was hard to watch.
Verdict: 2/5. Watch it for nostalgia, not for the plotline.