A deep sigh of relief was felt as members of the DM.Chat series congratulated one another for a job well done at the end of the pilot webinar.
The programme was meant to provide students with a platform to learn how to curate and organise seminars, webinars and workshops. It would also allow RP students to select their own topics of interest for these webinars.
But all this would only be possible if the pilot proved to be a success which depended on the support it received from students.
Despite the obstacles in organising the series, the five student ambassadors, guided by facilitator Ms Fiona Siew, pressed on to launch DM.Chat's first ever webinar, #Let'sTalkFashion, on May 28, 2021.
Going by the response, it seemed like a mission accomplished.
By the end of the webinar, each member congratulated one another for a job well done and shared how proud they were of the webinar's outcome.
Felicity Oh, 17, a second-year Mass Communication student and member of DM.Chat said: "Personally, when I played a part in creating this (series), I wanted it to be something that I would be interested in. If I'm interested, then the likelihood of other people of this age might be interested in it too."
Organising this in the midst of the COVID-19 pandemic was not easy, the ambassadors told the Republican Post. The countless obstacles that the DM.Chat team had to overcome made it feel almost impossible.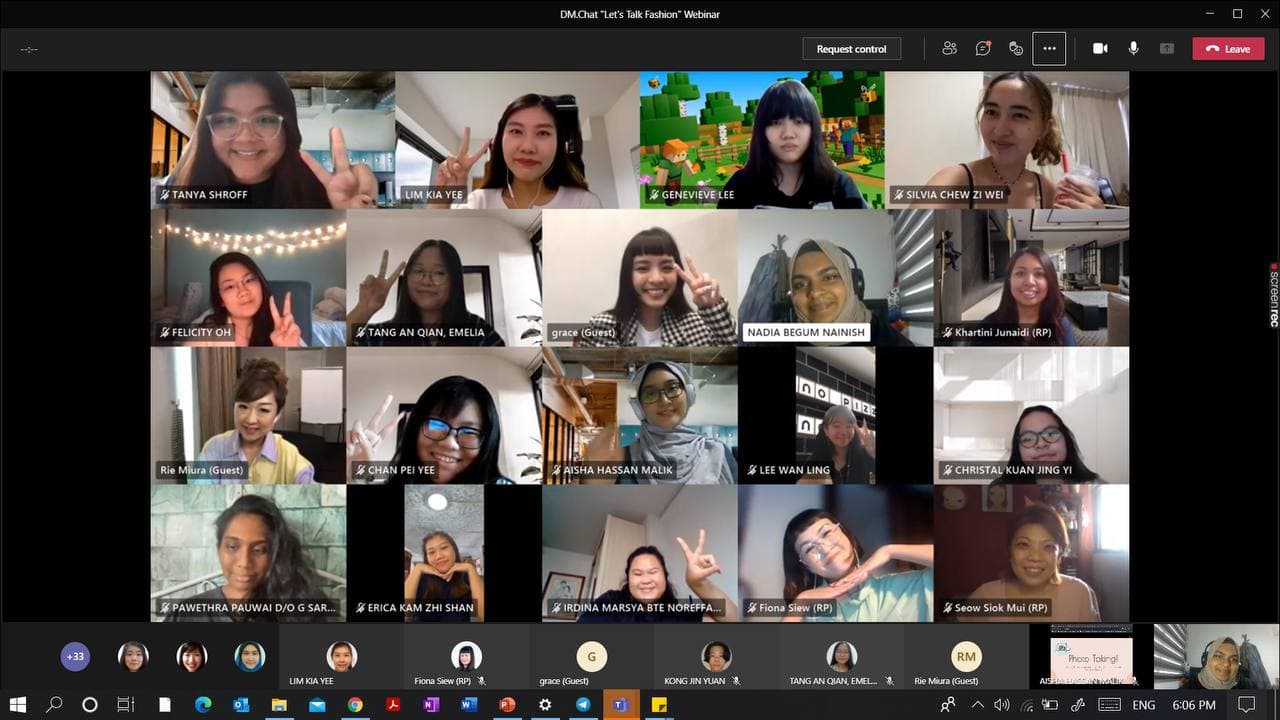 The team had initially wanted to organise an in-person seminar for their peers. However, due to the heightened measures during Phase 2, this idea was quickly erased.
It was also difficult for the team to coordinate an event online whilst attending school, let alone discuss the roles and responsibilities that each member would have to work on. To resolve potential misunderstandings, the team had to rely on technology to interact with one another. So, frequent Microsoft Team calls and Telegram chats were a must.
The student-led team had decided in advance on a few topics which their peers could choose from but an obstacle that the team faced would be collating enough responses from them. As a new initiative, there were doubts on whether the team could obtain approval from the school quickly to mass email students.
The team also struggled to find professional guest speakers for the fashion webinar. They tried to invite individuals from different backgrounds who had some experience in the fashion industry. But unfortunately, no one responded.
Their facilitator, Ms Siew mentioned that despite the series being a student-led initiative, she played a role in "helping the team to connect with industry partners and speakers". She invited two very prominent speakers, Grace Lim, a fashion stylist, and Rie Miura, a professional makeup artist.
Lim Kia Yee, 20, a third-year student in Mass Communication and the webinar's host mentioned that the DM.Chat team did not give up in spite of the struggles they faced as they "really wanted to launch their first ever webinar with a bang".
Emelia Tang An Qian, 19, a second-year student in Mass Communication and participant at the webinar said: "I think the girls did really well so much that even people I knew outside of School of Management and Communications (SMC) really wanted to join, so props to them."
The DM.Chat team said it hopes to continue to spark meaningful conversations through seminars, webinars and workshops as well as connect students to industry partners.
Students from the Diploma in Mass Communication who wish to be part of the team can email the facilitator-in-charge, Ms Fiona Siew.