Tall, handsome and boasting a well-toned physique, this 1st runner up in Manhunt 2012 definitely stands out when he goes anywhere in Republic Polytechnic.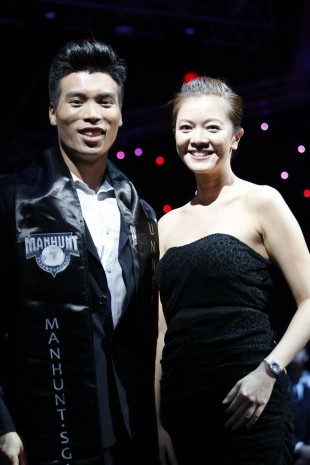 Muhammad Faiz Bin Arifin (better known as Faiz) is a 24-year-old Sports and Leisure Management student but in addition to his job as a student, he is also a model and actor. If you go by the Abercrombie & Fitch store, you may see Faiz – he was picked for his physique. He talks about this experience and his life since he joined Manhunt.
Why did you join Manhunt and how was the experience?
The reason why I joined Manhunt was to challenge myself on how far I can go in this competition. The experience was totally memorable. A whole 6 months of back to back events and photo taking was really tiring but it was worthwhile. Besides coming in runner up for the event, I get away with the most precious thing – friendship.
Describe a typical day in your life after the competition.
To my surprise, people on the street recognize me as a manhunt contestant rather than an A&F model! But I was signed by Beam Artiste & Cal Carries modelling agency. So far I did a couple of dramas and magazine shots and currently I'm taking part in a Malay pageant competition as well.
What were some interesting encounters you've had?
A strange thing that happens is when I work at A&F where some women will slide their phone number in my back pocket. I think the worst would be those who have details on my home address, almost like they are stalking me. Oh yes, I'm still single.
Being a student in RP, how do you juggle your time with all the fame that you've received so far?
Well, I personally think that fame comes with a price; you have little time for yourself. I'm always busy with work, workouts, family, etc. I have bad days especially when I am tired and that will totally affect my mood. When I'm stressed, my face is always on default moody mode. Hence, when I don't smile or notice you it doesn't mean I'm arrogant.
Do you have any advice for students in RP who are keen to join such competition but don't have the confidence to do so?
I started off shy but I told myself that I can't be hiding in a shell forever. So I decided if I really wanted to be in this industry, I have to be confident. Most importantly, always believe in yourself that you can do this.