In the blink of an eye, our long-awaited semester break is almost coming to an end.
After meeting those mid-semester graded assignment deadlines, completing the first drafts of the remaining ones, and mugging for the Mid-Semester Assessments, it is now the perfect time for fun and exploration — the key to destressing after an intense seven weeks.
Whether you are looking to have fun with your friends or longing to bond with your family, here is a list of five places to check out before the break ends.
1. Christmas Wonderland @ Gardens by the Bay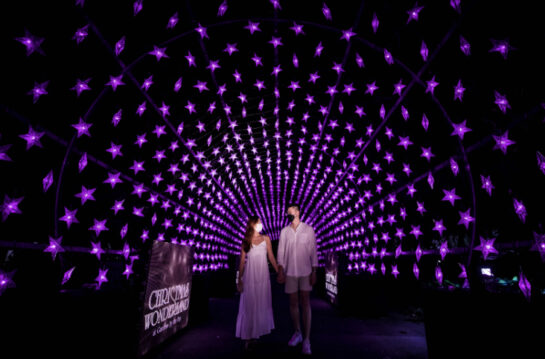 Singapore's biggest yuletide event, Christmas Wonderland, returns to Gardens by the Bay.
This year, Gardens by the Bay would be decorated with eight stunning and magical light displays that we can pose and post for the gram.
Some highlights of the event would include a handmade seven-storey high Spalliera from Italy which resembles the circular rose windows found in Gothic churches, and a romantic 44m Walk of Stars.
Date: Now to Jan 2, 2022
Time: 6:30 p.m. to 10:30 p.m. (Four sessions daily)
Venue: Gardens by the Bay, 18 Marina Gardens Dr Singapore 018953
Price: Tickets from $7
Visitors must pre-book their slots here due to capacity limits and social distancing measures.
For more information, visit their website here.
2. Changi Festive Village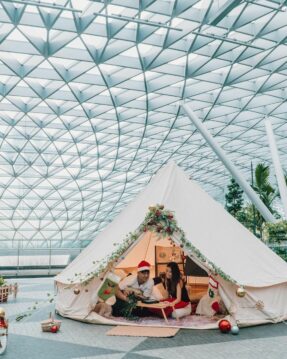 Back with a bang, Changi Festive Village 2021 welcomes us with a plethora of activities to do with our friends and family.
This year, it consists of activities from a Dino-themed carnival, glamping by the runway, go-karting inside the departure hall, to taking a walk around the whimsical walking trail illuminated by 10,000 LED lights, and so much more.
With so much to do, one does not need to worry about boredom during the semester break, even when you do not have travel plans.
Date: Now to Jan 3, 2022
Venue: Jewel Changi, Changi Airport Park Connector, Terminal 3, and Terminal 4
Find out more about the time slots and ticket prices of activities in Changi Festive Village 2021 here.
As there are limited slots available, do remember to book a slot before it is too late!
3. Otah & Friends: Camp Stardust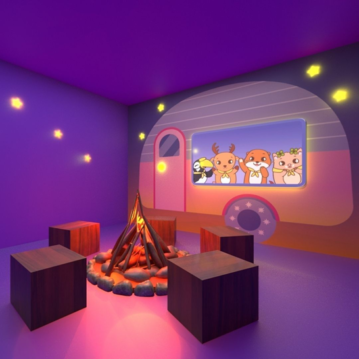 Established with a goal to educate visitors on the wildlife of Singapore through a series of interactive games, Otah and Friends are back with Camp Stardust!
Camp Stardust is the biggest escape room among the previous three editions, spanning 4,000 square feet. It is inspired by those nostalgic memories of camping that allows one to relive their favourite camping memories, such as watching the campfire burn under a starry night sky.
As visitors explore four unique areas within the forest, they strive to help an ancient fallen star reunite with the night sky.
The four different themed rooms awaiting visitors include a dark maze, ball pit, ropes obstacle course, and an arcade game.
Date: Now to Mar 20, 2022
Time: 10:00 a.m. to 7:00 p.m.
Venue: National Museum of Singapore, 93 Stamford Road, Singapore 178897 (Exhibition Gallery, Basement Level)
Price: Tickets from $19 for five pax
To book a ticket, click here.
For further information, click here.
4. Pop-up Disney! A Mickey Celebration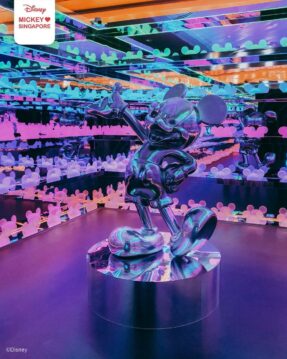 Longing to go to Disneyland but haven't had the chance to travel overseas? Pop-Up Disney Singapore has got your back!
A miniature version of Disneyland has now been brought to Singapore with seven themed rooms that take visitors through the adventures of Mickey Mouse — even from his formative years.
This exhibition provides an immersive experience, with 3D art pictures that are perfect for you to create memorable snapshots with.
Most importantly, there is also a variety of official merchandise available for visitors to purchase, even if they had not purchased any tickets.
Indeed, this is the closest one can get to experiencing Disneyland without having to plan a Vaccinated Travel Lane trip.
Date: Now to Mar 20, 2022
Time: 11:00 a.m. to 9:00 p.m.
Venue: Suntec Convention Centre Level 3
Price: Tickets from $20
For further information on bundle deals and ticket prices, click here.
5. Slurping Good!: Singapore's First Instant Noodle Themed Experience Playground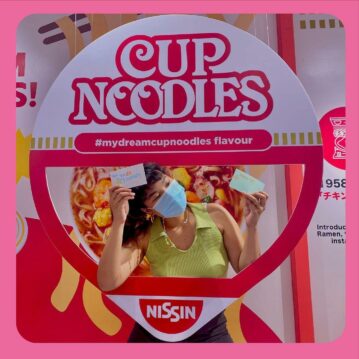 Most of us are no strangers to one of the speedier and more convenient food options that are instant noodles!
During the semester break, there is no better place to go than to Singapore's first instant noodle-themed experience playground, Slurping Good!, which features 13 interactive and aesthetic spaces for visitors to explore.
With two levels, the playground Slurping Good! brings visitors on an exciting journey, such as walking through a noodle archway, discovering their favourite noodle pairing, customising an instant noodle with various toppings and ingredients, opportunities for fun photoshoots, and so much more.
There is even an adult-friendly swing and slide for visitors to play on and snap some Instagram-worthy pictures!
Date: Now to Jan 30, 2022
Time:
Noon to 8:00 p.m. (Monday to Thursday)
10:00 a.m. to 8:00 p.m. (Friday to Sunday)
Venue: Tekka Place Annex Building, 2 Serangoon Road, #01-51 to 54, Singapore 218227
Price: Tickets from $21
For more details on tickets, click here.
Whether you are looking to visit just one, or maybe a few of these attractions, remember to stay safe and observe social distancing rules. Happy holidays!