If you have a keen interest in reading about the minority experience by local authors, the name Mysara Aljaru, 30, might ring a bell.
Her written works were published in books such as 'Budi Kritik' and 'Growing Up Perempuan' in 2018. They offer a glimpse into the young artist's focus in her practice, centering and intertwining minority voices and personal experiences as a Malay-Muslim woman living in Singapore.
Apart from her academic contributions, she wrote and performed a performance lecture called 'Brown is Haram', in collaboration with Kristian Marc James Paul. The project eventually birthed a new anthology of essays that Mysara co-edits called Brown Is Redacted, comprising of essays, poems and written work by brown-identifying folk. It is currently published by Ethos Books in 2022.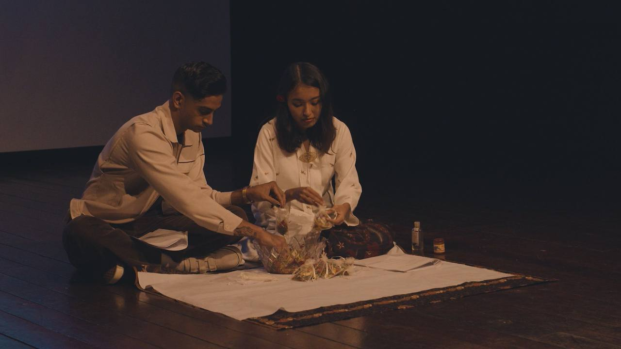 As an alumna of Republic Polytechnic's (RP) Communication and Information Design in 2013 — now known as Mass Communication, Mysara has since established a name for herself in not just the local literary scene, but in the performing and visual arts space.
Writing is an outlet for Mysara to express herself and her thoughts. An avid reader since young, her interest in writing is "both an escapism, but also a way to process happenings around me".
Mysara has always been fascinated by history and current happenings around the world — so her foray into pursuing journalism "felt natural". She added that the practice is also an art form, and a way of resistance to many both past and present.
"Reading journalistic writing inspired me," she said.
GROWTH IN RP
Mysara's love for current affairs and journalism spurred her to pursue a diploma in Communications. Studying mass communication shaped her writing journey, and it was "an important step" in understanding the media industry.
"From the technical aspects to understanding the industry overall, it was definitely the right course for me," she said.
Mysara recalled the core modules that she took in school, such as news writing, video and photo journalism, and shared that being equipped with these skill sets is essential for becoming a journalist.
"I remember we had an ethics module which also drew curiosity in me when it came to understanding the ethics of being a journalist," she reminisced.
Despite coming a long way since then, Mysara does not forget her background–the support from her facilitators played an important role in her education as well.
Her response brimmed with nostalgia. She said: "My facis definitely gave me good insights to the industry and pushed me to reach my goals. I'm forever thankful for that."
"I still use what I've learned of course!" she shared. "From the technical skillsets, to research to even just being ethical in the work I do. Over time I've also had a chance to explore various industries — research, consultancy, and teaching and all of them had me using these skillsets."
Apart from being a writer, Mysara was also an editor for The Republican Post and took part in revamping the publication. It was a notable moment in Mysara's schooling years, reminiscing on the fun that she had joining the team — but also the responsibilities that were involved in reigniting the school paper.
"I had to step up when other editors had trouble working with their team, and also take on responsibilities when datelines were approaching," she shared.
Despite her previous run with a school wide editorial, her first transition into the media industry as an editorial intern for TODAY was no easy task.
She recalled: "It was definitely nerve-wracking at first knowing I was stepping out from the Republican Post to an actual newsroom, but it was one of the best experiences I had."
Mysara reported news, the arts and entertainment as an intern at TODAY's digital desk. She has also previously worked with former TODAY journalist Mayo Martin to cover the scene as well.
One of them included the 2013 Singapore Writers Festival (SWF) where she met her inspiration Alfian Sa'at, a Singaporean playwright, poet, and writer.
"I remember getting him to sign a book of his and almost 9 years after that, he was a dramaturge for a lecture performance I co-wrote and performed," she enthused.
LOOK BACK, MOVE FORWARD
Just a few years later, Mysara was a panelist for Care Is Revolutionary: Towards A Sustainable & Inclusive Future at the 2022 Singapore Writers Festival, co-presented with Ethos Books.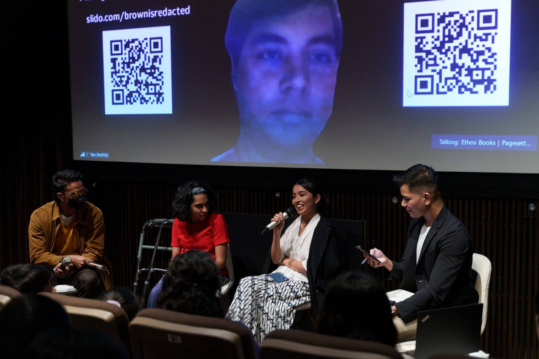 Mysara noted that her first exposure to being a journalist shaped her to be more mature and helped her to understand the ropes of the industry.
"You have to think fast, work fast and also be empathetic. I definitely wouldn't trade the experience for anything else," she said.
While over time she has branched out to do various mediums such as installation and film at art exhibitions. Despite it all, Mysara likes to look back at how she started.
"In many ways, being a journalist is still the core of my being!" she highlighted.