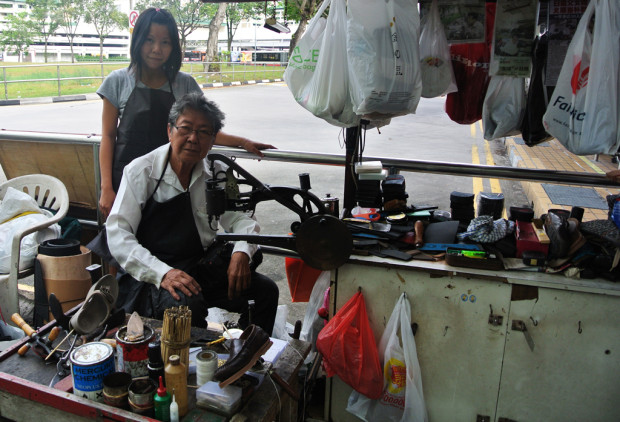 The strong smell of glue permeates the air at Yishun Bus Interchange as the sound of a hammer knocks against the sole of a dress shoe. On a wooden table, next to a worn-out pushcart, lie a roll of thread and a wide selection of tools. At the table, a woman fiercely concentrates on her task.
It's hard to imagine that the blistered hands skilfully pulling a thread through the pair of cork heels and fixing broken straps belong to someone who was working as a property agent and a front desk at a hotel.
Yamaguchi Yoko, 39, started helping out at her father's cobbler pushcart nine months ago as she prepares to take over the business once he retires. The business started at this location, 21 years ago. Many would say that she shouldn't give up her past occupations to be a cobbler but she begs to differ.
"Competition is very high these days; there are so many property agents to compete with and no one wants an old lady to serve you at the front desk," she shared as she picked up a new roll of thread. "With your own business, you won't really go out of job; as long as you can work, you can keep it going."
Before learning the ropes from her father, Ms Yoko was in the hotel line for more than 20 years and had two years experience as a property agent. As a single mother of two children, she dedicates her time to spend it mostly with her family.
Quitting her better-paying jobs wasn't a tough decision as Ms Yoko has a very simple mindset towards life. "I don't want a luxurious life; being able to put three meals on the table everyday and not go hungry is enough."
More than just keeping her kids in mind, her heart is with her father whom she calls "Daddy" with the warmth and affection of a child.
"In the past, the sentences I talk to my dad can be counted.… nowadays I get to talk to him a lot more about everything, like the customers we meet," she said while smiling at her dad who was sitting across the wooden table. Mr Yamaguchi Taro, 66, was working on a pair of shoes while listening and occasionally singing along to an old Japanese folk song on loop.
"It's good because it's like a tradition, passing it down to family is always better and safer" said Mr Taro who is originally from Japan but settled here as a young man. "Teaching her was difficult at first but she is a fast learner."
Having her dad beside her every day means Ms Yoko gets to learn first-hand everything that has kept the business going for so many years. "My dad is a very honest man and doesn't like to waste people's time or money; if a shoe is broken and he knows it can't be saved, he won't accept the business," she said.
The father-daughter duo serve an average of 30 customers a day and even though they have regular customers, she express her worries on keeping the business going after her father's retirement.
"Nowadays it's difficult to set up a store mainly to fix shoes; you have to sell other things such as keys and shoes," she said. "When my dad retires, I cannot work at this place since Northpoint only gave my dad the license. I have to move somewhere else."
Despite all the uncertainty, Yamaguchi still finds her job very fulfilling and calls her experience akin to a doctor's. "The satisfaction of fixing a rotten shoe by changing its sole and making it as good as new is similar to a doctor curing a very sick patient."