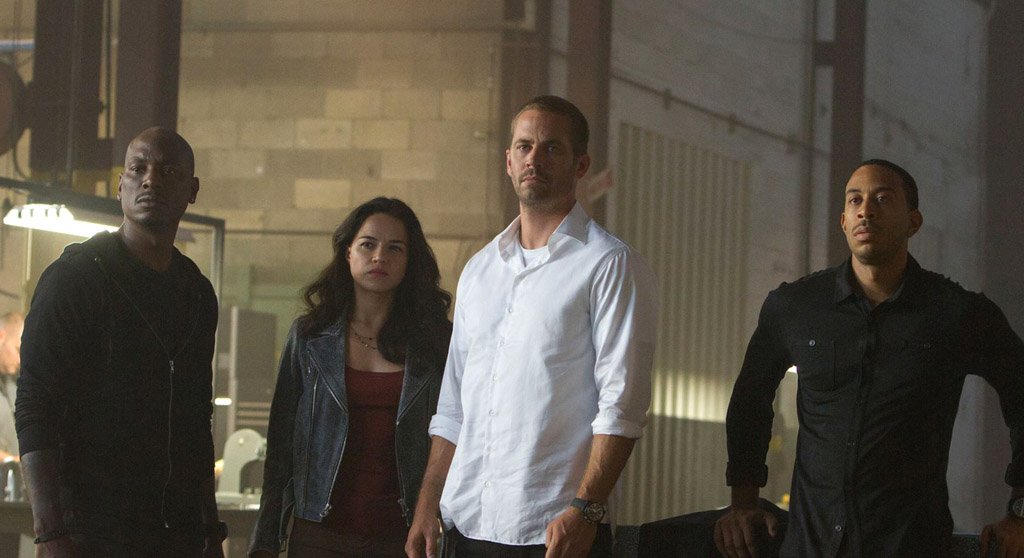 Despite its release being pushed back by close to a year, the real buzz around Furious 7 (the seventh installment of the Fast and Furious film franchise) was on how it would pay tribute to the late Paul Walker.
Already, the story was said to have been re-written so as to have an honourable send off for Walker, who died during filming. And it is clear this was the driving force behind it, making it one of the most-anticipated film releases this year.
This could be seen by its spectacular performance in the cinemas. Taking in US$1bn at the global box office in just 17 days, Furious 7 has crossed the billion-dollar mark faster than any other movie. In comparison, other live-action films like The Avengers, Avatar and Harry Potter and the Deathly Hallows: Part 2 took 19 days each to cross the same mark.
But, that's all there is to it. I feel that in trying so hard to make this latest film a tribute to Walker, who has become synonymous with the Brian O'Connor character he played in the film franchise, Furious 7 has left its plot far behind.
Even the inclusion of celebrity bigwigs like Kurt Russell and Jason Statham did not do much to rev up the show's appeal for me.
Furious 7 saw Statham portraying Deckard Shaw, looking to avenge his brother Owen's near fatal pursuit of Dominic Toretto (played by Vin Diesel) and his team. The first of many fight scenes saw Agent Hobbs (played by Dwayne "The Rock" Johnson) squaring off with Shaw. The scene escalated and landed Hobbs in hospital.
If its predecessors have showcased the art of street racing, Furious 7 has shown how far the series has deviated from that. With Shaw informing Toretto who he was, the latter knew his family was at risk and did everything to put an end to Shaw.  A race to steal a software program known as "God's Eye" ensued, with the team dropping down in their cars from an airplane – a scene that felt so unnecessary. It also saw O'Connor narrowly escaping death as he jumped off a toppling bus.
In keeping with its splashy filming locations, Furious 7 took audiences to Abu Dhabi. The fancy cars and expensive suits meant to spice up the film failed to disguise the lack of substance in the plot. Even the much-anticipated scene of a car flying through Abu Dhabi's most expensive buildings looked contrived, while the fight scene that involved an MMA fighter and Letty Otiz (played by Michelle Rodriguez) was almost laughable as both characters were so awkward even in a flight scene.
The movie felt like it needed to end but more unrealistic scenes continued as we saw Toretto and Shaw both drive into each other while somehow avoiding death. The fight scene was also too overhyped, with both characters having many opportunities to kill each other off, but seemed to find reason to hit everything else but their enemy. The fight scenes that involved O'Connor were also a let-down, as they were shot in dark alleys to hide the face of his stand-ins – Walker's own two brothers, who were roped in after the actor died in a car crash at about halfway through the filming of Furious 7.
To cap off the CGI filled film, Agent Hobbs was shown miraculously overcoming broken bones and a dislocated shoulder to rescue Toretto and his team.
The film then ended with a scene of O'Connor playing on the beach with his son and later going on a drive with Toretto. It was a fitting way to "retire" Walker's character and it also brought the series full circle, reminiscent of the first film, when the pair raced each other down the quarter mile.
As much emotional appeal that scene exuded, it cannot and should not mask the fact the movie was nothing short of a shambles.
Yes, big stars have made it a Hollywood blockbuster and the unfortunate passing of Walker is chief among the reasons why people want to watch the film. But if they really want to honour him properly, the series should hit the brake now.