Remember the chicken shortage crisis Singapore faced a year ago? The country imports a third of its chicken from Malaysia, but when the supply was halted, the nation was left scrambling to find a solution.
Thankfully, we did, but the experience served as a reminder of how vulnerable Singapore is since we import 90% of our food.
Add to that global warming and rising sea levels and it makes one wonder what we can do to mitigate the issues climate change brings before it controls our lives.
How can we combat this? Where do we learn how? To find out more, head down to Choa Chu Kang Public Library and check out its Green Grove Trail. The trail will take you on a path to discover more about sustainability and how it tackles some of these issues. Here are highlights at the library:
HYDROPONICS SHOWCASE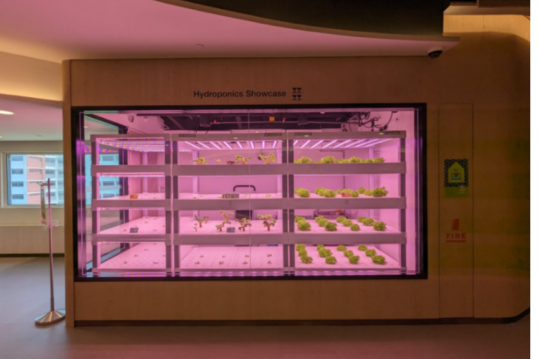 The first and most eye-catching exhibit is the indoor urban farm, which utilises hydroponics to grow edible plants. Hydroponics is the technique of growing plants using nutrient-rich water instead of soil. The absence of soil helps prevent soil erosion in a controlled environment. The vegetables grown at this library are Kale, Basil and Swiss Chard. These edibles are harvested and given to the library staff at the end of every month.
This exhibit demonstrates the viability for urban farming to be mass-produced and implemented in HDB, office, and school settings, and that urban farming is the perfect solution for our land-scarce nation. To find out more, visit the showcase every Friday at 3 pm.
LIVE STATISTICS CORNER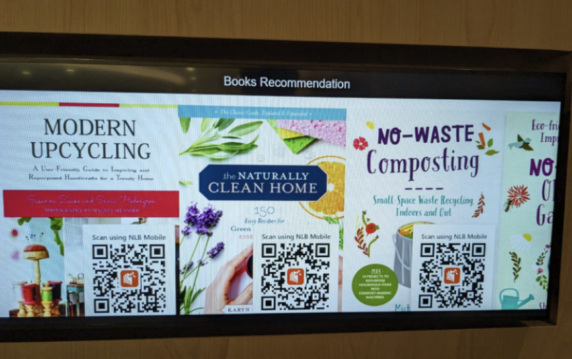 Here, you can check out all things environmental in the form of weather statistics, news headlines and educational videos that take a deep dive into the world of sustainability and how it's affecting the world today. There are also book recommendations for you to check out, as well as fun trivia questions to solve!
CLIMATE ACTION CORNER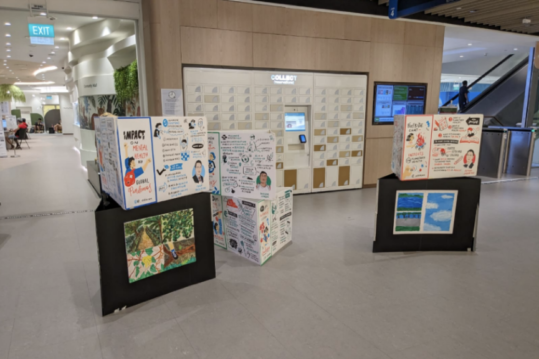 If you find that statistics and numbers do not stimulate your curiosity, pop by the climate action corner.
This corner displays and shares information on climate change. For the visual learners out there, you will be delighted to see creative drawings, infographics and messages, where they break down and engagingly brainstorm many issues on sustainability. 
The corner is split into three cubes, one for each issue:
How to get youths to care about environmental issues
Infectious diseases as a result of global warming
Planetary health
This offers some food for thought as we see the issues through the perspective of everyday people, like you and me, and makes you wonder what can be done about it.
AR LEARNING TRAIL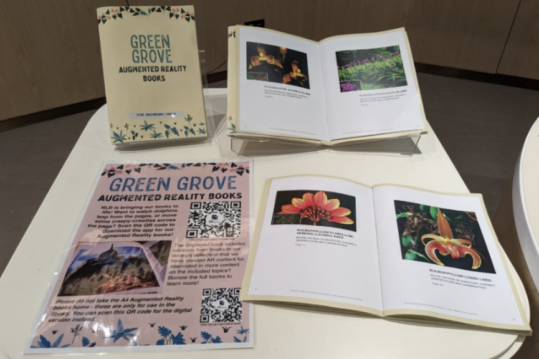 Ever wanted to go bird spotting at Bird Paradise but the weather got in the way? Well lucky for you, there is an Augmented Reality Books section where you can see environmental books come to life!
See dolphins leap from page to page or birds swan gracefully across the books by scanning the QR code through the NLB mobile app. This first-of-its-kind interactivity and engagement is part of the NLB25 initiative where they are transitioning into making all libraries into a more modern area to learn and discover beyond paper-backed books.
If your little siblings are tagging along and are getting restless, don't fret! There is an entire level with an indoor garden, dedicated to the children!
INDOOR GARDEN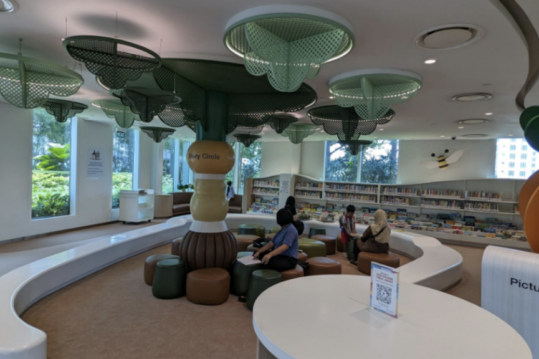 This is an entire floor space dedicated to educating and entertaining children on the importance of nature. There are also a myriad of plants and greenery surrounding it with plenty of room for the kids to have fun and immerse themselves in nature.
Mr Wong Aik Che, 39, father to a two-year-old son, agrees that it is important to be educated on the environment. He said: "It is good for children to learn more about the environment, and this library helps foster the perfect environment to help them learn and appreciate nature."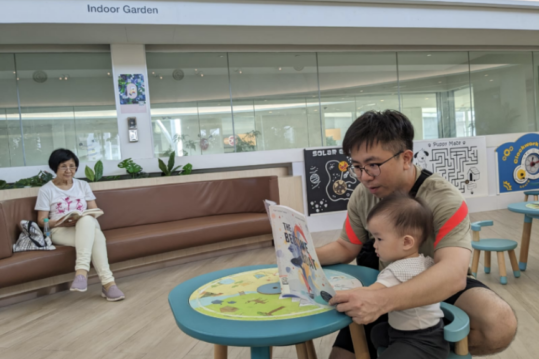 GETTING THERE
The Choa Chu Kang Public Library is located at 21 Chao Chu Kang Avenue 4, Lot One Shoppers' Mall, #04-01/02 and #05-06. The library is open daily from 11 am to 9 pm.
You can get to Lot One Shoppers' Mall using the following methods:
By train: Take the NS4/BP1 Choa Chu Kang MRT/LRT Station
By bus: Take bus numbers 67, 67W, 172, 190, 300, 307, 925, 927, 975, 985, NR3
For more information, visit https://www.nlb.gov.sg/.