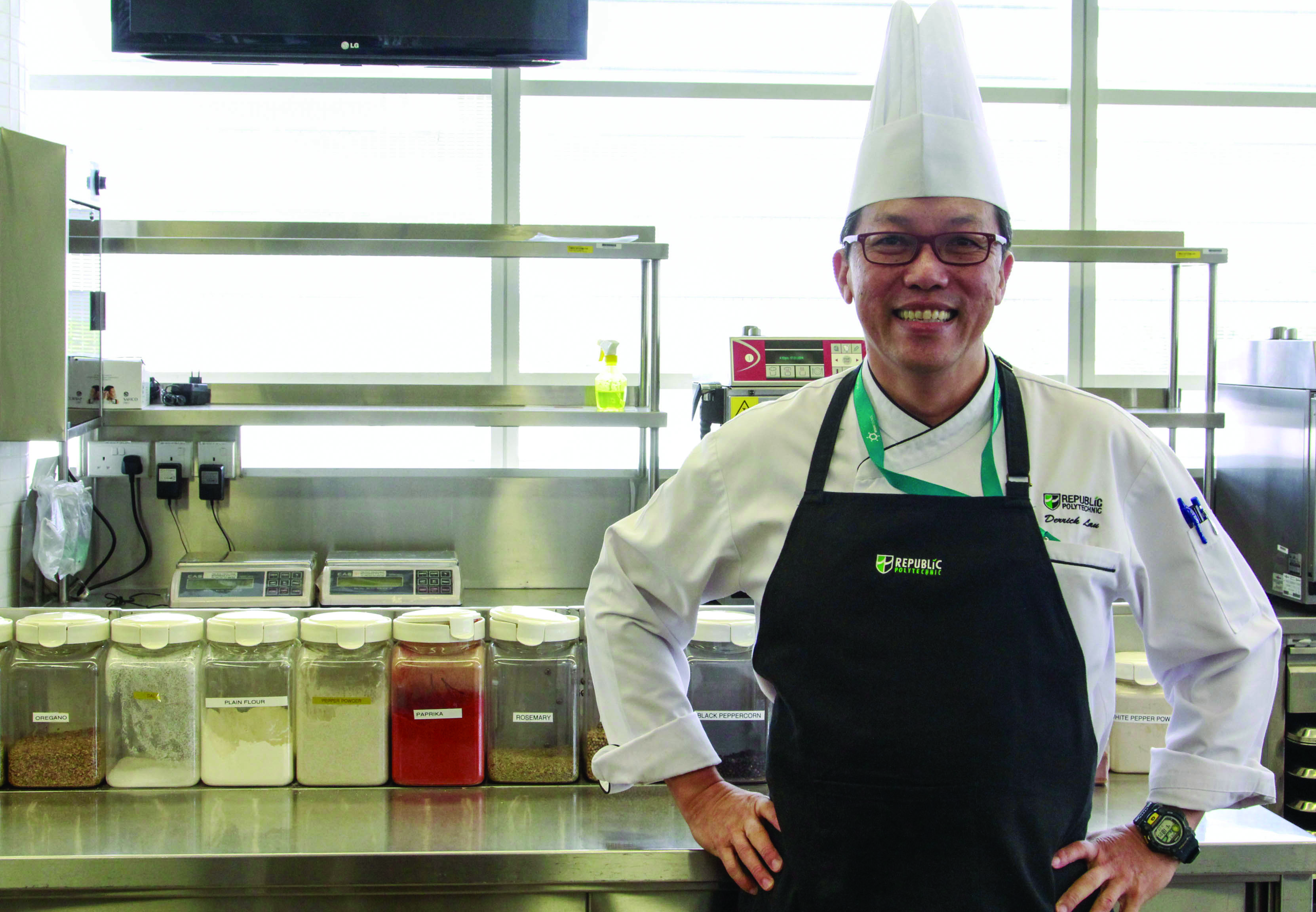 Being the only hospitality school among the five polytechnics, the award-winning School of Hospitality (SOH) is home to 53-year-old chef facilitator Mr Derrick Lau. Here he talks about his work and interests.
What did you do before you came to RP?
After army, I decided to try my hand working as a chef. So I went into Shatec and I entered the hotel industry and worked my way up to be a sous chef. After that I decided to go into education and I went back to Shatec as a trainer, then to Temasek Polytechnic. I have been in RP for nearly four years.
What do you teach?
I am the Chef instructor in OLIVA kitchen lab. I see mostly second year and third year students. Once they step into the kitchen, it becomes very practical and we start from scratch, the basics. We also work with talented students, identify them and groom them, get them ready for competitions, so we are here way past school hours!
Could you tell us more about your herb garden in RP?
Yes, The herb garden currently located at E1 level 10 handling terrace, just outside Oliva kitchen. The main reason is to cultivate rare or extinct herbs which we use for training our students for competitions or to use when we are planning new or special menus. It is also a great way to go green – we recycle by using kitchen waste as fertilizers.
Tell us one highlight in your time in RP
One highlight was when we took part in the International Young Chef Challenge in Korea last year. Most people have about eight months to train, we had three. We really pushed our two students hard – cooking for six to seven hours, staying overnight to get recipes right. It was very tough on the students, they were pushed to the limit and at some point, they wanted to give up – but we kept at it. And it was worth all the hard work – RP won two silvers, and we were ranked 6th in the world. Quite an achievement and the students told me, they felt very privileged to be given such a chance.
What makes a good chef?
Aside from talent, a good chef is someone with a good attitude. And a chef needs to have many skills – time management, money management, people management and you need to stay calm because the kitchen gets very "hot" (pressurising). And you need to work quite long hours.
What is your favourite food?
I don't have a favourite but I love food which has "soul" – you know the person put in a lot of effort into it and you can taste the effort and love for food. So it can be a plate of Char Kway Teow and taste wonderful.