Before October, I had always been doing typed notes, and while they were useful to a certain extent, I missed writing and giving my hands that muscle-memory workout, but I had grown accustomed to the convenience of digital notes. Hence, I ordered my iPad two months into semester two, and I have been using it as a secondary study device for close to a year now.
I chose the iPad as I am a bit of an Apple fanatic, and I felt that it would be fitting to pair with the other Apple products that I own, including my MacBook that I use for school. The model I went with was the iPad Air 4 with 64GB and Wi-Fi only. While I sometimes lament the fact that I need Wi-Fi for my device to stay online, I feel that it works great as a secondary device as I use it to take notes wherever I go, even if I do not have an internet connection. I also got an Apple Pencil 2 because after comparing it with other styluses, I felt that it was the best and most compatible option with the iPad.
WHAT TYPE OF APPLICATIONS SHOULD YOU DOWNLOAD?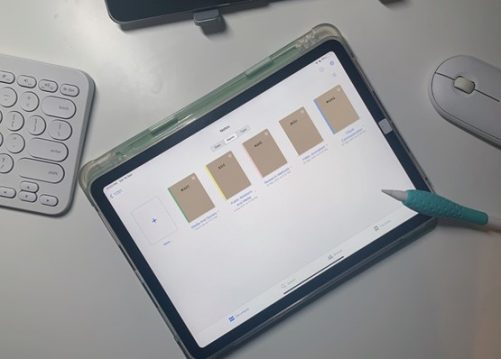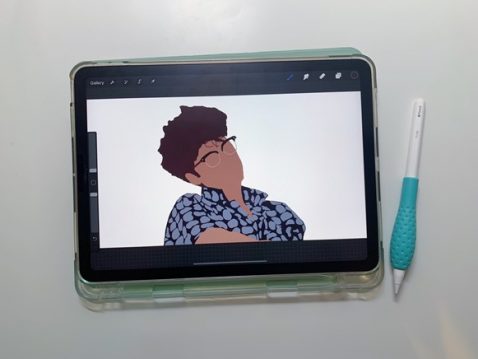 I use two apps on a very regular basis: GoodNotes5 for note taking and Procreate for digital illustration. I chose these two applications as personally, I prefer quality and function over price, and these looked the best based on my research, so I was willing to pay the $10.98 for GoodNotes5 and $14.98 for Procreate. Bear in mind that there are also many free alternatives, such as Microsoft OneNote for note taking (which you can link to your school account), and Autodesk SketchBook for illustrations.
My favourite part of the digital-physical hybrid note taking experience is the ability to find keywords through a search. This is essentially a control+F function for your handwriting, and it makes life easier for those open-book End-Semester Exams (ESEs) as you can export your notes as PDFs, and keep the handwriting recognition function switched on so that you can search for keywords on Adobe Reader. I get to build muscle memory through handwriting notes, but I also receive the benefits of digital notes, and this is why I have to give a point to digital notes.
If you feel that you lack the control, and you will likely fall down a rabbit hole of games, social media, and streaming services, you can just download school-related apps like Google's suite of applications, and RP-related apps.
USING THE iPAD AS A SECOND SCREEN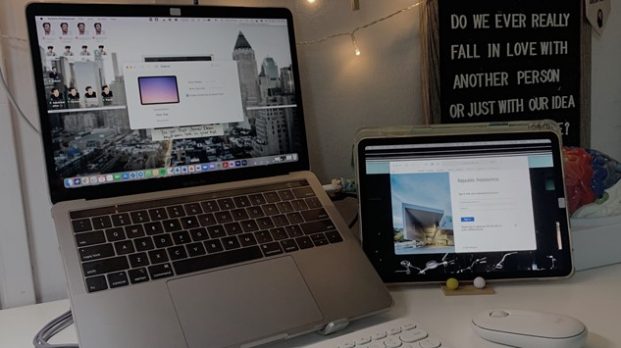 The iPad itself is a very sleek device that is easy to carry around. The iPad Air is one of the lightest, "full-sized" tablets that Apple offers. Unfortunately, since RP does not support the iPad as your primary tech device, we are unable to use the iPad as a laptop or computer replacement, but it does not stop us from using it as our second screen.
Personally, I use macOS (the Macbook's proprietary operating system) more than Windows, and with that comes the Sidecar function that allows me to use it as a second screen (pictured above). I am able to use it as a mirrored version of my laptop screen, or as a separate screen itself, but I tend to use the latter more. I find this to be extremely helpful during lessons as I am able to pull up more than one thing without crowding my screen, so I can refer to my worksheet on one screen while having my resources or Microsoft Teams on another.
If you are not a MacBook user, fret not! There are other apps out there to pair Windows-run laptops or computers with the iPad. Splashtop Wired and Duet Display are some alternatives for Sidecar if you are running Windows on your main machine.
AIRDROP: AN ADDED BONUS
Another benefit to using an iPad with the macOS is the ability to AirDrop pictures or information between the devices. When I am not using my iPad as a second screen, I am doing notes or illustrating, so if I need to transfer a picture from my MacBook to the iPad for reference, I can easily do so. Once I am done with the illustration, I can export it and drop it back on my laptop. It makes things much more convenient and efficient as I do not have to fumble about my emails or use a thumbdrive to facilitate the transfer of information, which allows me to spend more time on something more important.
iPAD WITH WINDOWS
Personally, I use the iPad as an extension of my laptop as they share the same iCloud drive, so I can still access and complete my school work if I only have my iPad. If you do not have a MacBook or an iMac, an iPad can still be incorporated into your work setup with no major issues. If you feel the need to take digital notes or do illustrations, it is great as a secondary, stand-alone device. It might not complement your laptop as well as it would a device in the Apple ecosystem, but it certainly gets the job done as a digital notebook, or you can always export your materials and import them into your laptop. You might not be able to tap into all of the features that the iPad has, but if you treat it as a stand-alone device, it is still really powerful and functional. Plus, having a larger, yet lighter and more portable screen really makes those Netflix/Disney+ binges more satisfying.
ACCESSORIES WITH YOUR iPAD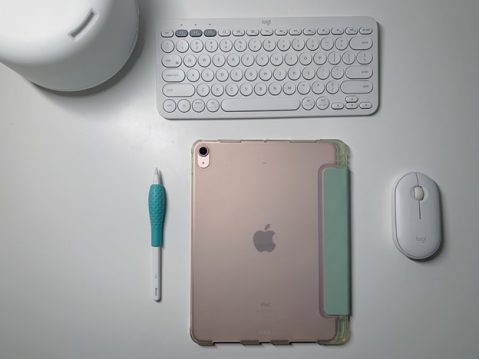 There are a plethora of accessories marketed for the iPad, but the few that I am using after one year are the Apple Pencil 2, a rubberised grip to make writing with the Pencil less tedious, an iPad case, and a (knock-off) Paperlike screen protector. Initially, I bought a keyboard and wireless mouse to pair with my iPad so that I could use it like a second laptop. I ended up using the latter two as accessories for my main laptop instead as I found that it was too inconvenient to bring the two out with my iPad. A Magic Keyboard case would certainly make using the iPad as a laptop much easier and more portable, but unfortunately I felt that it was redundant as I did not need my iPad to be a second laptop.

I do think the "Paperlike" screen protector deserves a special shoutout as it truly made writing a breeze. When writing on a tempered glass screen protector or the glass screen itself, the pencil would slide around, which does not give very good control. There was also a "dragging" feeling on my hand as I wrote on glass (try gliding your hand across your laptop screen). The matted "Paperlike " screen protector has a grainy texture which is really similar to paper, and the "drag" is also heavily decreased, so it makes note taking that much more satisfying. Unfortunately, the real Paperlike-brand protector is rather costly for a piece of film that gives minimal screen damage protection, so if you feel that the price is too high, there are other quality alternatives out there.
If you want to use your iPad as a digital notebook, then I highly recommend getting a "Paperlike" screen protector, an Apple Pencil (that is compatible with your iPad), and a grip for your Apple Pencil to take the strain off your hand.
THE PRICE IS RIGHT?
The price for the iPad is rather steep with the iPad Air 4 starting around $879 for the 64GB, non-cellular version, which is the model that I went with. I had also taken full advantage of the Apple Education Store discounts (which occurs all year round, not just during their Back-to-School promotions), so prices were definitely friendlier for the wallet.
However, you also need to consider this: A tablet can be a very good investment as a secondary device, but you might need to weigh the distraction factor, as well as your commitment to writing notes. If you are paying close to $1,000 (or even more), and you are just using it to play games, stream shows, and it causes you to become distracted from school, then you are essentially wasting your money and time. Only get it if you know you have the willpower to keep it from distracting you because, after all, it is a sizeable amount of money.