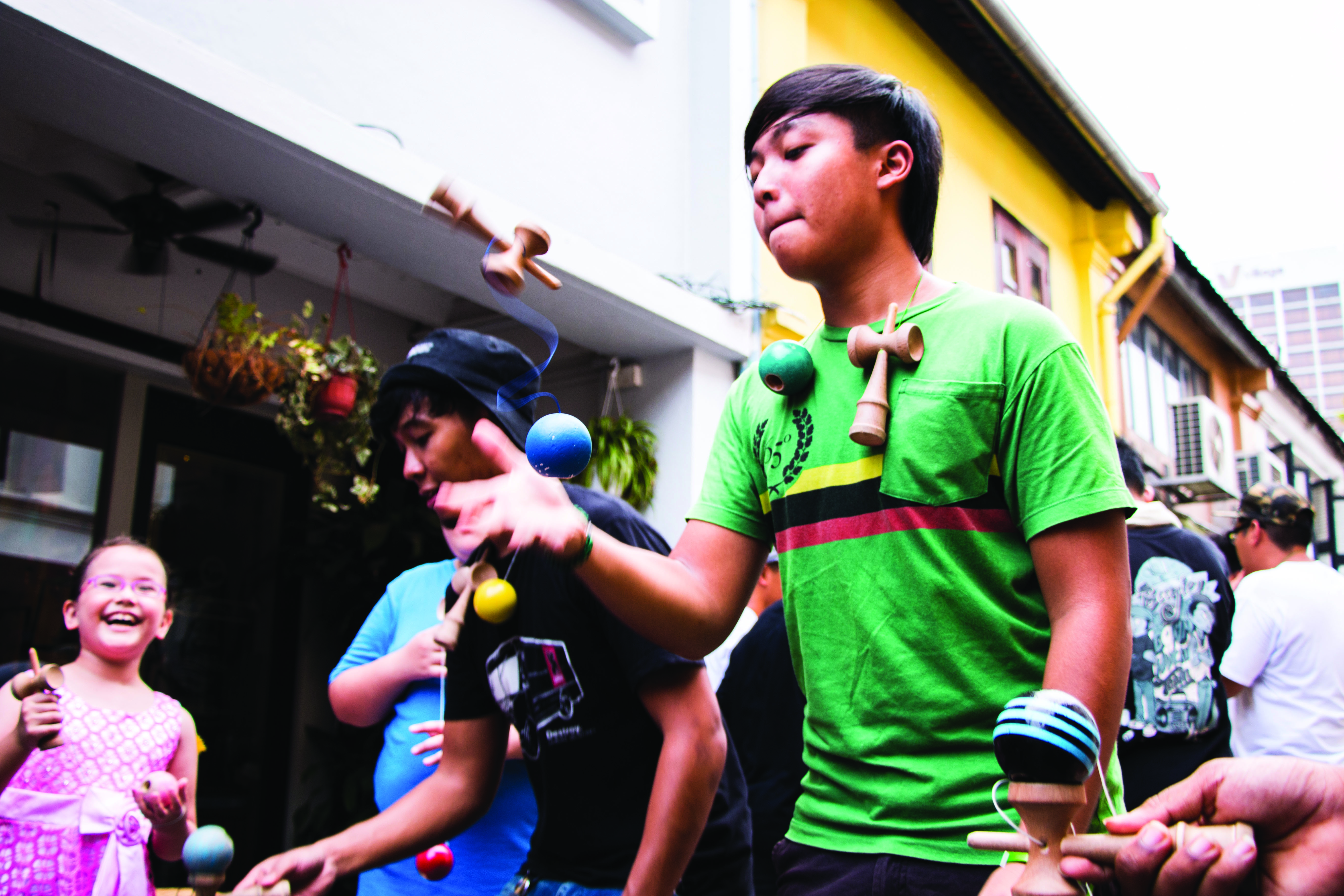 In a campus teeming with students dressed to impress, one group stands out from the crowd of Republic Polytechnic (RP) students. Hoards of primary and secondary school students in their uniforms have long become a common sight in RP, but what has raised eyebrows recently is the mass kendama sessions by this group.
The kendama is a traditional Japanese children's toy made of wood which players can play tricks with. The toy has a ball connected to a string on a stick, and it takes a practiced hand to toss the ball so that it lands neatly on the spiked stick. Similar to the yo-yo, the kendama can be played with a wide range of tricks and can also be found in many toy stores in Singapore.
Early this year, the wave of students descending on RP to play kendama sparked a vigorous debate among social media users. Some expressed their dislike for the toy and claimed it was a nuisance while others insisted on letting the trend be.
Khalish Mudzakkir Muhleseddin, an avid kendama player, is one student who makes a regular trip to RP to play the toy. The 12-year-old from Evergreen Primary School would hop onto bus 962 after school with a group of friends and make their way to RP to utilise the open spaces.
"We like going to RP because it's air-conditioned. The background is nice to take videos of us having kendama battles so we can upload them on Instagram," said Khalish, who is familiar with other players from Admiralty and Marsiling Secondary school.
He added: "Sometimes the RP students here show that they are annoyed by us, but we just let it be and continue playing. RP is a public place what, and I don't think that we are disturbing them."
Of the 10 RP students The Republican Post polled, all said they had no objections to the toy. But six students felt students playing kendama on RP created a nuisance on the campus.
One of them, Nur Faeeza Sallehuddin, a second-year Diploma in Biotechnology student, expressed strong views against the kendama sessions at RP. "It's so annoying if they play in RP, especially while blasting their techno music. This is a polytechnic and they have no respect for the students here. Sometimes they even obstruct the walkways when they are in big groups and I just feel that RP should do something about this," said the 18-year-old.
Elaine Lim, a third-year Diploma in Arts and Theatre Management student, expressed a different view, even though she relies on RP's open spaces to practice her dancing. The 19-year-old said: "I think it's fine, it's not really annoying because it is their choice to choose where they want to hang out and play the kendama."
As for the trend itself – which started early this year – a majority of RP students that The Republican Post interviewed felt it does have its advantages.
One of them, 20-year old Muhammad Sharul Fikri, a third-year student from the Diploma in Outdoor Adventure Learning said: "I think it's good that there is something to make kids get of their houses to play. Nowadays, kids are always stuck to their phones and game consoles which is not how a kid should be spending their day, it's very unhealthy. They just need to be careful and aware of their surroundings, like not playing the toy while they're crossing the road for instance."