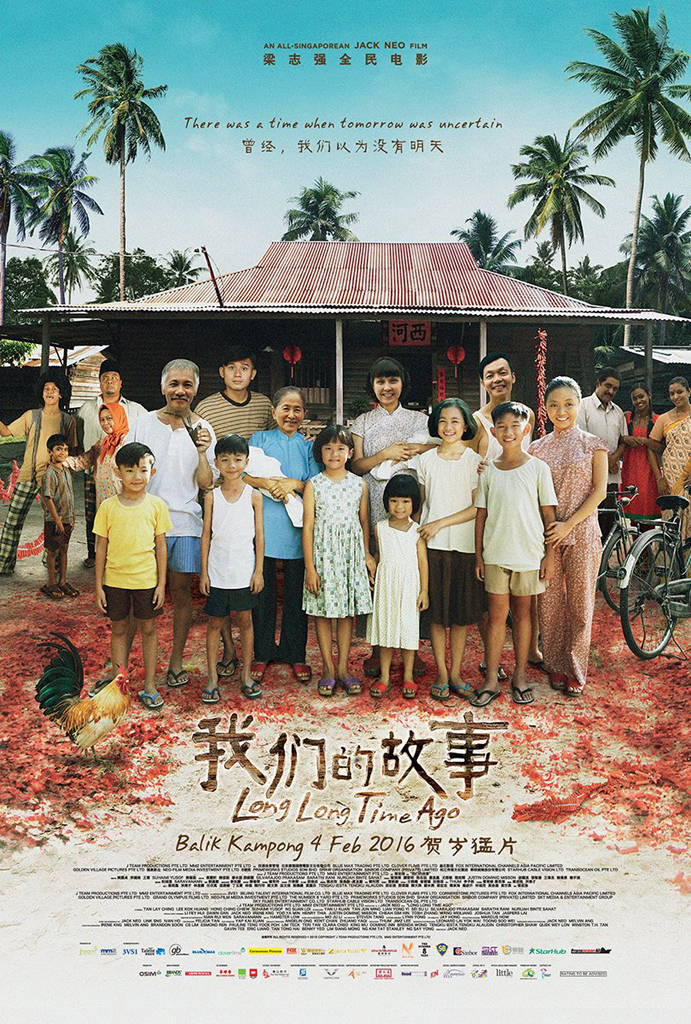 Maybe you have heard stories of Singapore's kampong days from your grandparents, or read about it in your history textbook. But have you ever wondered how it was really like after Singapore gained independence?
Set in early 1960s Singapore, the narrative in veteran local director Jack Neo's latest film follows Zhao Di, played by Aileen Tan, who shares a similar woe with her country. On August 9, 1965, Zhao Di is kicked out of the house by the first wife of her late husband, on that same day Singapore separated from Malaya.
A pregnant Zhao Di and her two children return to her father's home, where patriarchy is practised by every Chinese family in the village. In order to provide for her family, Zhao Di is introduced to the business of soya bean-making by an old friend, Osman (played by Suhaimi Yusof). During that era, illegal hawkers live in fear from both the gangsters and 'Tehgu' – Hokkien for government health officials.
The movie also presents historical events in Singapore such as the 1967 Enlistment Act for National Service, 1969 race riots and the major flood on 10 December that same year. With the values of racial harmony and the kampong spirit circling around the film, director Neo teaches the younger generation how to respect our pioneer generation.
Apart from Tan, Mark Lee (who plays Lim Ah Kun, Zhao Di's younger brother) and Wang Lei (who plays Fourth Uncle, Zhao Di's father) who are familiar faces in local Chinese films, there are also newbie actors who have left an impression.
When new actor Benjamin Tan (who plays Lim Ah Hee, Zhao Di's youngest brother) first came on screen, I didn't pay much attention to him. But the 26-year-old surprised me with his almost fluent Hokkien. His character's transformation from "Ah Boy to Man" was truly heart-warming.
Ryan Lian (as notorious gangster Ah Long of '706') also left a lasting impression. I initially thought he looked like Dennis Chew, who is more popularly known as Auntie Lucy. But that thought was quickly wiped away by the gangsterish stare and the sugar cane, which he carried most of the time during the movie.
Director Neo also brought back two non-Chinese actors from Just Follow Law, his 2007 hit film. They are Suhaimi Yusof and Silvarajoo Prakasam. As Osman, a Malay food seller who helps Zhao Di countless times, his chicken-hearted personality kept me laughing during the most intense moment of the movie.
On the other hand, Silvarajoo may just be the new "Muthu" to replace the late David Bala. Bala, who played the iconic role of "Encik Muthu" in Neo's other films such as Just Follow Law and The Ghosts Must Be Crazy, died in 2014 due to a heart disease. (Fun fact: Silvarajoo played a cameo character in Just Follow Law as Bala's supervisor.)
What is more impressive is the computer generated images (CGI) effects used in this film. The stop motion effects to the flood and even the rows of shop houses in some scenes were the result of CGI.
The period film's authenticity made the whole movie experience a pleasant one. Neo's team outdid themselves in the art direction department as the props used were mostly handcrafted. Even the vegetables in the farm behind the kampong house were individually planted and maintained by the crew before filming began.
Neo spent more than $160,000 to recreate the wet market scenes and another $10,000 to import freshwater for the flood scenes. The flood scenes were shot using blue screens in a 30m by 30m large industrial steel water tank that is 1.5m deep. The water was muddied, and leaves and twigs are also tossed in to make it look realistic.
The dialect film has subtitles in Malay and Chinese. This film is for anyone and every race, to appreciate the hardships endured by our pioneer generation
Long Long Time Ago is a pretty authentic film set in newly-independent Singapore. Just bring along dialect-speaking friends who might be able to explain a few terms you couldn't catch.
Rating: 4 out of 5 stars