Little did I know that I would be representing the school's hockey team for POL-ITE Championships 2022.
After being part of the team for only a year, playing on the first line was definitely not what I expected, and captaincy was beyond my wildest dreams!
To be picked as one of the first-line players meant that my coach saw my capabilities and trusted me enough to play for the team.
Prior to POL-ITE, the team and I had played friendlies with other schools and even participated in Liga, a nine-a-side hockey tournament. These friendlies and tournaments helped expose the team, especially the newer members, to the game and helped improve our stamina.
But playing at POL-ITE is different. It's an opportunity every sporting student looks forward to and is a breakthrough for student-athletes to showcase their potential. 
THE FIRST OF FIVE MATCHES
As soon as the team got off the bus, it felt like nervousness was crippling us. Our first match was against Ngee Ann Polytechnic.
My hands were sweaty, and my heart was beating fast. It had been a while since I last felt like this. To calm my nerves, I kept my headphones on, blasted music in my ears and tried to enjoy my alone time. Be it before a performance, competition, or exam, I always needed to dedicate time specifically for myself to calm down and be in tune with my emotions.
Both the girls' and the boys' teams assembled and exchanged words of encouragement and high-fives to boost morale. As the captain of the girl's team, I made it a point to gather the team together to conduct a team talk with everyone.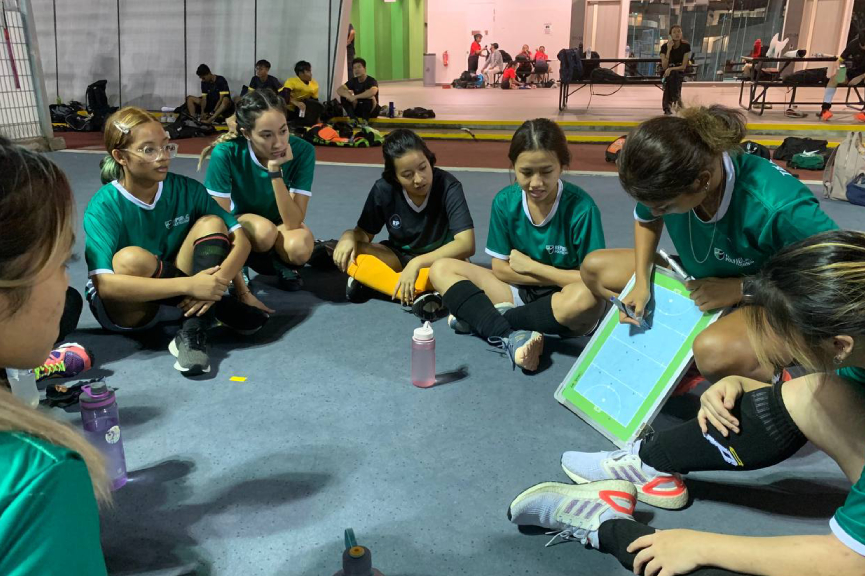 In our sit-down discussions, we shared our feelings around the circle and brainstormed possible strategies we could apply to the match. It felt as if everyone was helping one another. We reflected upon our past matches and discussed ways the team can improve. Questions such as "What did you do well?" and "What can you improve on?" were often raised within the team to help everyone open up and share.
I never knew how it felt like to be part of a supportive and encouraging team until that day.
Before we knew it, it was match time!
"1, 2, 3, RP!"
Along with two other teammates, we formed the defender line. Defending in hockey is not easy, especially when players are allowed to score as long as they pass the centre line. This meant that we needed to constantly be aware and block any possible passes from going through.
After the whistle was blown and the ball started moving, my adrenaline surged. I knew, at that moment, I had to put in 100 percent to ensure I did not disappoint my coach and team.
Previously, I would think twice to tackle or go closer to any player on the pitch, but during the POL-ITE match, I realised that I no longer hesitated.
In fact, the first time I managed to defend and get the ball back from the opponent, it boosted my confidence. It also made me want to put in the same effort and energy every time I was on the pitch for the next few matches.
Personally, for me, our last match which was against ITE was a match which will not be forgotten. A particular memory I had on the pitch was when two opponents shouted hurtful things as I tackled them.
I was lost and shocked by their words and actions but did not want to get distracted. I got back to my position and act as if I did not hear anything. My coach always emphasised the importance of staying calm and responsible when we are on the pitch. I never understood that until this incident.
Our last match, coincidentally determined the placing for the second and third positions among the schools, which was why there was tension between our opponents and us that day.
There will always be tension in every match, even in our own team. Often, there would be a lot of shouting and directing on the pitch, but without that, we wouldn't have been able to do as well as we did.
"Pass!", "Run!", and "Just be confident and shoot!" were some of the screams we would hear during the game.
One major problem the team faced was how we lacked confidence in dribbling or protecting the ball when we were in possession. However, constant communication on the pitch helped.
I still fondly remember when I had the ball in possession and was stuck with limited options to pass. My teammates would ask me to move around with the ball first and pick up the momentum from then.
No hard feelings on the pitch – that was the sentiment we shared.
WE ARE A TEAM, AFTER ALL
Not many are aware that RP Hockey was one of the first few IGs to kickstart the POL-ITE season. Even though this meant that support from students or friends would be limited, that never brought the team's morale down. In fact, we realised the importance of having each others' backs even more.
For instance, the boys' matches were often held before the girl's, hence, not only did our coach and advisors, Mr Gary and Ms Ainul, cheer us on, but we also had the other half of the hockey team supporting us from afar.
The cheers and applause they gave us whenever we scored a goal made what felt like a tense moment more relaxed.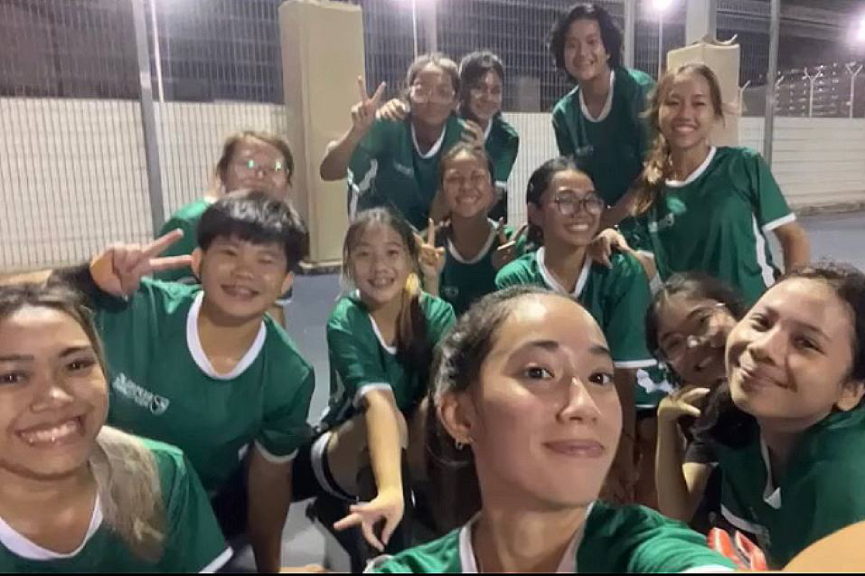 Playing for the school team is a highlight for student-athletes and an experience I will never forget. With back-to-back training and weekend matches, the team and I grew closer than before. Our camaraderie also improved, especially after the Covid-19 pandemic.
I would also hug my teammates and thank them for coming and doing their best after every match. In fact, after every match, we will all come together and reflect on our performance, and exchange words of encouragement.
Not every match can be a success, and I tried my best to put aside my feelings to be there for my team and provide support and encouragement.
If there is anyone that I would like to thank, it would be my goalkeeper. The girl's team consists of 13 players, and none of us was a goalkeeper, until a few months before POL-ITE. During this time, not only did the team have to train intensely for the season, but we also needed to equip our goalkeeper with as much experience as she could to familiarise herself with moving around in a big suit.
Being able to lead and bring the team to the top three has not just taught me the lessons of being a leader, but also the importance of sincerely understanding everyone's strengths and weaknesses.
I stepped into hockey in Year 2 with no experience and skills at all, but I am soon leaving the team with so much gratitude and respect for the hockey industry in Singapore.
Playing for POL-ITE a few months before I graduate was an opportunity and experience I will forever be thankful for.