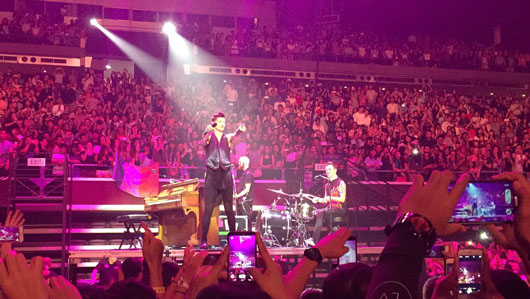 Despite an hour's delay due to technical difficulties, the thousands-strong crowd at the Singapore Indoor Stadium waited patiently for Irish band The Script to appear on stage.
The smooth sounds of Colton Avery and home-grown band The Sam Willows, the opening acts for the concert on April 21, helped to keep them entertained in the meanwhile.
But, as soon as the lights in the stadium dimmed signifying the start of the concert, the crowd in the standing pen surged forward so suddenly that I almost collided headfirst into a human wall.
The opening sounds of the anthemic 'Paint The Town Green' followed by the unmistakeable voice of The Script's vocalist Danny O'Donoghue sent the crowd wild.
The trio, which includes guitarist Mark Sheehan and drummer Glen Power, was back in Singapore on their latest tour – No Sound Without Silence – following their last concert here at the Fort Canning Park in 2013.
Highly entertaining, The Script certainly knew how to work their audience. When they disappeared from the main stage, the crowd was momentarily confused until their favourite band reappeared on a slightly smaller stage at the other end of the hall.
It was there that the trio performed the single that launched them into fame – 'The Man Who Can't Be Moved'. Undeniably, this song garnered the loudest cheer as the audience began linking their arms and singing along to the very familiar tune.
From walking among audience members to holding up a GoPro camera while performing 'The Energy Never Dies', O'Donoghue kept the audience engaged throughout the concert.
At one point, he even got a fan to dial her ex-boyfriend and put him on the line while O'Donoghue sang the break-up song 'Nothing'.
The concert ended with one of the band's most commercially successful singles aptly titled 'Hall Of Fame'.