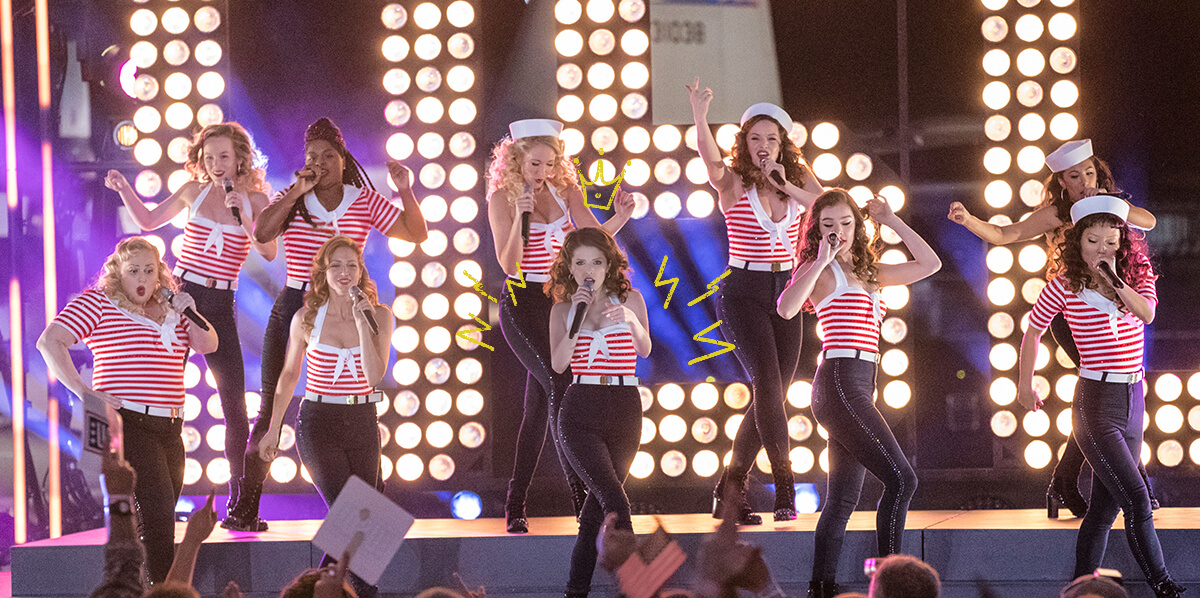 The Barden Bellas are back again! Well..,sort of. A last ditch attempt to bring the Bellas back together falls flat like Fat Amy through the roof of a burning yacht. (And yes, this really is how the movie begins) The curtain closes for a group of ladies well beyond their college years, and I say it's about time.
One note far too long, Pitch Perfect 3 sits in the shadow of its showy predecessor in every aspect. If Kay Cannon had a mid-life crisis, Pitch Perfect would be the A Cappella embodiment. Its plot was stretched paper thin like the voice of a boy going through puberty, and don't even get me started on character development. The Bellas must have been stuck in a time warp, because it seems as if they never left college. Beca quits her job after a hissy fit, Fat Amy still rooms with her and oh-so-strange Lilly is still not speaking.
In the final instalment of the $670 million franchise, the Bellas have graduated college and are "happily" settled into their jobs. Beca's a record producer who refuses to sell out for commercialism, Chloe is a vet-to-be sticking her hands in a cow's backside, Fat Amy is a struggling Amy Winehouse impersonator, you get the gist. Desperate to high-tail out of their lacklustre jobs and reality they find an opportunity to sing again at a reunion gone wrong. For one last time they take the stage together, touring in Europe for the U.S.O. competing to open for DJ Khaled.
A rusty voice is the least of their worries as they receive a not-so-warm welcome by the other three rivals. In true Bella spirit they initiate a riff-off, but A Capella rules don't apply to bands and the Bellas are no exception. Not even Lenny Kravitz's 90's classic "Fly Away" could get them out of this one. It won't be an easy win even for the A Cappella world champions.
As riveting as the trailer makes it out to be, the movie is not the show-stopper we were promised. The Bellas don't go out with a bang (it's a boom), but that's not to say it's a bad thing. Die-hard fans of the trilogy will be treated with a sweet throwback of the past instalments and the running jokes are not to be missed. Fat Amy 's one liners make a comeback, Chloe's awkwardness radiates off the screen and dynamic duo John and Gail circle like "vicious" sharks around the Bellas to the comforting tune of banter.
They may be rusty but they're still aca-mazing with renditions of pop favourites like DNCE's Cake by the Ocean, Sia's Cheap Thrills and the likes of it. Pathetic plot aside, one cannot deny the contagious spirit these girls have. Despite the number of forced jokes and half-baked plot twists in the story, one thing remains real; the bond that these girls have. You can't help but sway and groove, as the Bellas toast to their sisterhood.
The Pitches may be past prime, but this is one last call die-hard fans wouldn't want to miss. But as for the rest, I say skip this beat.
Director: Trish Sie
Writer: Kay Cannon and Mike White
Main Cast (Bellas):
Anna Kendrick as Beca Mitchell
Rebel Wilson as Patricia "Fat Amy" Hobart
Brittany Snow as Chloe Beale
Anna Camp as Aubrey Posen
Hailee Steinfeld as Emily Junk
Hana Mae Lee as Lilly Onakuramara
Ester Dean as Cynthia-Rose Adams
Chrissie Fit as Florencia "Flo" Fuentes
Kelley Jakle as Jessica Smith
Shelley Regner as Ashley Jones