All of us at some point in our lives have struggled with mental health issues. This could be due to stress from a heavy school workload or a heated argument with a loved one ending on a sour note..
Some of us turn to cope with these stressors through meditation, yoga exercises, listening to music or watching a film or two.
As we fell into the latter category, our interests were piqued when we heard aboutthe 4th Mental Health Film Festival Singapore (MHFFS), an event that is entirely centred around promoting mental health-related films and sparking conversations about the topic.
Held from Nov 3 to 12, the film festival featured a curated selection of international and local films, panels, workshops and a roadshow, all of which revolved around mental health and sought to increase the public's awareness of mental health issues.
Seeing it as a great opportunity to relieve our stress from school and engross ourselves in cinema, we decided to head down to MHFSS after a long week.
Film galore on Opening Night
MHFFS kicked off its fourth rendition with an opening night on Nov 3, of which we were invited to on behalf of The Republican Post.
It was graced by Senior Parliament Member Eric Chua, who opened with a speech encouraging participants to continue supporting the mental health cause over the film festival's duration.
"Mental health is a complex issue that affects many…We need an ecosystem of support to meet the needs of everyone in the community," he shared to the guests sitting around him at Filmgarde @ Kallang Leisure Park.
Mr Chua also applauded the youths that submitted self-produced short films to MHFFS' Short Film Youth Competition (SFYC), which received over 100 "wonderful" works from both its Youth Showcase and Open Competition categories combined.
Among these submissions, 20 finalists were chosen and commended for their film stories, though only three from each category walked away with prizes.
One of which was Dawn Tan, a third-year student from Singapore Polytechnic's Diploma in Media, Arts & Design. Her directorial short film What Would Mitch Do? won best overall film in SFYC's Open Competition category.
It stood out to the judges for its "emotionally charged and compelling story" and "powerful message of youths dealing with loss".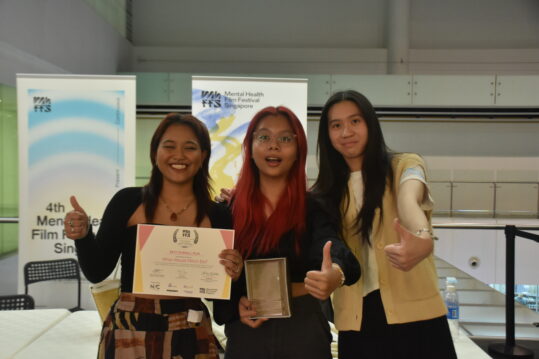 What Would Mitch Do? was screened live on the opening night, alongside the Youth Showcase category's best overall film Paper Sky by Pearlyn Ho.
The first film depicted how main character Andie went through a 30-day exposure therapy to get over a breakup, while her best friend Mitch accompanied her throughout. There were portions of the short film that made us chuckle, and others that took us by surprise, especially towards the end when there was a plot twist..
Paper Sky took us through main character Ryan's personal mental health journey when hit with "the chaos that revolves around him". We were amazed at not just the storytelling, but also the short film's set-up and pay-off using a certain Japanese legend.
We walked out of Filmgarde absolutely blown away by the talent and the youths' film productions, and felt increasingly pumped to see more mental health films and programmes over the weekend.
Calming our minds at mental health workshops
More than just films, the MHFFS also featured mental health workshops. We decided to attend the sound therapy workshop hosted by Singapore Association for Mental Health on Nov5.
Led by programme executive and art therapist Mahesh Iyer, the workshop had participants "find their own sound" with DIY maracas made from plastic bottles and rice grains.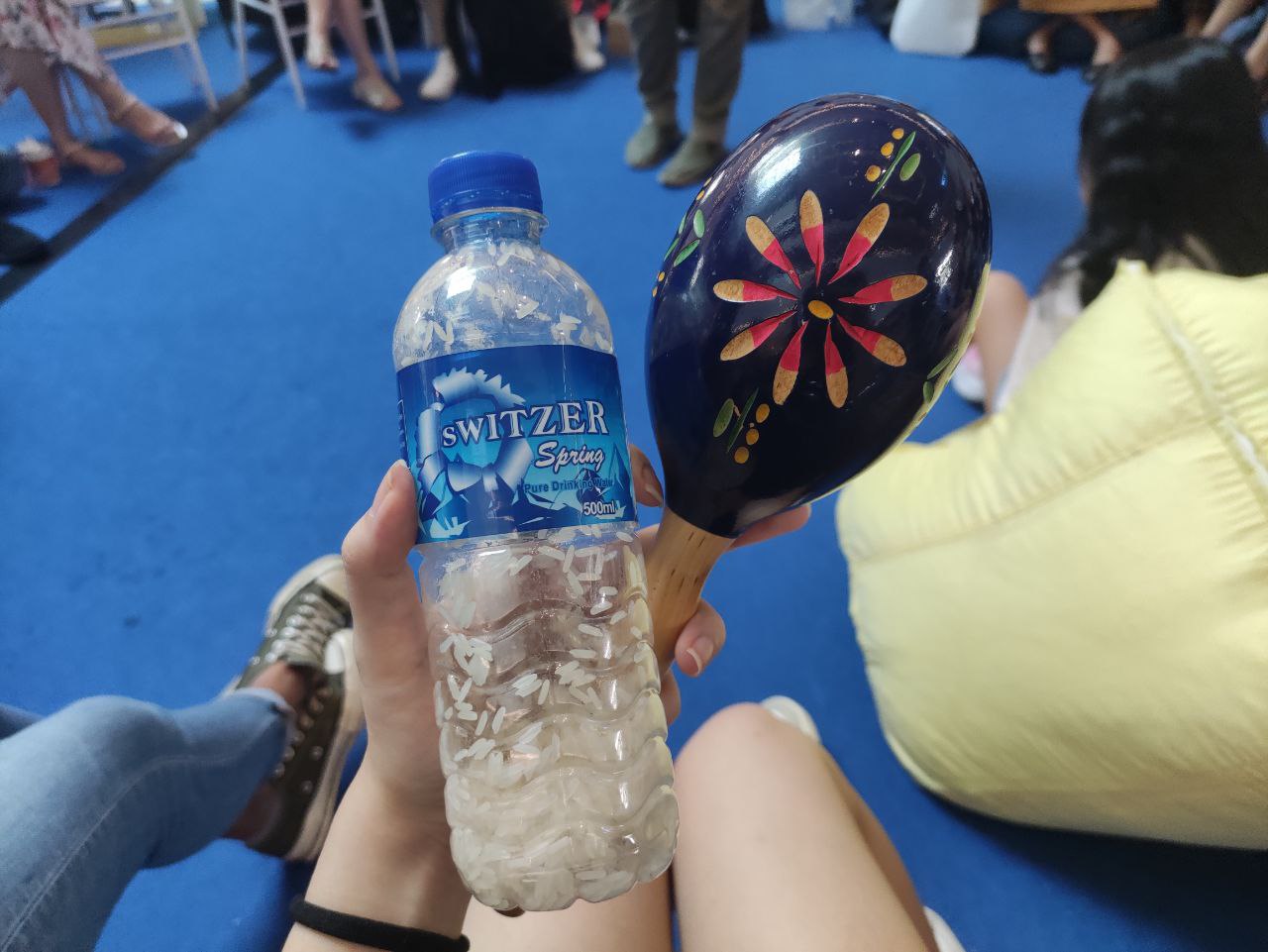 This workshop aimed to help everyone feel calm and at ease while grooving to the rhythm. It encouraged people to understand each other without communicating verbally using individual and pair work exercises.
For example, one person would start off by playing a base rhythm. Another would join in by incorporating beats that sync well with the initial beat. With little to no verbal communication and a West African instrument Djembe, Mahesh was successfully able to get everyone to play and relieve stress through the joy and groove of music. Our bodies kept unconsciously moving to the music and lighthearted vibe of the tribal beats of the Djembe.
The activities were a little awkward to do at first, especially when we had to pair up with complete strangers beside us, but the music let us connect with one another. It felt exhilarating to be able to learn new rhythms and be able to vibe with all the other participants.
Wrapping up the sound therapy workshop, every participant was asked to say a word to describe how they felt after the therapy workshop. Most of the responses were about feeling relieved or rejuvenated. This experience warmed our hearts and is truly one to be cherished!
Catching mental health films on the big screen
After tidying ourselves up after the sound therapy workshop, we soon headed off to watch a screening of Korean feature film Next Sohee (2022). It told the story of Sohee, a high school student that undertook an internship at a call centre. Little did she know that her workplace was not what it appeared to be, and the film leads its audience through her internship experience and its aftermath.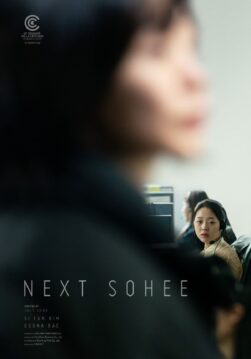 Neither of us were the most enthusiastic about South Korean drama shows and films, so suffice to say that we headed into the two hour-long screening with little expectations.
This turned out to be a good move on our part though, as we were left thinking with not just the movie's open ending but also its frustratingly good and emotionally-charged storytelling. It left a bittersweet taste in our minds, yet a lasting message about suicide prevention and dealing with mental health issues in a workplace setting.
Soon after the screening ended, we stayed behind in the theatre to attend a post-screening panel featuring industry experts in the mental health space: Resilience Collective's Executive Director Nicholas Lee, Caring for Life's suicide prevention advocate June Tang and Community Relations and Operations Manager Alex Teo, and psychiatrist Jared Ng.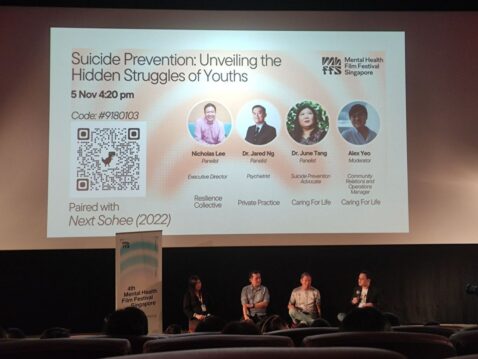 Most of the questions were related to suicide prevention about the hidden mental health struggles faced by youths. The panellists were also directed queries on their opinions towards mental health advocacy and the effects of social media on youths' mental health.
Dr Tang related very closely to the audience members' concerns, and mentioned about her own mental health struggles while offering personal advice on how to help those that are struggling with it too.
"You should ensure that you do not jeopardise your mental stability for others," she said, and emphasised that we should prioritise our own well-being, even when trying to support that of one's loved ones.
On the other hand, Dr Ng and Mr Lee spoke of how suicide "affects friends and family of lost loved ones" and ways youths can approach peers facing mental health issues, while also recommending local organisations and services they can use when in need of mental health-related assistance.
Attending MHFFS and its programmes was a truly moving and fulfilling experience. It felt really touching as we were able to explore mental health in an open space, which was greatly welcomed as the topic is still considered rather taboo even in this day and age.
Seeing as this is only our first time attending MHFFS and film festivals as a whole, we thoroughly enjoyed ourselves and are definitely more open to visiting other similar events in the future.