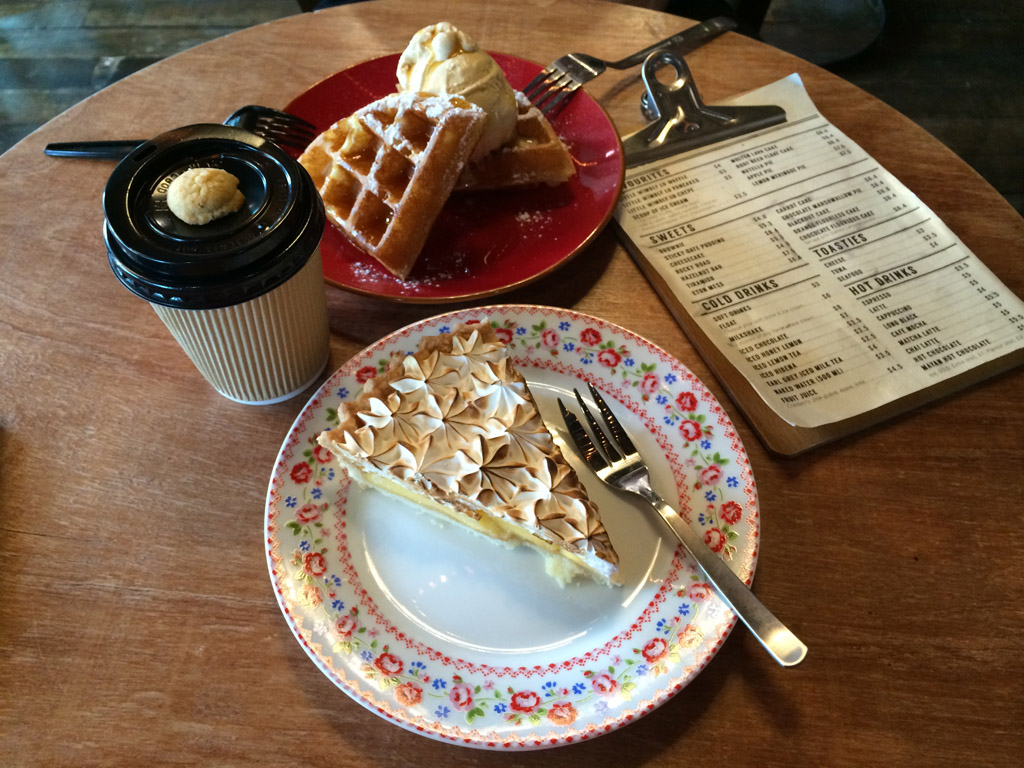 For those with a sweet tooth, mention Wimbly Lu and chances are, they would have heard of this quaint little café before. However, nestled deep in Braddell Heights Estate, its location is a major drawback for potential visitors.
Enter Little Wimbly Lu (LWL). Officially opened on 1st July 2014, it is located on the ground floor of myVillage at Serangoon Garden. It took over Da Paolo Gastronomia and is just a short walk from the famous Chomp Chomp Food Centre.
As its name suggests, LWL is a smaller version of Wimbly Lu, a popular dessert café located at Jalan Riang. Yes, smaller menus, smaller servings of desserts and even a smaller seating area.
But, fret not! The portions are smaller but so are the prices. Take for instance the waffle ($4) I had when I was there. Costing $4, it's half the price compared to Wimbly Lu. I had it with 1 scoop of salted caramel ice-cream, which cost an additional $3.50.
Its widely-raved waffles didn't disappoint. Served warm, it was crispy but still retained a soft and fluffy texture when you sink your first bite. Drizzled with maple syrup (which was my option), it was simple and simply satisfying. I will definitely be back for more. It's something that you must order when you are at LWL. Being a big eater, my only gripe is that one portion is certainly insufficient to fill my empty stomach. But it's great if you are on the go and need a quick bite or need a dessert to end your meal.
Although most of their items are smaller in size, LWL serves cakes and pies in regular portions too. This includes its widely-acclaimed Root Beer Float Cake, Lemon Meringue Pie and Tiramisu that you can find at the Wimbly Lu.
I opted for the Lemon Meringue Pie ($7.50), another of my personal favourites. When I took my first bite, it brought back memories when I first had it over a year ago at Wimbly Lu. Again, I was blown away by the taste of it. The crust was neither too hard nor too flaky. The lemon custard complemented the sweet meringue and gave it a rich flavour. Of course, this entire pie was gone in less than five minutes.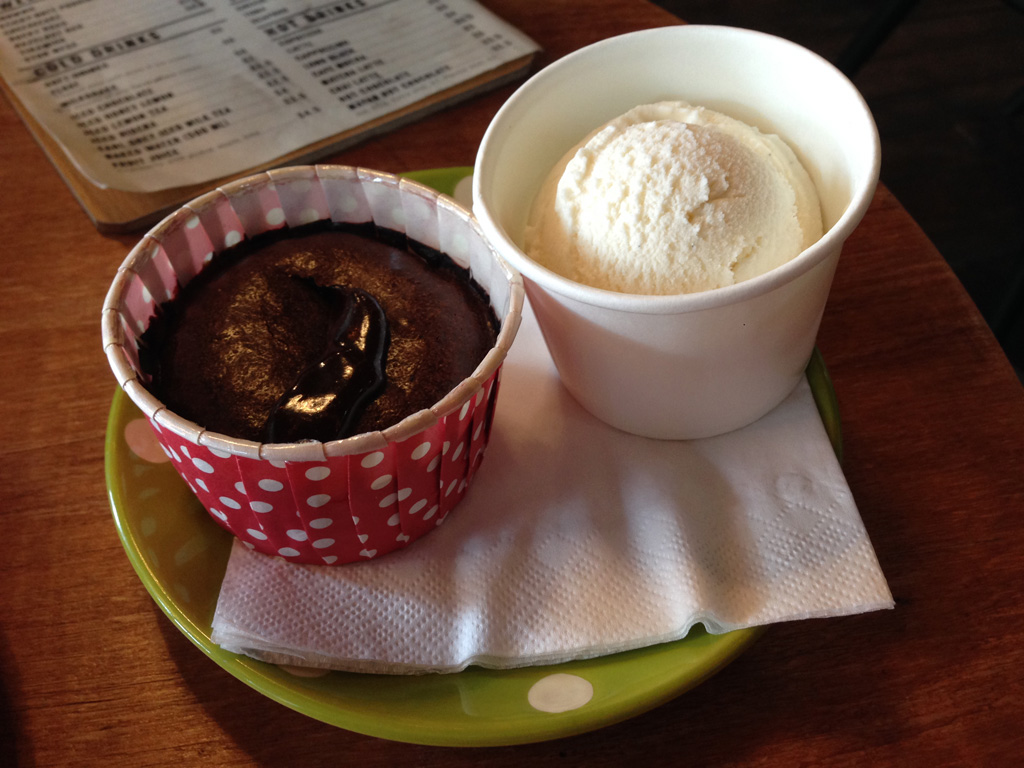 I was certainly on a roll and ordered Molten Lava Cake ($6.40) which was accompanied with a complimentary Vanilla Bean ice-cream by the friendly manager.
Served in a takeaway cup, it didn't look aesthetically pleasing but once you slice a corner of the cake, melted chocolate oozes out and the vanilla ice-cream really tasted delicious along with it. It was heavenly, but a tad too sweet for me as I won't consider myself as someone who has a sweet tooth.
I requested for a Flat White coffee ($5) which the manager brewed specially for me. Again, it was served in a takeaway cup but it was a pleasant drink to digest all the sweet stuff that I just consumed.
Besides its famous desserts, Wimbly Lu is well-known for its beautiful décor and LWL is no different.
With mini lights dangling on the ceiling and transparent glass surrounding the café, it sure does create a nice and cosy ambience to just chill out with your friends.
Check out the nice signboard handwritten in chalk and the cute little buzzer that reminds me of the Apple Magic mouse. It vibrates when your food is ready. How ingenious! Now you don't have to stand around and crowd the counter while waiting for your food. Nicely done, LWL!
One thing you don't have to worry about is parking options, a stark contrast to the limited parking spaces you will find at Wimbly Lu. Indoor seats are limited (I counted only 23 seats) but there are ample seats outdoors.
The original store at Jalan Riang has a wider food selection but the quality at LWL does not differ much. If you have visited Wimbly Lu, you will not be disappointed at LWL.
Just two things to note: it is self-service and they only accept cash (DBS bank is just next door). When I was there on a Sunday afternoon, it was surprisingly sparse and I managed to get a seat easily but the crowd started to build up when I was about to leave. So head down soon; I am confident it's only a matter of time before this café gets as crowded as Wimbly Lu.
Little Wimbly Lu
myVillage @ Serangoon Garden
1 Maju Avenue
#01-09/10
Singapore 556679
Sun – Thurs: 11am – 11pm
Fri – Sat: 11am – 1am
How to get there: Take Bus 73, 136, 315 or 317
Alight at Serangoon Garden Circus (66271)