After a hiatus due to the COVID-19 pandemic, the Temasek Foundation's Specialists' Community Action and Leadership Exchange or TF SCALE was back in full swing over the last two weeks at Republic Polytechnic (RP).
On Friday (Oct 14), students from all four institutions – Universitas Islam Bandung (UNISBA) in Bandung, Chulalongkorn University (CU) in Bangkok, University of Social Sciences and Humanities (USSH) in Ho Chi Minh City and RP came together for a cultural performance on campus.
After two weeks of working on projects, it was time to bring the programme to a close in Singapore.
Here's how the ceremony unfolded along with the rest of the activities of the TF SCALE period.
OCT 12 – CLOSING CEREMONY
WELL DESERVED MEAL: A scrumptious buffet spread was prepared for the students, teachers and guests to feast on after the ceremony. After their meals, some international students joined their Singaporean friends to spend their final day together.
CAPTURING MEMORIES: As the crowd dispersed, students stayed behind to snap pictures with their newfound lifelong friends. The lecture theatre was a bustle of joy and sadness as the students mingled, exchanging hugs and gifting souvenirs for their counterparts to treasure them by.
TILL WE MEET AGAIN: After Mr Chong's speech, the audience applauded with gratitude and longing in their eyes. The atmosphere is bittersweet as the students realise their time together is soon coming to an end.
I CAN FEEL THE LOVE: Mr Terence Chong, the Director of RP's Office of International Relations closes the ceremony with a speech including praise for the students' performances and highlights from the two-week programme. "It never ceases to amaze me. Every time is different, but I can feel the love," says Mr Chong on witnessing various batches of students in TF SCALE over the years.
TF SCALE SUCCESS: Students from Singapore, Indonesia, Thailand and Vietnam huddle together for a final group photo. They will cherish these new memories, knowledge, and friendships gained over the past two weeks.
ALL SMILES: Jubilant and joyful Vietnamese students cheer for their Thai counterparts who put up an unforgettable show. Emotions ran high as the theatre echoed with applause, filling the atmosphere with palpable love from the three nations.
COUNTRIES UNITE: The audience erupted in cheers and aws as the Thai performers synchronously held up flags of all four countries, closing their performance on a high note.
DING DING DANG DANG: In their rendition of the viral song, See Tinh, the band fills the theatre with lively thrumming tunes while the STA students make their entrance in the collaborative performance. The atmosphere felt like a party as the performers sang and danced amidst cheeky hoots, conga lines and freestyle segments.
PERFECT FINALE: Donning traditional outfits with faces smothered in natural white powder known as din sor pong. The Thai students delivered a mesmerising performance with their very own live band playing traditional and modern instruments and dancers flowing gracefully to the lively instrumental symphony.
I WANNA HOLD YOUR HAND: Opening their performance on a touching note, Thai students from Chulalongkorn University and STA student Li Ming Xuan (far left) sing their original song, composed in honour of the lifelong friendships they formed during the programme. The song also included an impressive rap by Ming Xuan, who even rapped parts in Mandarin.
BEAUTIFUL BANDUNG: With the audience clapping along to the music, the Indonesian students from UNISBA sang in harmony while performing a traditional dance with simple yet elegant movements. At the end, the performers broke into a rhythmic cheer and the audience couldn't help singing along the catchy tune.
Between performances, the emcees engaged the audience to ask their thoughts on the performance as the students' showed their appreciation and admiration for their peers' cultures and artistic talents. Some even impressed with knowledge of the different countries' cultures and slangs!
VIVA LA VIETNAM!: The Vietnamese students carried their smiles and arms wide as they posed with the Vietnamese flag, ending a performance which showcased the beauty of the Vietnamese culture and the passion and patriotism of the students.
AI YEU CO BA SAI GON!: Four female students serenade the audience with their sweet vocals in their own rendition of the song, Co Ba Sai Gon while others perform a graceful traditional dance to the lively music. With melodic vocals, divine dance moves, and an impressive footwork routine, the audience was left cheering and smiling till the end.
To start off the performances, Vietnamese students from USSH brighten the stage in their colourful traditional clothing, known as Ao Dai. The students open their performance with a self produced video and an acting segment introducing Vietnamese culture.
IT'S SHOWTIME: Kicking off the TF SCALE closing ceremony are student emcees Trixie Niadi (left) from Bandung Indonesia and Balqis Bakhtiar (right) from RP SHL. The duo set a lighthearted atmosphere and built up anticipation for the international students' upcoming cultural performances.
OCT 12
After a fruitful day of discussion with their friends, the USSH and RP students headed to W5 lecture theatre where they bonded through games.
From charades to Head Ups 7 Up, the students had a laughter-filled afternoon playing a variety of games accompanied by humorous forfeits. Despite the bold forfeits, the Vietnamese students confidently carried them out by dancing, catwalking, and even trusting their Singaporean peers to hoist them up to victory.
With catchy songs in the background and fun games to strengthen their already close-knit friendships, these students had yet another memorable session to endthe day. Leaving the room with smiles on their faces,they beamed with excitement for what the following day holds for them.
OCT 10
The day started early for SAS and USSH students as they visited Singapore's only goat farm, the Hay Dairies Goat Farm. They learnt more about the goat milking process, benefits of goat's milk, the farm's subsistence farming efforts and more.
"I'm especially impressed by the humanitarian aspect of the farm. I asked the farmer if the goats need to get pregnant all the time to produce the most milk. He said they collect the milk for five months then let them take a break," said Hoang-Ca Phung, 21, a USSH student in the faculty of Journalism and Communications.
"To him, the goats are not machines. He even saw them as his wives so they care for the goats quite compassionately."
It was time well-spent for the students who got to experience feeding and interacting with the goats first-hand. Not to mention witnessing a remarkable moment when a doe gave birth!
UP CLOSE AND PERSONAL: The students enjoyed feeding the plethora of goats in the vicinity and discovered a more humble side of our bustling city.
The goat farm was just one of many first-time experiences the USSH students had in Singapore. For some, the trip to Singapore itself marked their first time travelling abroad, while Others gushed enthusiastically about their experiences trying the local delicacies or simply enjoyed meeting people of various ethnicities.
BRIDGING GAPS TOWARDS DIVERSITY AND SUSTAINABILITY
It was through these learning journeys that the students not only gained a deeper understanding of Singapore's attractions, people, and culture, but also gained new insights and ideas for their project.
"I know Singapore is a diverse and multi-ethnic country and people can live together with little discrimination. That's why I want Vietnam to improve their ethnicity policy so the ethnic minority can have better living conditions," said Quach Kien Thanh, 20, a USSH student in the Tourism and Travel Services Management faculty.
"We have to help them in our projects. We have to create more opportunities for them to have (better) access to the modern world," he added.
For Hoang-Ca, coming to Singapore was an opportunity for her to learn more about how Singapore overcame its environmental problems and its current measures towards sustainability.
"I was impressed when we visited the Marina Barrage and learnt how Singapore overcomes its water problems at the sustainability gallery," said Hoang-Ca. "I could understand how Singapore had built all that trust (among locals)."
"It provoked my enthusiasm that we can experience all the biodiversity. I also know that Singapore is a country with a lot of races and ethnicities who live in harmony towards a sustainable goal," she added.
NEW FRIENDSHIPS AND SPECIAL MEMORIES
Like Kien Thanh, many friendships were forged over the past two weeks of the programme. The RP and USSH students alike bonded over fruitful conversations, spanning from the topics of their favourite local dishes, hobbies and cultures.
During their classroom brainstorming sessions, the students chatted and laughed with one another, simultaneously planning and bonding with their international friends. This greatly enunciated the bond these students had with one another. Some even discovered their peers' hidden talents after one picked up a ukulele and sang or when another displayed their artistic talents by drawing for project collateral.
They had formed a special bond, one which allowed them to interact with each other and communicate effectively on their task at hand. This led to the successful brainstorming of ideas during their classroom sessions.
OCT 7
OCT 6
DEFINED BY DIVERSITY: It was a rip-roaring session at the Cultural Workshop hosted by SMC lecturers. Students discussed the notion of cultural diversity and had an eventful afternoon sharing about their own cultures while learning about others.
Many students brought along their own cultural items including, musical instruments, dresses and food to showcase.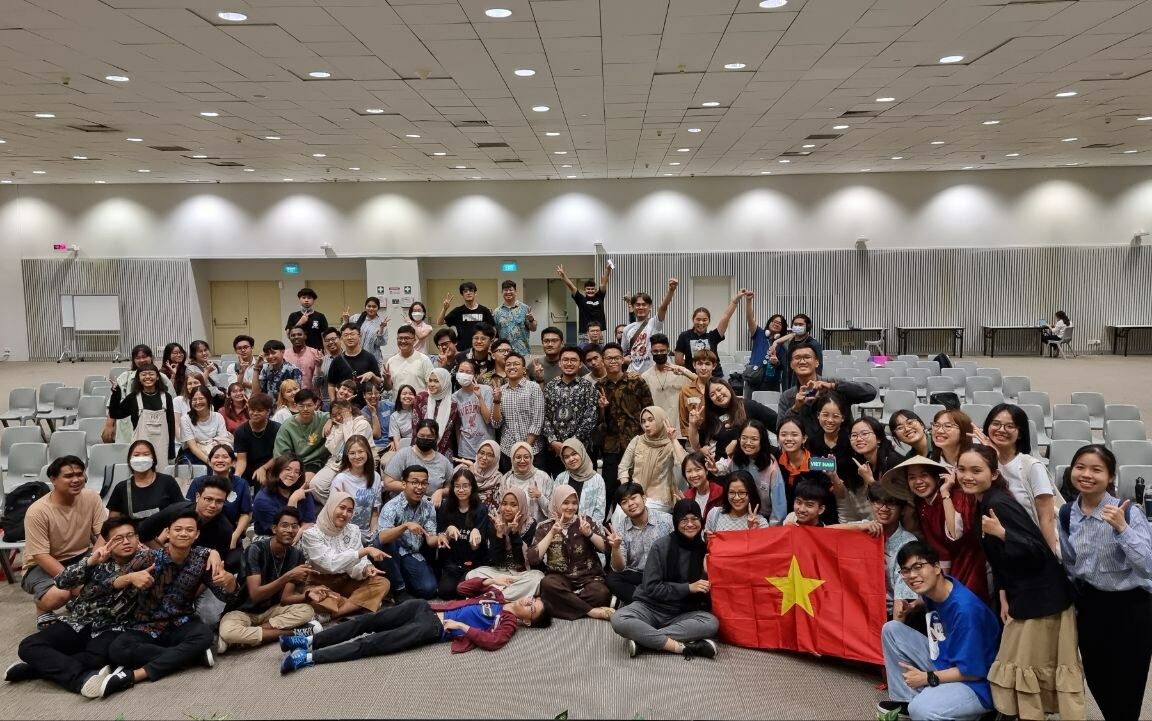 ---
Students spending the morning at ComCrop, a local commercial rooftop farming company, to learn about alternative ways of producing food.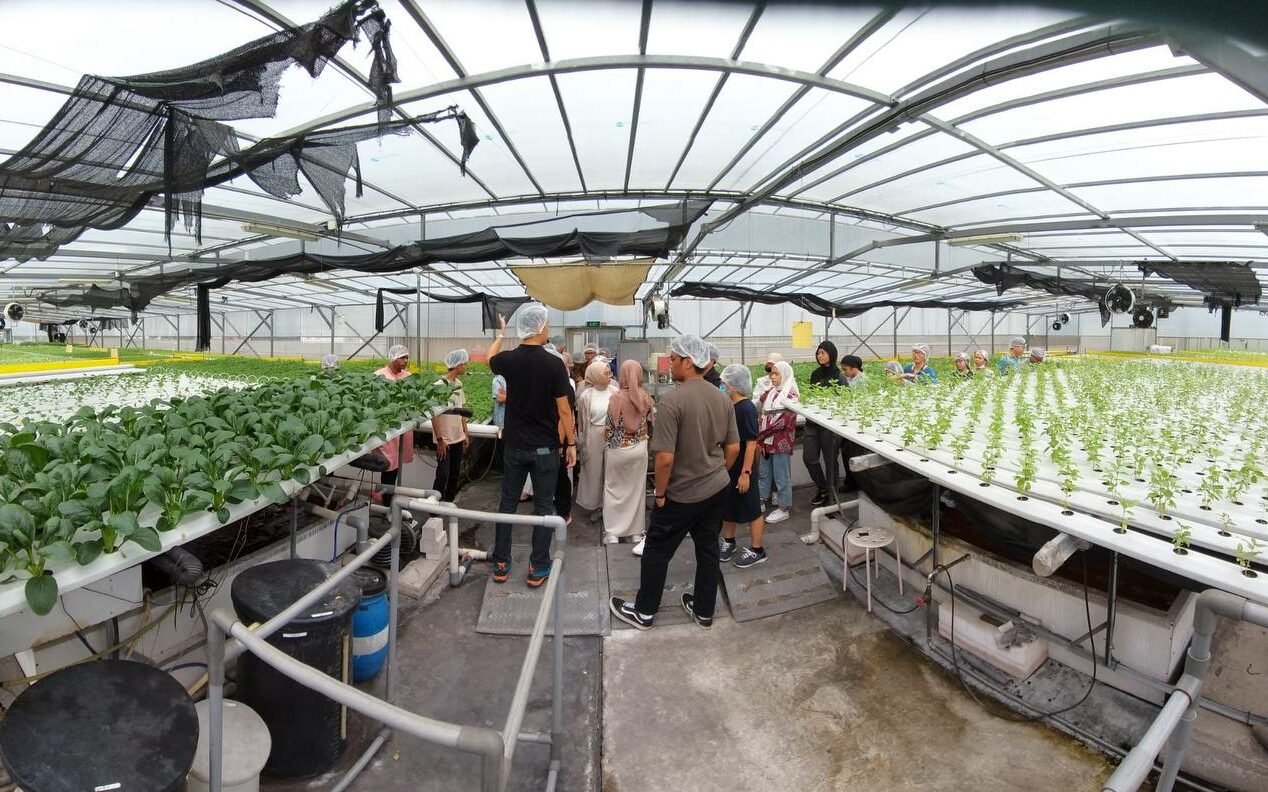 OCT 5
A great photo at Bayfront to end the day!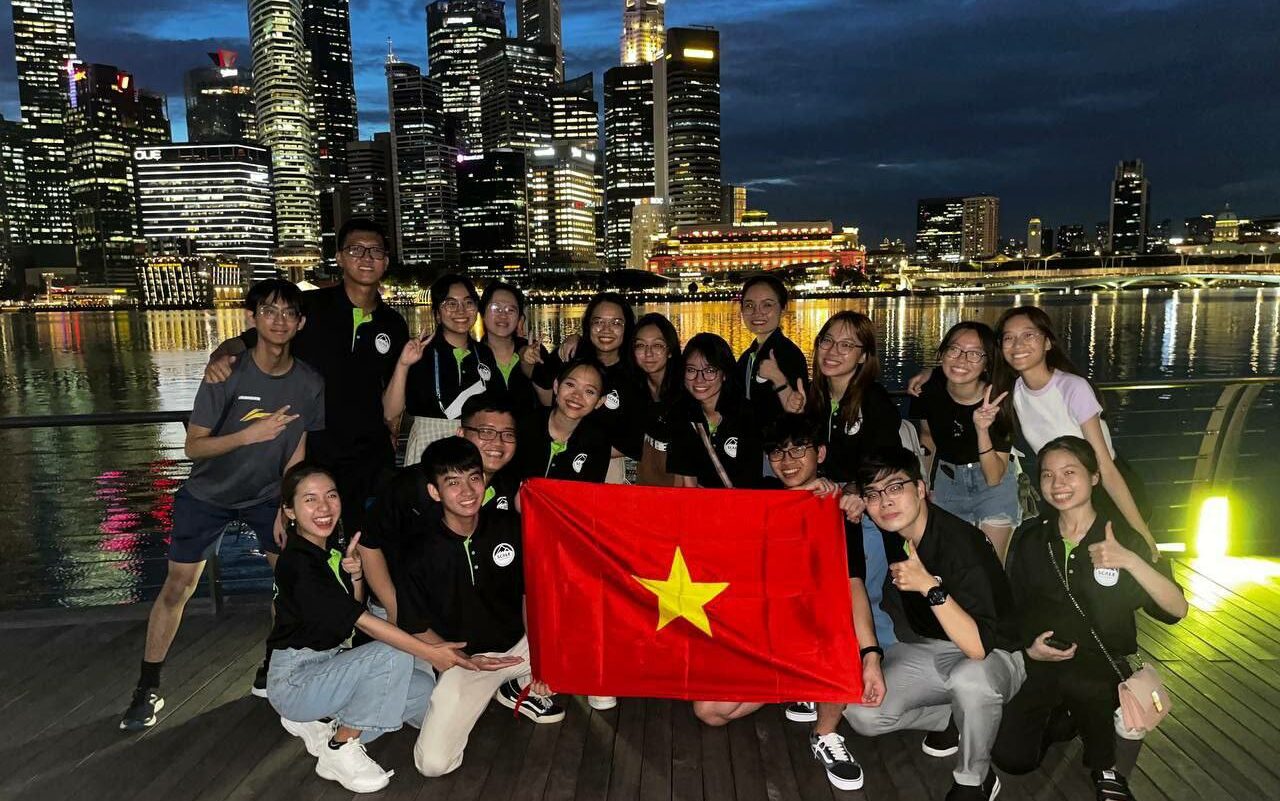 ---
To introduce the Vietnamese students to the local culture and foster greater bonds with them, the SAS students brought their USSH counterparts to tour around Singapore to try the local food and visit various landmarks.
USSH students also visited the Sustainable Singapore Gallery at Marina Barrage where they learnt more about the effects of climate change and Singapore's measures towards sustainability.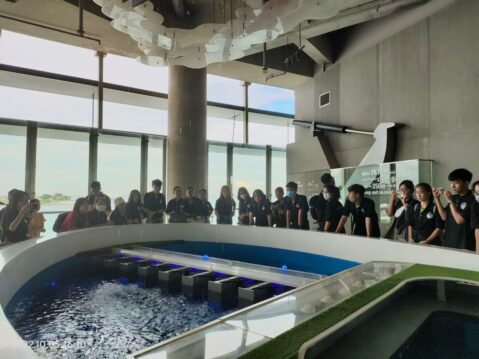 ---
SUNSET AT THE BARRAGE!
Chulalongkorn University students were jumping for joy at the Marina Barrage and taking in the sights and sounds in the cool evening!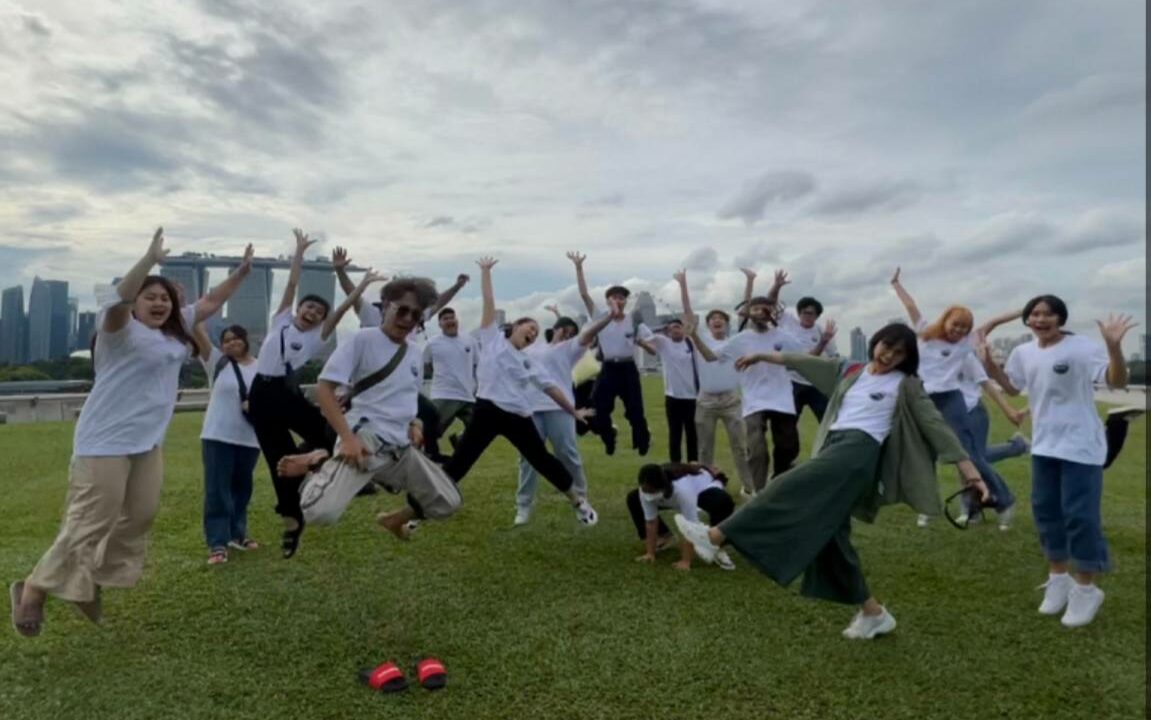 UNISBA and SHL students bond at Marina Barrage, taking in the view before sunset. Here, SHL Year 1 student Balqis Bahktiar gets the perfect shot!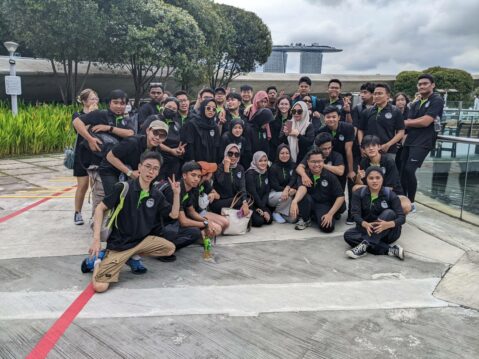 ---
MORNING EXERCISE! Lecturers Ms Trina Tan (extreme left),and Ms Tan Yan Lin (not in picture), joined students from SHL and UNISBA a morning workout. Picture was taken after the activity which took place in RP's sports complex.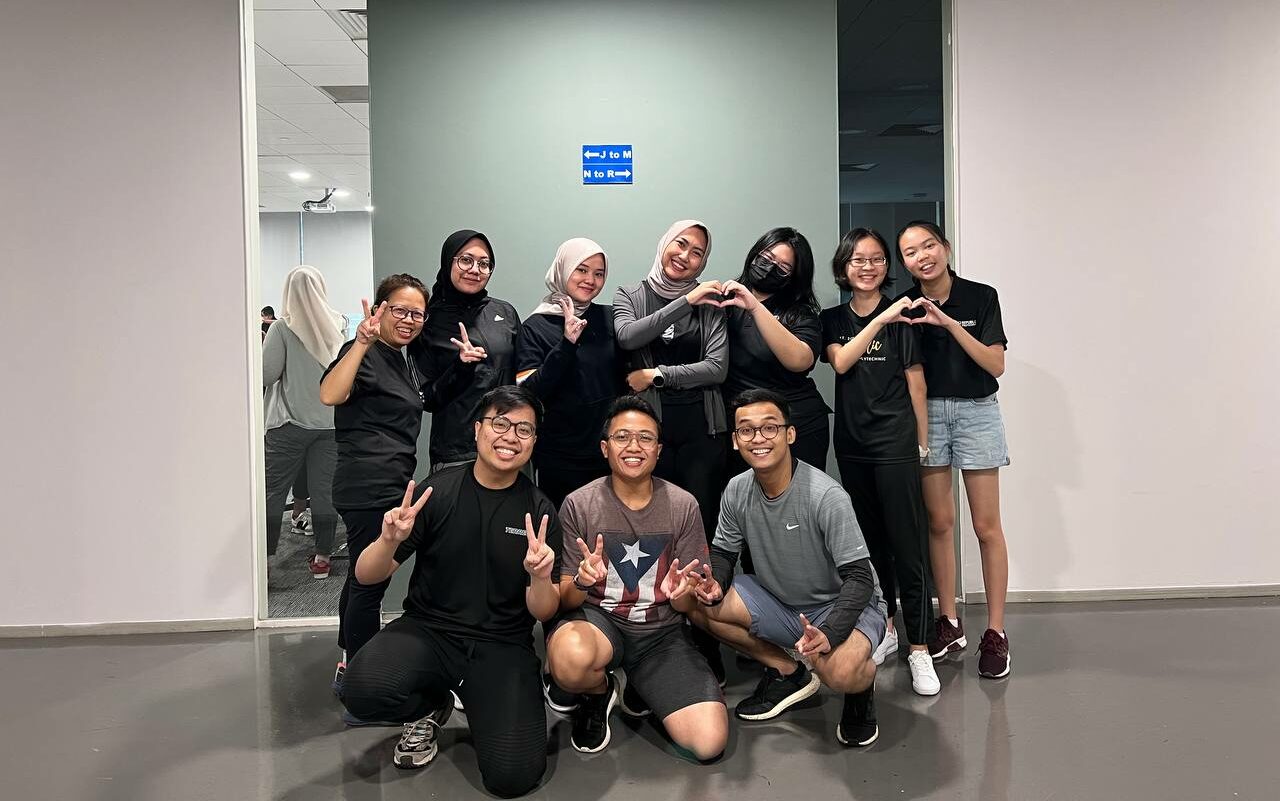 OCT 4
With rumbling bellies and beaming anticipation, the SAS students and USSH students arrive at Bukit Timah Hawker Centre for dinner after a day of activities.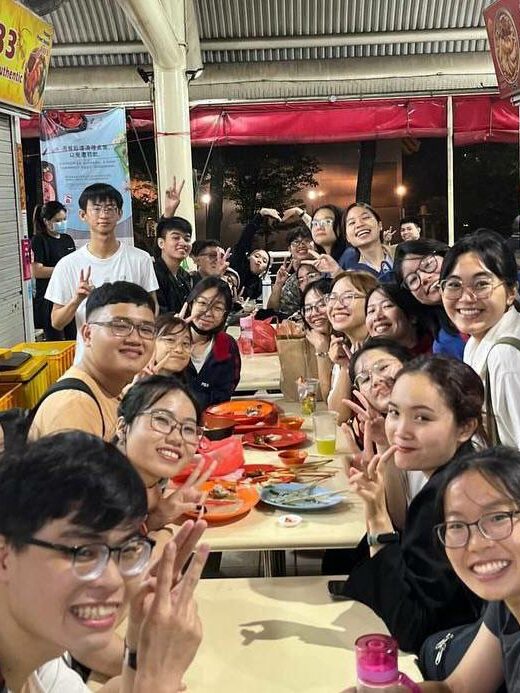 After exploring Chinatown, the students visited the URA Singapore Gallery to enjoy an exhibition regarding the common sights and sounds of Singapore.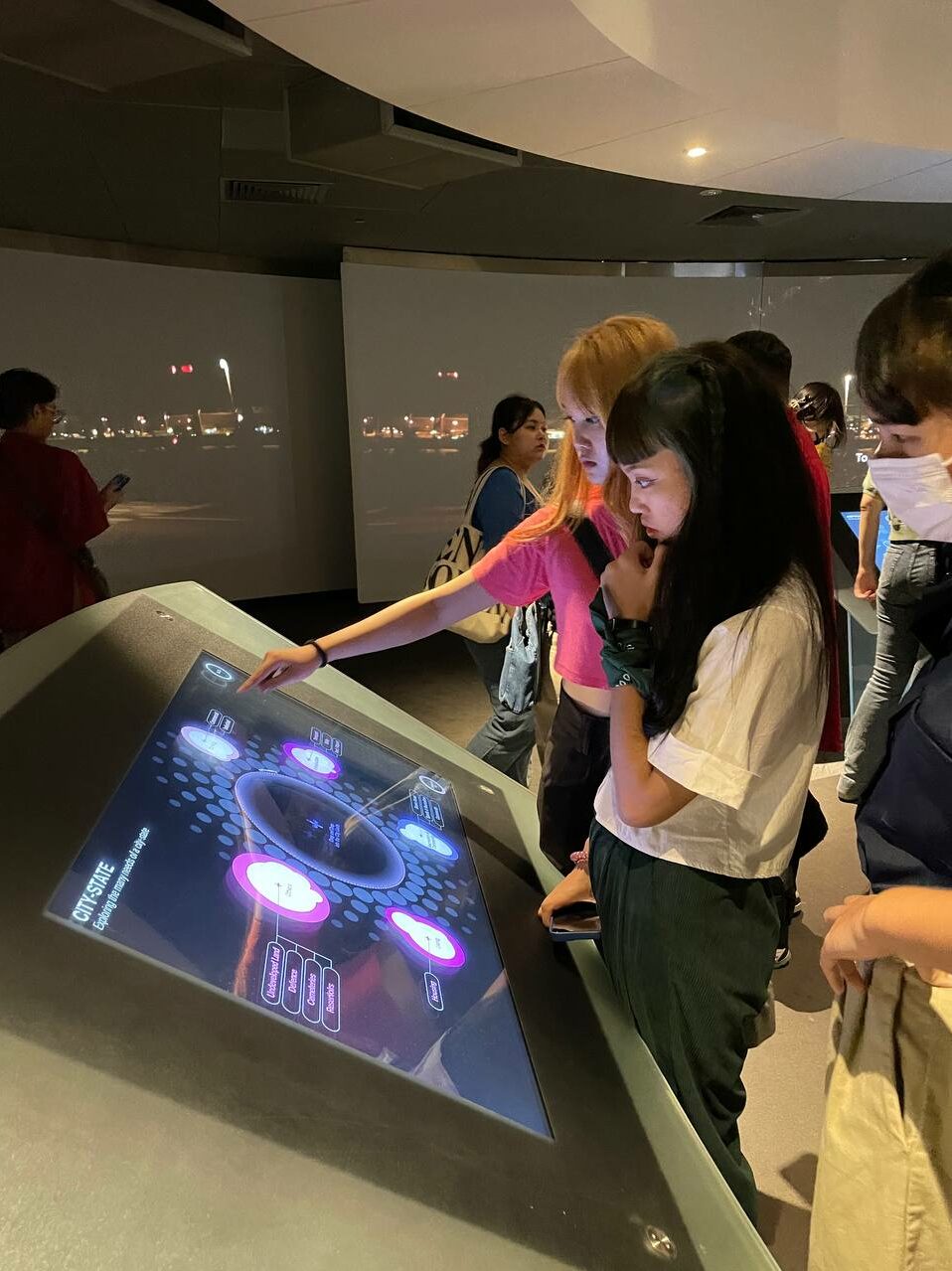 Students from Chulalongkorn University enjoyed a trial walk around Chinatown. Today was all about planning for the next activity when they accompany the elderly from Orange Valley for an interactive session.
The students will be conducting the session with the aide of a mobile app which will require them to scan buildings and pictures.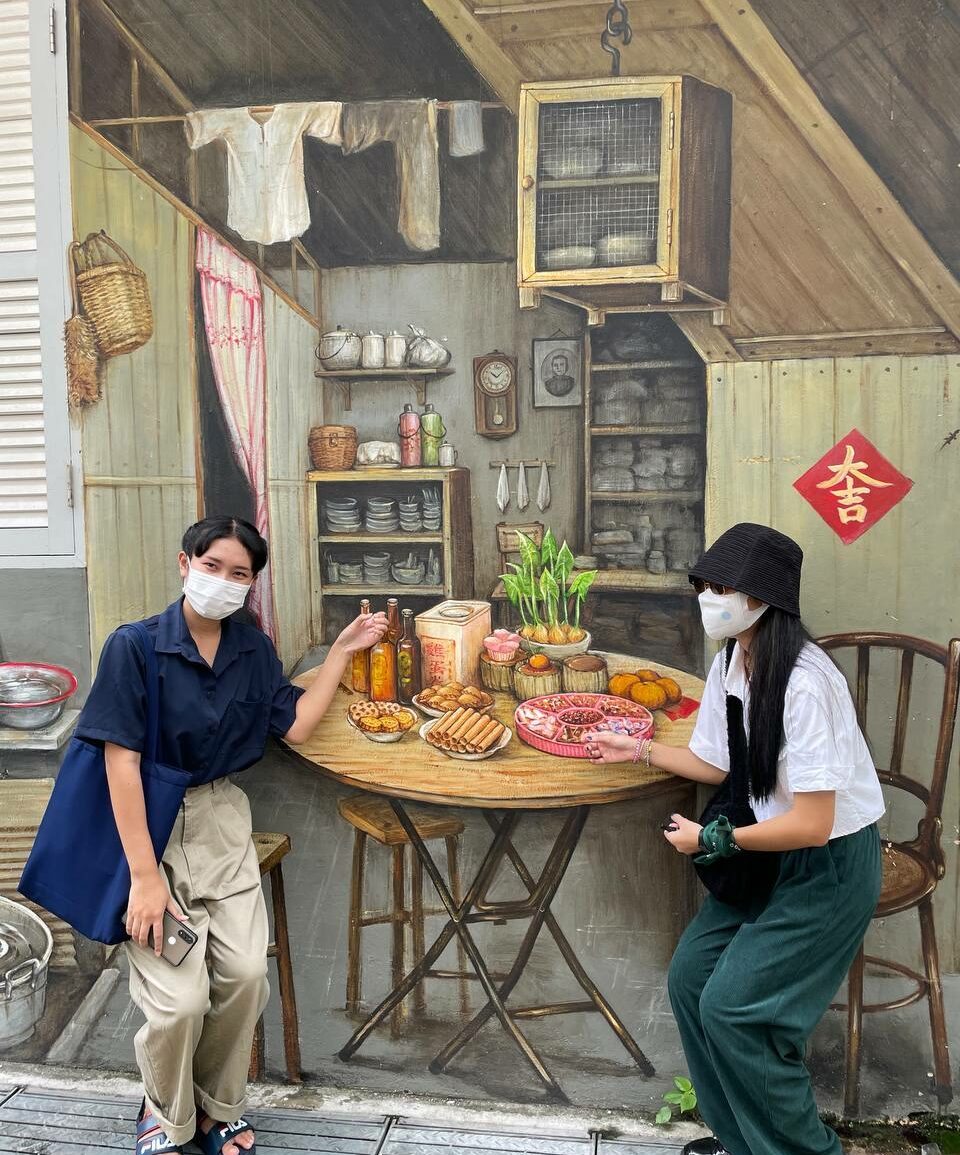 OCT 3
UNISBA students getting acquainted with Republic Polytechnic students from the School of Sports, Health and Leisure during breakout sessions: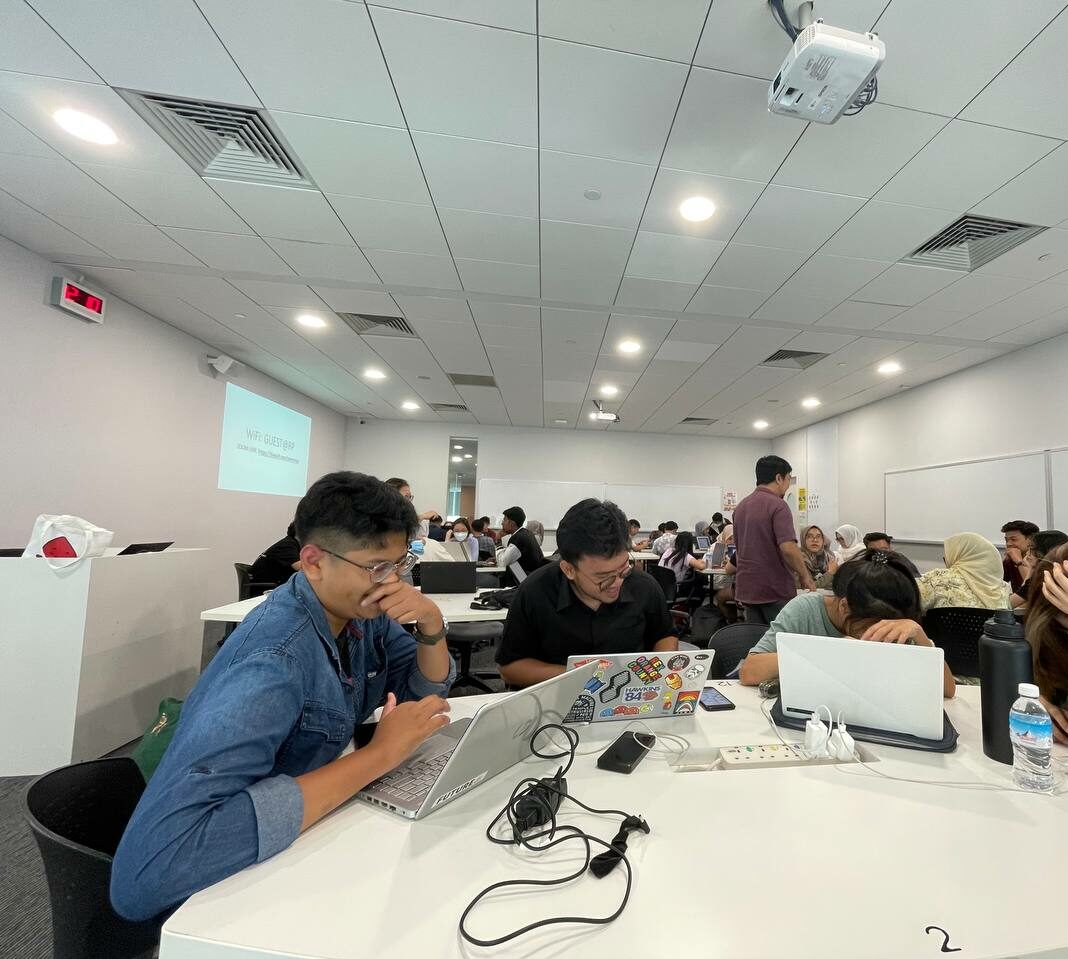 Two third-year students from Universitas Islam Bandung, Rafsan, 19, and Aghin, 20, are excited to visit Singapore after 3 years of the pandemic.
"I get to meet a lot of people from all over the world and learn something new outside of our college," says Aghin.
They are looking forward to go to Universal Studios Singapore (USS) on Sunday to explore while Rafsan is dying to try the famous Hainanese Chicken Rice.
1000HRS
Programme chair of the Diploma in Environmental and Marine Science, Dr Laura Yap, kicks off the opening ceremony of Temasek Foundation's Specialists' Community Action and Leadership Exchange (TF SCALE) in Republic Polytechnic. Dr Yap starts with her opening address on climate change and its global impact.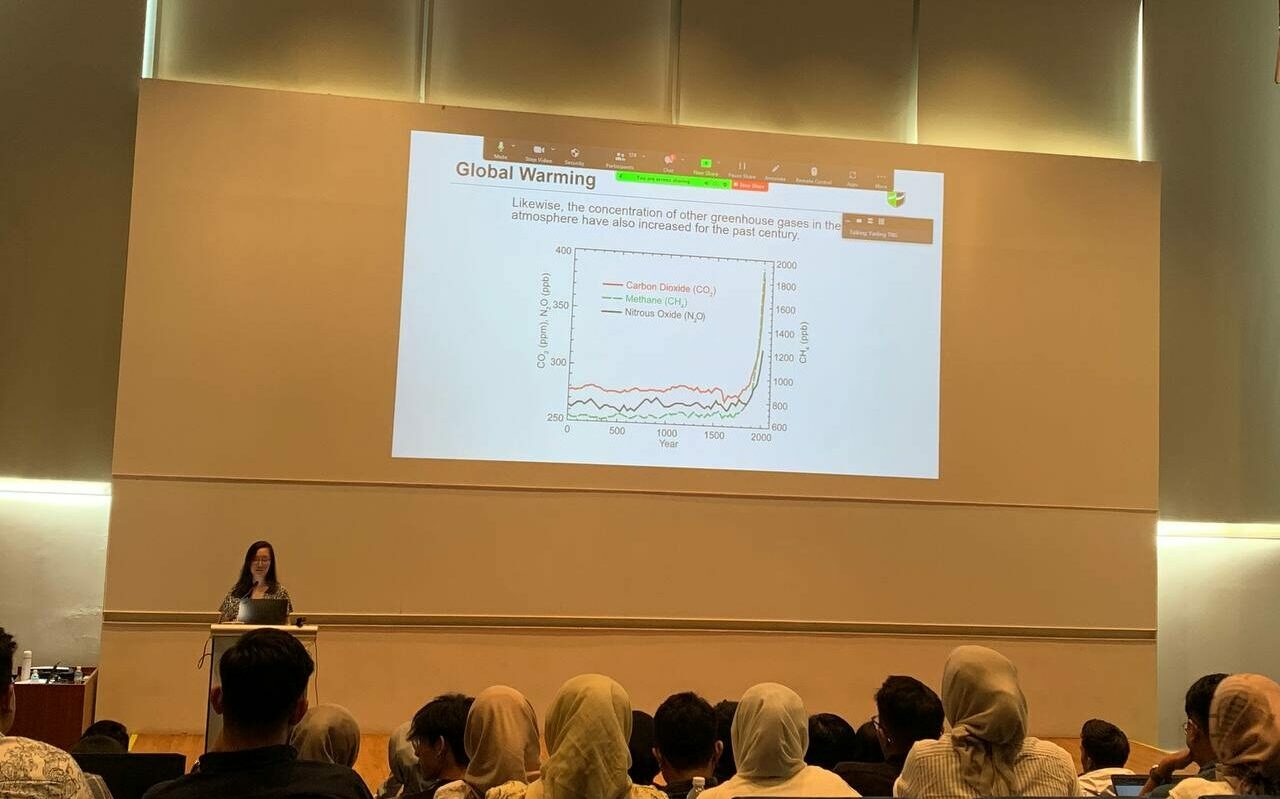 Ms Tng Yanling from the Office of International Relations at the Republic Polytechnic addresses students and staff at the opening of SCALE. A number of students from other polytechnics watched on as audience on Zoom while more than a hundred students filled the lecture theatre on campus.
Many activities and programmes are planned for the students in the coming days, including a trip to Marina Barrage.