When news dropped that NCT 127 was coming to Singapore for their Neo City: Singapore – The Link concert on Jul 2, it was a quiet afternoon for me. I was merely just getting ready to start on my graded assignments. But once I saw the news on Twitter, I scrambled to message my friend.
No hesitations or second thoughts, I knew I had to go for my first K-Pop concert!
I felt excitement flow through my body, hands getting jittery just at the thought of seeing them perform live. But, I couldn't help but feel confused as it was less than three weeks away and ticket sales were starting the next day … it was happening all so quickly and I didn't even have my own lightstick!
The day of the ticket sales was crazy. Every time I saw TikTok, a video of someone stressing over the ticket sales would show up.
It then dawned on me that NCT 127 isn't just any small group, and it wasn't going to be easy to secure my seats. However, I owe it all to my friend who was well prepared. It wasn't an easy journey, but in the end, we secured our seats.
CONCERT DAY
Fast forward to the day itself, I recall exiting the train at Stadium MRT station, people dressed in NCT 127's signature color, neon green, all walking towards the venue. Once I tapped out of the gantry, I was met with a huge birthday banner for NCT's leader, TAEYONG. Fans lined up to take pictures as it was a rare sight to see such a huge banner of a K-Pop idol in Singapore.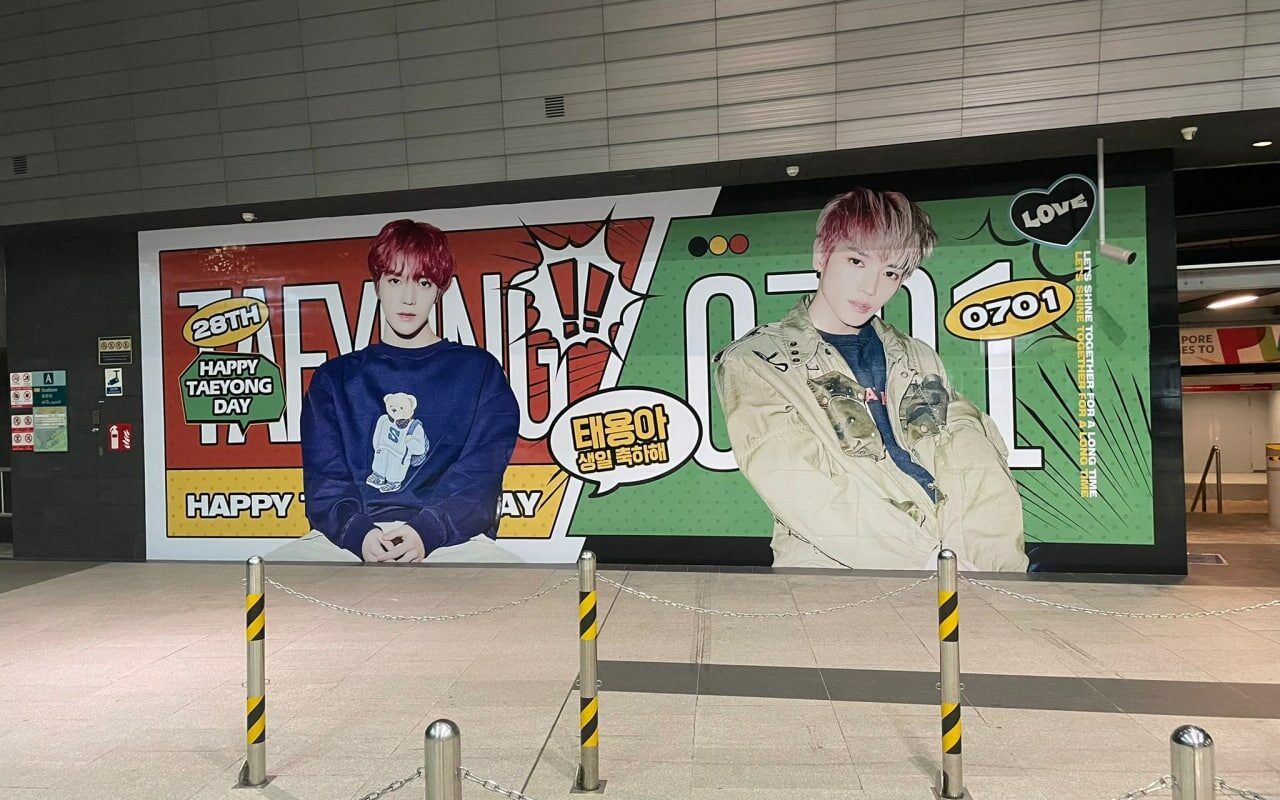 A birthday banner for Taeyong at Stadium MRT station that was organized by a Taeyong Chinese fansite. (PHOTO: @LeetaeyongBar on Twitter)
The place was buzzing with excitement. There were even people selling handheld banners and fans with the idols' faces on, stickers and custom photocards, the usual fan support items. It was so surreal to think that all of us were here for the same group.
Though I didn't know these people, I couldn't help but feel a sense of connection with them. The fact that we enjoy the same music, the same content and we have the same lightstick!
The sea of NCTzens spread to the nearby Kallang Wave Mall. The eateries like Starbucks, Poulet and Basil were engulfed with fans as well.
As my friends and I walked into the stadium, we all said almost the same thing. "Our seats aren't that bad!" We chatted as we waited, talking about what songs we were most excited to hear. NCT 127's songs blasted throughout the stadium, adding to the excitement.
SHOWTIME
The time on my phone showed 3pm. My heart was beating fast.
Everyone was singing along when suddenly, the lightsticks all turned to the same bright green at the same time, signaling that the concert was about to start. Screams were heard across the arena as the main lights went off.
Boom! It had begun.
One of the group's hit songs 'Kick It' kicked things off. Hearing that iconic intro of the song was exhilarating. A wave of emotions hit me as the band's vocals reverberated. So often, I've watched videos of them performing this song on music shows but I was finally seeing it live. It was such a surreal feeling.
They performed more of their hit songs such as 'Simon Says', 'Sticker', 'Favorite (Vampire)'. Not just the popular tracks, but they had performed b-sides and unreleased solo songs such as 'Back 2 U', a fan-favorite, and 'Lost', JAEHYUN's solo song, that was unofficially released.
My first K-Pop concert was just an amazing experience.
From seeing the lightsticks all flicker and shine the same colors to the beat of the song and just being in awe of how they managed to sing and rap so flawlessly while dancing, it was astounding.
There were moments where I genuinely wondered if it was a back track playing and not live vocals because I was shocked at how they sounded just like they did on Spotify but hearing them take breaths and ad-libs proved that thought wrong.
During ments (times in between songs where they interact and talk to fans), they showed their charms off despite the language difference. In fact, it wasn't just MARK, JOHNNY and JAEHYUN carrying the ments due to their comfort with the English language. All members made an effort to speak in English despite having a translator at the concert. What really struck me was how charismatic they were as they cracked jokes and teased fans.
The concert lasted almost three hours and ended off with them saying their goodbyes and promises that they'll return soon and a heartfelt and fitting song 'Promise You'.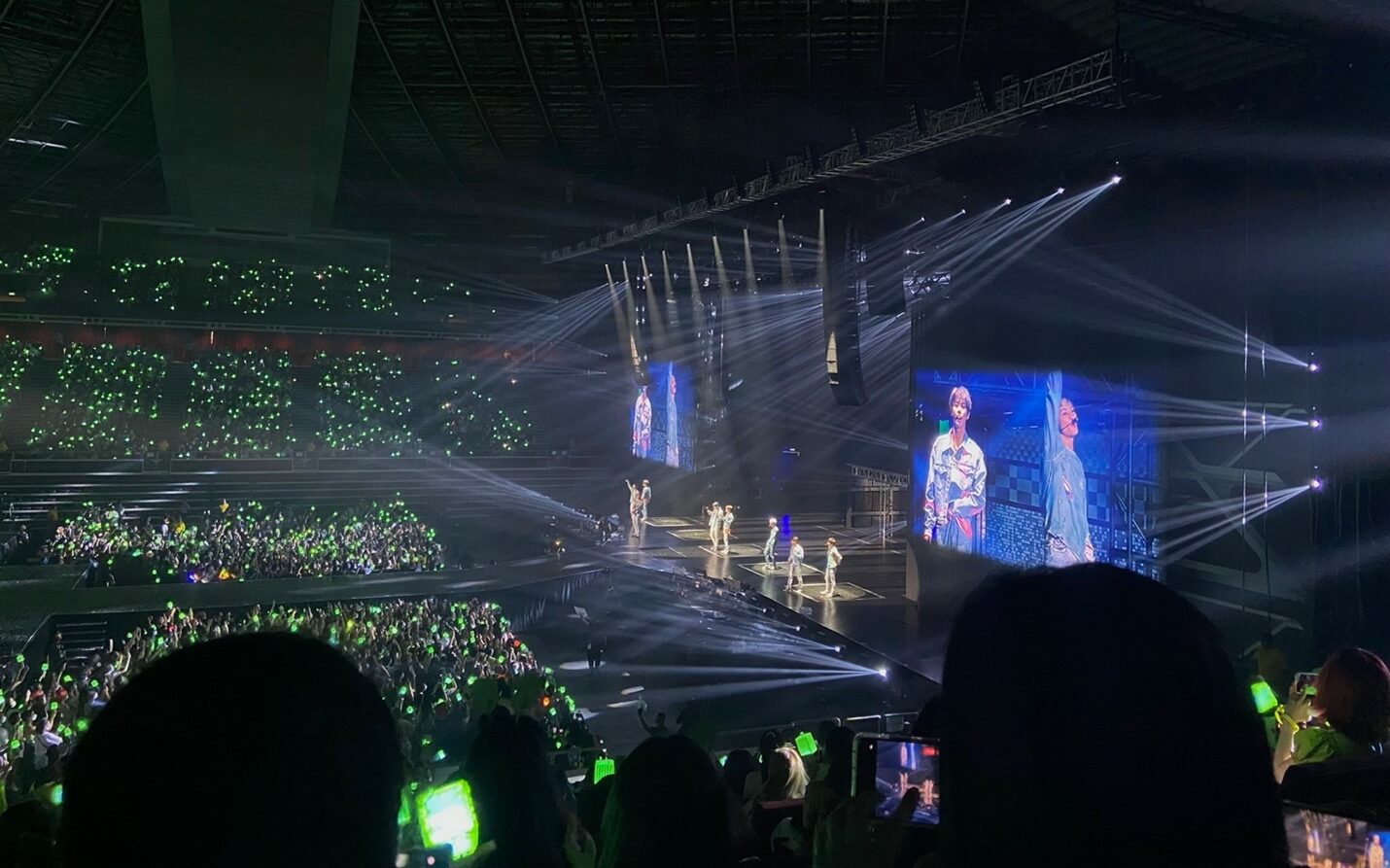 NCT 127 performing their song Paradise at their concert at Singapore Indoor Stadium. They had performed in Singapore three years ago at the same venue for 'Neo City: Singapore – The Origin. (PHOTO: Yrika Chan)
CHILLI CRAB
It was clear that they had fallen in love with Singapore's iconic dish, chilli crab. When they were in the midst of their introductions, MARK mentioned that he had the "finest taste of chilli crab" that day. And later on, during the ending ments, JUNGWOO started a chant with the crowd, where when he said 'chilli', everyone replied with 'crab'. Even after the show, he had posted a mirror selfie of him with the caption 'Chili Crab'.
As it was TAEYONG's birthday the day before, fans wanted to make the concert special for him. During the break before the encore, everyone tried to sing the birthday song for him. Keyword: tried.
Of course, it didn't go that smoothly since there was no coordination at all, but we managed to redeem ourselves during TAEYONG's ending ment. It started off a little shaky, but with the help of JOHNNY and DOYOUNG, everyone managed to sing happy birthday in unison.
Though it's been more than two months, I can't help but feel a sense of sadness when I listen to their songs because of how much I missed that day.
Nonetheless, fans across the world will be looking forward to their upcoming fourth full album release on Sep 16 – '2 Baddies'. Be sure to check it out!