"All we have to do is see, change, and detect something new," said Mr Reinie Booysen, head of training at Bloomberg News, when asked about the skills needed to be a journalist.
This was the one key takeaway for Rep Post students who attended the Introduction to News Writing workshop at Bloomberg Singapore office on Sep 18, 2023.
The newsroom visit was organised by Junior Achievement Singapore, a non-governmental organisation (NGO) dedicated to inspiring and equipping young individuals for success. Led by Mr Booysen and his team of journalists, the workshop aimed to give students an insight into Bloomberg as a news organisation and ignite their passion for journalism.
Lights, Camera, Action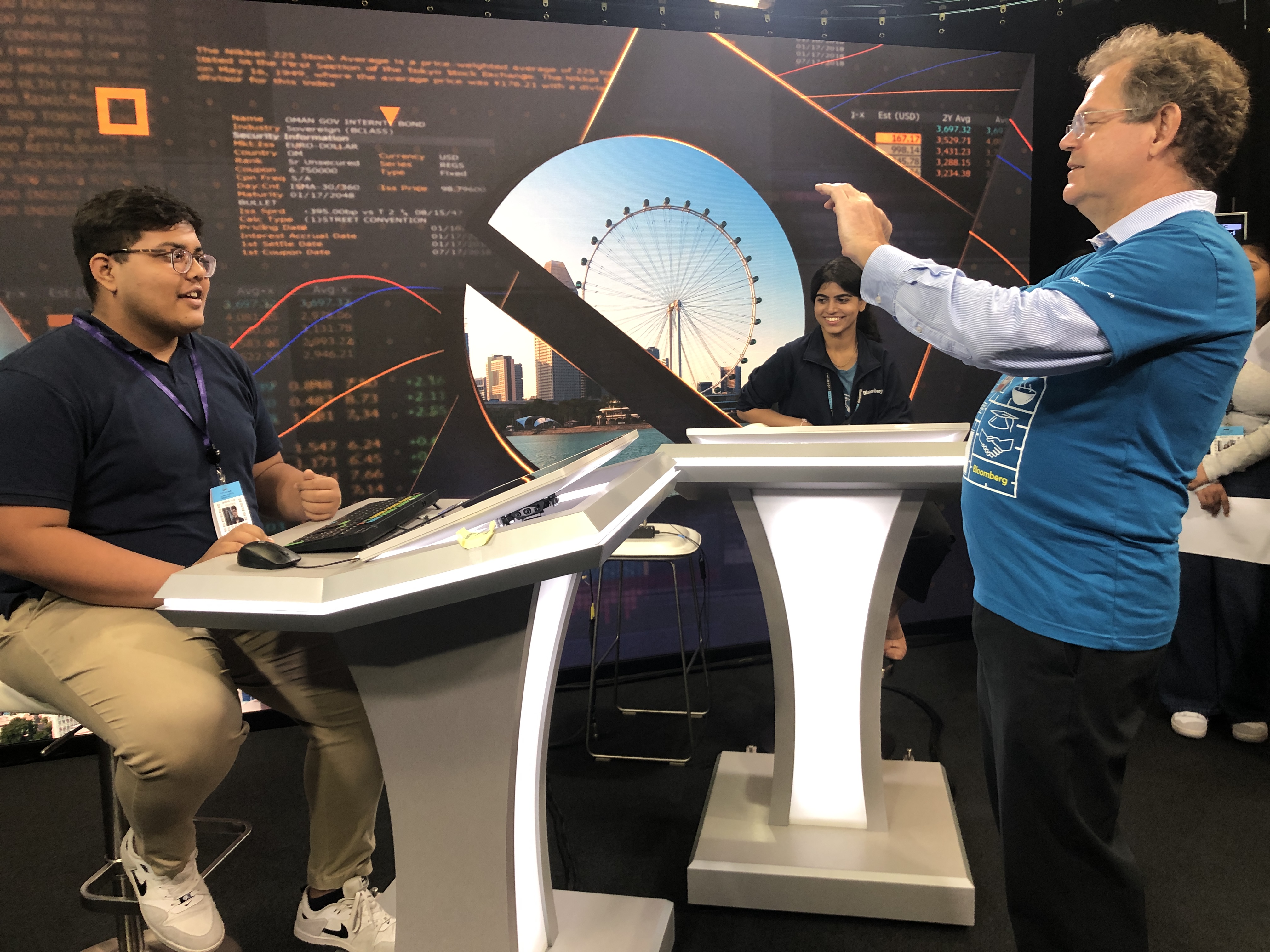 After kicking off the session with the company introduction, students had a chance to visit Bloomberg's state-of-the-art broadcast studio. Located just beside the office, it's filled with bulky video cameras, lighting equipment, and teleprompters.
Along with a tour, there is an opportunity to temporarily don the hat of a news anchor. With a physical copy of an article in their hands, students were busy recrafting and reciting scripts. Many were eagerly waiting for their turn to do a piece to camera.
They were given the scenario of the recent $2.4 billion money laundering case. The task was to do a succinct report on the case, covering the people, amount of money, and types of assets involved.
"I volunteered first and wasn't very prepared, so I hesitated and stumbled on a lot of my words, which was a little embarrassing," said Liv Hana Roberts, a first-year mass communication student.
Obstacles were in the way as students were required to deliver a news report without reference to scripts. It was a significant and proven challenge, as not many had experience being in front of cameras.
"Although I didn't get to try again, I learnt that preparation and confidence are very important for a news anchor," said Liv.
Precision in Seconds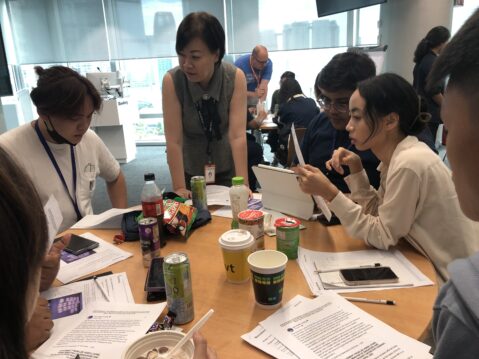 "I learned how to produce quality headlines that are up to speed, which usually means getting the most important piece of information, the so-what," said Nicholas Chiang Jun Long, a second-year DMC student.
Students were taught how to write headlines. Being the first thing you see when reading any article in any news, it is important to try to find a less complicated way to cut down on the number of words to make the headlines easier to understand.
"I did not realise that the speed required for pushing all these articles was very, very fast in a matter of 10 seconds," said Nicholas. "In the next minute, you need to finish including a byline and four paragraphs out."
However, being fast is one thing. As journalists, they also need to ensure that the copy is accurate. Timeliness is one of the most important factors in competing against other news outlets.
Together with the help of a journalist in-charge of each group, students were required to work together as a team to present their working headlines based on the recent money laundering case.
Subsequently, students were also required to write all the components of an article. From the lead, nutgraph, body, to conclusion.
Although some of the participants had taken news writing in their curriculum, this activity still was challenging as they were racing against time. 
"I was quite impressed. I thought that you guys have an idea what we're doing. So your headlines were quite clean," said Mr Booysen.
Despite the challenges faced by students, they gained valuable insights into the soft and hard skills needed in journalism.
How to end a story
"Human interest is the soul of the article. It's what brings everything together," said Nicholas.
News writing is all about talking to people and getting quotes directly from them. Therefore, it is not far-fetched to say that quotes can either make or break a story.
He added: "Collecting quotes brings significance to stories because it basically sums up the whole article. I'm glad that at Bloomberg, they find that human interest is the most important thing which comes from quotes."
Ms Marissa Lim, senior program manager at Junior Achievement, who has been organising this same workshop since last year, hopes to see more students coming on board.
She said: "It is not every day that you get a chance to be a news anchor in the newsroom for that two to three minutes. That, I say, is an awesome experience that you don't get anywhere else."