Republic Polytechnic graduate Ahmad Jazli Abdul Razak experienced bullying for several years when he was a young child.
"It started with name calling. Then, it gradually led to pinching and pushing," the 20-year-old recalled.
Once, Ahmad Jazli came home from kindergarten with a bite mark on his arm, said his mother, Madam Noriyadah Sani.
She added: "He even had his stationery broken by someone in primary school. Throughout his primary school years, I had (encouraged) him (to) go for counselling sessions."
Through counselling, Ahmad Jazli learnt to stand up for himself and slowly overcame bullying. But his social anxiety affected his learning and this affected his performance during the 'O' Level examinations.
Ahmad Jazli never gave up. At RP, the Interactive and Digital Media student excelled. He was inducted into the Director's Roll of Honour for four semesters and won the module prizes for Digital Illustration and Imaging, and Digital Audio and Video in Academic Year 2015 and 2016, respectively. Ahmad Jazli, who graduated in 2017, was also a recipient of the Tan Sri Dr Tan Chin Tuan scholarship.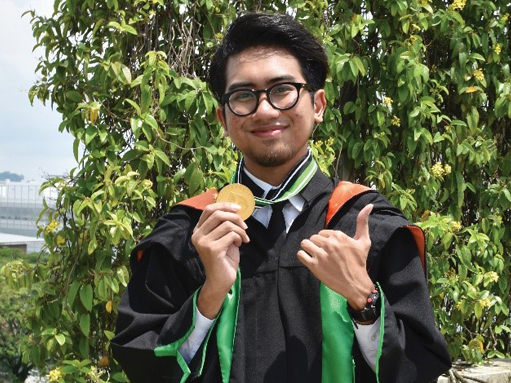 "I always believe that even though one door closes, there are many other doors open for you," he said.
Beyond excelling at his studies, Ahmad Jazli was a student leader during the 2015 Orientation Programme at RP.  He also led a local service learning project partnering the Chinese Development Assistance Council to organise a cyber-wellness trail for children.
Ahmad Jazli, who intends to enter the workforce after his National Service, said: "Success is about being patient and understanding that not everything will turn out the way you want it to be."