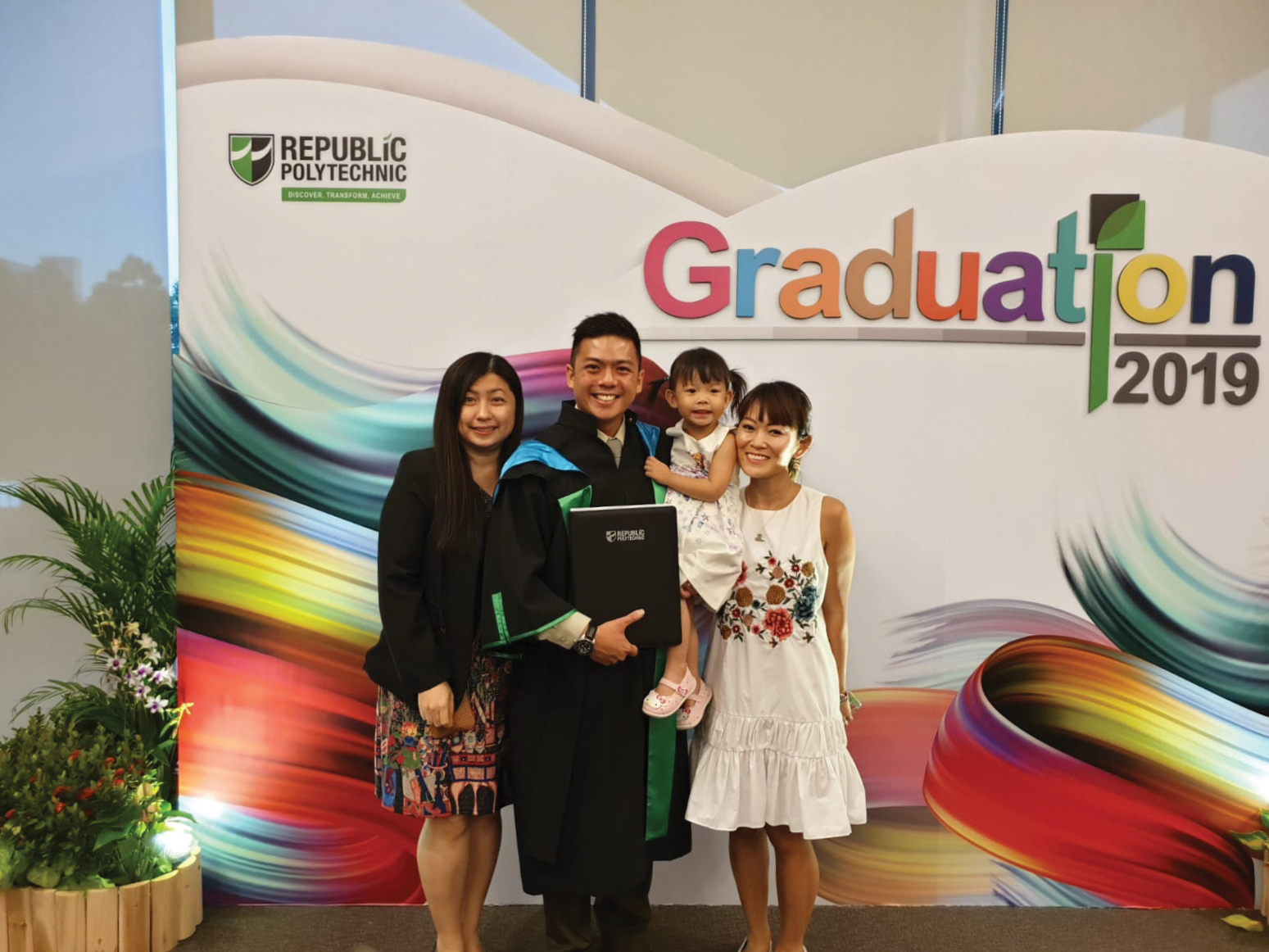 Mr Kee Teck Wei's RP journey is anything but straightforward. He dropped out of RP in 2011 after seven semesters with a cumulative GPA of 1.59. After he joined the Singapore Armed Forces, Mr Kee returned to RP five years later as a freshman, retook his modules and became a father in his second semester.
In May, 2019, the 30-year-old graduated with a Diploma in Industrial & Operations Management (Merit) and was the reserved valedictorian at his school's graduation ceremony. He has also been offered a place in Singapore Management University's School of Social Sciences.
'I signed my own withdrawal forms'
Mr Kee, who started his first semester at RP with two 'B+'s and three 'B's, should have graduated in 2010. However, he dropped out due to three reasons – a lack of motivation, a lack of discipline and peer pressure.
Ms Rowena Koh, who was Mr Kee's programme chair during that time, recalled: "Although he barely passed all his five modules for Year 1 Semester 2, his academic results deteriorated drastically and thereafter failing modules, mainly due to absenteeism and lack of motivation."
Mr Kee was skipping school to work part time as a swimming pool lifeguard. "I signed the withdrawal form myself without my family's knowledge," he said. "They only realised it when the school sent letters to our house."
It was during lifeguard duty when Mr Kee met his wife, Mdm Shirley Ong, who became the catalyst for change.
"Back then, I was with bad company. I had long blond hair, go to clubs, drink and smoke," Mr Kee said.
"The first impression people usually have of me is, 'Oh, this one gangster'. The same goes to her family and I was rejected by them. Her family told her I was just playing the fool, trying to play with her feelings."
Mr Kee wanted to prove them wrong and decided to sign on as a regular with the Singapore Armed Forces.
He said: "The pay working as a lifeguard wasn't attractive and with 'O' level as my highest qualification, I knew I had to do something about it."
On the day he withdrew from RP, Mr Kee went to SAF's Central Manpower Base at Depot Road to sign on as a regular. The two years in the army helped changed Mr Kee's life.
"When they (Mdm Ong's family) saw the change in me, they were like, 'This guy actually can, why not give it a chance.' After two years I proposed to her, we got married in the next two years," said Mr Kee.
Mr Kee then had his sights set on getting a Diploma under SAF's Continuous Learning & Academic Sponsorship Scheme.
'I felt I owed the school'
Despite being able to choose any course from the five polytechnics in Singapore under the Scheme, Mr Kee chose to return to RP.
"I chose to return to RP because I felt that I owed the school," he said. Mr Kee also remembered Ms Rowena Koh urging him to 'come back when you're ready' when she signed his withdrawal form.
But as he had been previously served letters for poor attendance and poor academic performance during his first stint with RP, Mr Kee's application was initially rejected.
Mr Kee then sought help from Ms Koh, who is now School of Engineering's Assistant Director (Administration), for help. "Teck Wei's application was rejected thrice by RP during his application to re-enrol," Ms Koh said. "Fortunately, Teck Wei updated me about his unsuccessful applications which I assisted him throughout his application process by engaging and working together with our Office of Registrar (ORG), supported his appeals and linked up ORG with his sponsoring company's HR (Human Resource) to provide supporting documents."
Ms Koh added: "I was absolutely delighted when he shared about his successful application (finally). I shared with him that I would like to see him up on graduation stage after three years this time round!"
Ms Koh wasn't the only one who was delighted. Mr Kee said: "My mother was very happy because she broke down and cried in front of me when I withdrew from school without her knowing. I have always been a problem for her and a concern. She saw the change in me when I went to the army."
'Nothing is impossible when you start believing'
While some felt that it should be easy for him since he had been a student in the diploma previously, Mr Kee said he started his second journey at RP at the same level as his peers.
In his second semester with RP, Mr Kee became a father. "Juggling both studies and my new born was a challenge," he wrote in his reserved valedictorian speech which has been shared widely on Facebook. "I knew I had to make a change somewhere and that somewhere was in fact, my mindset… I kept reminding myself every single day, 'Nothing is impossible when you start believing!'"
Mr Kee also became a mentor to students who struggled with their studies. He would talk to these students and shared his story with them. "It was painful to see some of them who was like the old me," he said. "There were a few who wanted to withdraw from school. I managed to speak to all of them. I lost some but I managed to keep some and they graduated with me."
While he lamented that he had lost time and opportunities as a result of dropping out nine years ago, Mr Kee was also circumspect about his journey. His childhood dream was to be a lawyer and he applied to read law after RP. In the end, he was offered a place in SMU's Bachelor of Social Science degree programme. But he has already identified another plan where he can fulfill his childhood dream. "It has been proven that sometimes you won't succeed by the direct way and you need to reroute to get there," said Mr Kee.