The 12-episode long K-drama featuring K-Pop sensation, Red Velvet's Joy, also known by her birth name as Park Soo-Young, aired on Sept 5, 2022, on KakaoTV and Netflix.
Once Upon a Small Town adds on to the already long list of romance-genre Korean dramas but it is definitely worth checking out if you enjoy watching clueless characters in denial of their romance.
The story begins when Doctor Han Ji-Yul (Choo Young-Woo) embarks on a journey from Seoul to the countryside to treat huge animals such as bulls. He gets a culture shock from the norms of the nosy residents of the village and in no time, despises the village as a whole.
On the other hand, the friendly policewoman and all-rounder, Ahn Ja-Young (Joy), is a ray of sunshine and is loved by the entire village, like she is family. Little did Doctor Han know they were childhood friends. But Ja-Young knew!
The romance between Ja-Young and Doctor Han blooms as they continue being in the presence of one another.
However, this buildup of endearment is interrupted by Ja-Young's best friend and the only other youngster in the village, Sang-Hyeon (Baek Seong-Cheol), when he confesses his romantic feelings to Ja-Young.
Ja-Young is taken aback when Sang-Hyeon confesses in the midst of her stroll with Doctor Han, and struggles to admit to Sang-Yeon that the romantic feelings are not reciprocated.
Sang-Hyeon's sudden confession added tension to the drama as Sang-Hyeon and Doctor Han competed in different ways to find out who was better than the other.
Doctor Han soon discovers that Ja-Young and him were childhood friends, and is determined to win Ja-young's heart against Sang-Hyeon.
WHAT MAKES THE STORY STAND OUT FROM THE CROWD?
The drama is set in the countryside – a unique setting for a romance-genre Korean drama, very much away from the hustle and bustle of Seoul.
In comparison with Our Beloved Summer, they both share the same childhood friends to lovers trope. However, simple everyday activities both differ between the two.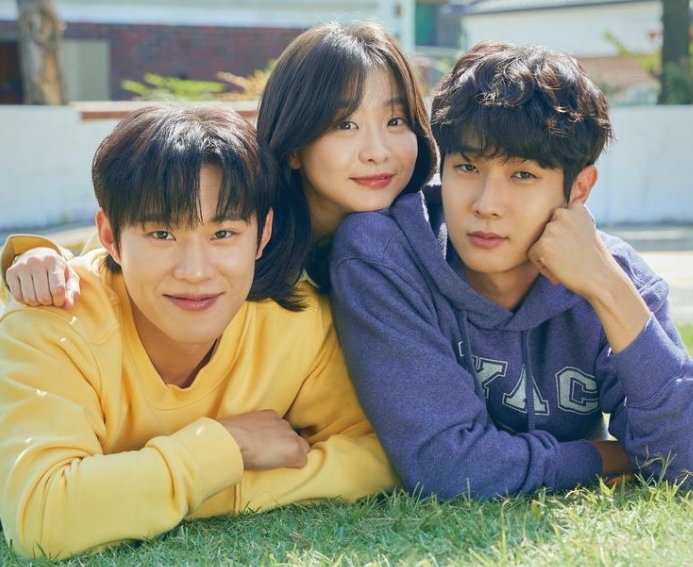 Our Beloved Summer is a romcom with the childhood friends to lovers trope, showing the contrast between the lives of the top student and the lowest-ranking student.
For instance, Our Beloved Summer portrays the characters living in the modern 21st century, while Once Upon A Small Town will teleport you to the olden days.
Some examples are the different modes of transport; characters in Once Upon a Small Town only ride bicycles. Ja-Young and the other characters also sleep on mattresses, unlike beds in Our Beloved Summer.
While these are the simple differences between the shows, the olden day practice that was most intriguing was using flower dye to declare one's relationship status.
Would you use flower dye to reveal to everyone that you had a partner? Using flower dye on their index finger is such a lovely way to declare a relationship and still so romantic now.
Instead of securing a relationship with a ring, flower dye is practically free and not a single penny spent! It is such a genuine way to show that one is in a relationship.
AHN JA-YOUNG: PORTRAYAL OF A COMMITTED MEMBER OF THE VILLAGE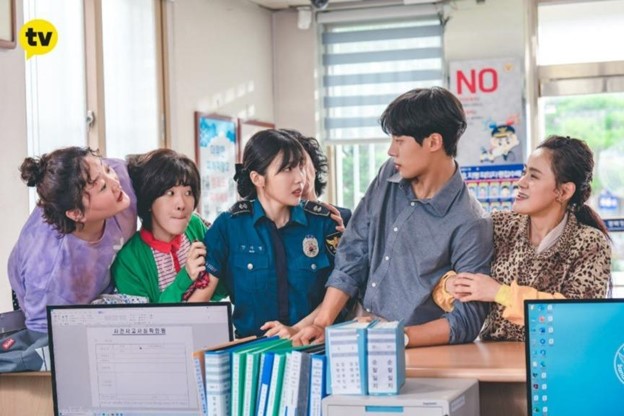 Romance aside, the heartwarming love Ja-young has for her village is honorable. She does so much more for the village like helping out at the peach garden and giving a bike ride to students going to school. Ja-Young is humble and loved by all.
Despite being much younger than those in the village, she strives to make peace and happiness for the villagers. This is utterly heartwarming as very few young people these days are interested in caring for their community.
Having no biological family by her side in the village, she cherishes those around her and never takes them for granted. Ja-Young shows her love to the members of the village through her acts of service such as repairing a fan, which is definitely not part of her profession. She goes out of her way to ensure that the village is safe – I admire that.
Ja-Young is such a significant character in the drama and I aspire to be like her; someone who is generous and giving to those around me regardless of age, gender, or race. Ja-Young's character was one of the main reasons that moved me to write this review.
I look up to her a lot and feel that as a youth, it is important for us to appreciate those around us. Feels like we have all the time in the world when we don't.
THE VERDICT
Once Upon A Small Town is more than just a romance K-drama. If you love the childhood friends to lovers trope, all the more you should watch it. The corny scenes in the drama will make you giggle to yourself while kicking your feet in the air.
The soundtracks of the drama are extremely lively and fresh like running through sunflowers in the morning breeze. Each character was interesting – contributing to the amazing storyline. Needless to say, this show is truly uplifting.
Rating: 4/5