The annual Senior Management Dialogue 2023 was held at The Republic Cultural Centre (TRCC) on Oct 6, 2023.
There were over 200 attendees, including student leaders from all seven schools and 12 clubs, RP staff and HODs, that attended the session. Moderated by Mr Ganesh Kalyanam, Director for Office of Student and Graduate Affairs, and The Republic Cultural Centre, the session gives them the opportunity to voice out their questions or concerns to improve RP.
This was RP Principal Ms Jeanne Liew's first Senior Management Dialogue with students. Together with her on the panel were Mr Boo Chong-Han, Deputy Principal for Academic and Organisational Development, Mr Ng Tion Huat, Senior Director for Corporate Services, Mr Ashley Chua, Senior Director for Student Services and Director for the Office of Student Support, Mr Sundar Windersalam, Senior Director and Registrar for the Office of the Registrar, and Mr Fong Yew Chan, Chief Technology Officer.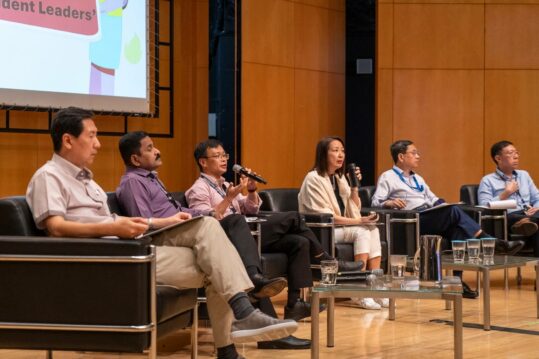 RP'S GRADING RUBRICS
Kicking off the session, Hnin Rati Khaing, a second-year student, Secretary of Service-Learning Club, questioned the fairness of RP's daily grading rubrics, as she observed that there might be some inherent bias or inaccuracy in the way students are assessed.
In response, Ms Liew explained that RP's grading structure is primarily based on Self-directed Learning (SDL) and Problem-based Learning (PBL).
These approaches are designed to equip students with essential life skills required in their future workplace after their polytechnic education journey.
"When you enter the workforce, you're dealing with the real world. Your boss assesses your performance subjectively," Ms Liew pointed out.
She emphasised that the skills RP students acquire through SDL and PBL set them apart from students in other institutions. They develop confidence and the ability to be problem solvers.
"In recent years, I've observed RP students distinguishing themselves. When faced with a problem, they don't wait for instructions; they proactively tackle it," Ms Liew noted.
Ms Liew acknowledged the student's feedback and assured her that RP's grading rubrics will continue to improve, with regular mid-point feedback from students being gathered and considered by the lecturers.
LONGER STUDY BREAKS
Tongson Keith Sebastian Legaspi, President of the SAS Club, emphasised the importance of longer study breaks for students, particularly between the last week of the term and the exam period.
In response, Mr Sundar indicated that management is actively reviewing RP's curriculum. He mentioned the possibility of extending study break periods for students starting in 2024.
However, he also clarified that students with exams might need to postpone their vacations to accommodate the revised schedule.
Mr Sundar announced plans for 2025, including the introduction of a dedicated one-week study break after the term ends and before the start of exams. This time will be allocated to cater to students' personal needs, allowing them to pursue their interests outside of their studies.
Mr Sundar added that this change will give students sufficient time to focus on exam revision, at the same time catering for a holistic education in RP.
MORE HALAL-CERTIFIED FOOD OPTIONS
Atiqah Nur Shahirah Binte Mohamad Sharuliszuwan, President of the SMC Club, voiced her concerns regarding the limited availability of halal-certified food options on campus.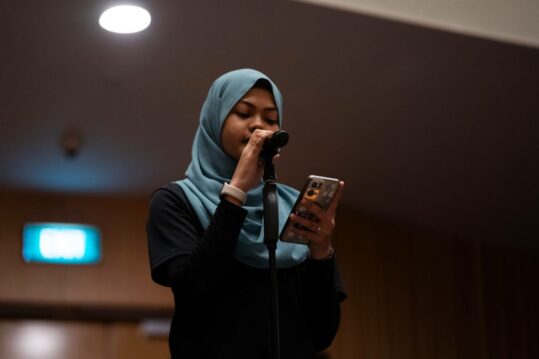 In response, Mr Ng provided some context by stating that currently, halal-certified food stalls make up 30% of the total number of food stalls at RP, accounting for 18 out of 47 of the food stalls.
He explained that the process of obtaining a halal certification can substantially increase operating costs, which may discourage Muslim food stall owners from pursuing the certification.
Mr Ng further clarified that there is no regulatory requirement for Muslim-operated food stalls to have halal certification.
Ms Liew emphasised that the decisions made to maintain existing halal-certified food stalls, primarily commercial in nature, aimed at encouraging more Muslim-operated food stalls to pursue halal certification.
This approach is intended to encourage a broader range of halal food options on campus in the future.
ASSIGNMENT DEADLINE EXTENSION
Matthew Lee, Head of Welfare & Operations, Republic Sports Club shared that some students are overwhelmed by the 2359 deadline.
Some of them skip dinner or complete their assignment hastily to meet the deadline.
Matthew asked if it would be possible to exercise flexibility by extending the deadline for an additional day for students to produce quality work.
Mr Boo responded by saying that the 2359 deadline is a way to encourage students to put in consistent work. He added that an additional day to complete the assignment for all the modules could perhaps cause more harm than good.
"It is easy for assignments to snowball and cause more stress," Mr Boo explained.
As this issue has been brought up numerous times in the past, RP has introduced large learning packages for some modules. This means that instead of a daily deadline, students are required to submit a deliverable only after two or three lessons. This strategy has effectively helped lessen the stress on the students' shoulders.
Mr Boo further stated that large learning packages allow students to exercise time management.
Additionally, Ms Liew asked if students had been informed beforehand if they needed to turn in an assignment for the learning package by 2359 a few lessons ago or on the actual lesson itself. The answers were divided.
After hearing the responses, Ms Liew said she would provide clearer guidelines to lecturers, ensuring that students are informed in the first lesson of a large learning package about what they need to submit by the end of the package.
This will help students better prepare for their assignments and reduce the element of surprise.
IS LEO RELIABLE?
Srikanth S/O Suppiah, President of SEG Club raised his concerns about the reliability of LEO, citing from his own experience that he could not access the SCORM package for a week in the first semester of 2023.
Mr Fong responded to his concerns by acknowledging that he is fully aware that at times, LEO will break down which affects the students' learning.
He provided an example of a similar incident that occurred in the second semester of 2022, in which LEO experienced some issues. After consulting with Microsoft, it was required that they do update the database. However, updating it in the middle of a semester is risky.
The course of action they took was to closely monitor the database issue and do their best to rectify it. By the end of the semester, during the year break, RP went ahead to update LEO to avoid similar problems in the future.
Mr Fong added that the reason students could not access the SCORM package on LEO was due to the amount of SCORM packages uploaded on cloud which caused a storage problem.
The team rectified the issue as soon as possible and it was resolved within a week. "Moving forward, we can't promise you 100% that it (LEO) will be error-free, but we can promise you that whenever there is a problem, we will take all efforts to resolve it so that you will have uninterrupted learning," said Mr Fong.
MORE MENTOR SUPPORT
Yeo Kai Wen Cara, the vice president of the STA Club shared that some students may have felt that their mentors were not able to provide them with sufficient emotional support.
Mr Chua mentioned that what RP have done progressively in the last couple of years is to ensure that all students at least have four mentor care session in a semester but, not all students attend all sessions.
To illustrate, Mr Chua cited a recent incident when first-year students had a designated mentorship session, but some of them failed to attend, despite the scheduled time and location.
Going forward, all students, including those in their second and third years, will have scheduled sessions with their mentors.
In cases where mentors are unable to attend a scheduled session, students are encouraged to contact the school so that the issue can be addressed.
He did, however, add that this should be an ecosystem of support in place, emphasising that students should not solely rely on mentors but remember that there are peer supporters as well.
Additionally, Ms Liew pointed out that students seeking support can access peer support resources or use the Chatbot service if they feel uncomfortable discussing their concerns in person.
To conclude, Mr Boo said: "Mentors are human beings as well and require encouragement to sustain their support.
Mr Ganesh echoed in agreement by reminding students that they can reach out to their CCA advisors and trainers for assistance as well.
FUTURE ANNUAL DIALOGUES
As the senior management dialogue is an annual event at RP, Mr Tui Jurn Mun, director of SMC emphasised that it provides a meaningful opportunity for fostering connections and exchanging ideas.
"Especially at the policy level, HOD Level, we don't see the lens through the students so, these inputs give us real and timely feedback that allows us to adjust accordingly to make RP a really interesting, memorable and enjoyable campus for everyone," said Mr Tui at the sidelines of the Senior Management Dialogue.
Looking forward, Ms. Liew expressed that the dialogue provided students with a valuable opportunity to articulate their thoughts on improving the school. By engaging with students directly to gain fresh perspective, enabling management to identify areas for improvement and better cater to student needs.