Republic Polytechnic (RP) kicked off its week-long annual graduation ceremony on May 2, 2018 at The Republic Cultural Centre, as students from the School of Management and Communication (SMC) were among the first among their peers to receive their certificates.
This year, 4,755 students will don the graduation gown and receive their diplomas. The number comprises 4,407 Pre-employment Training students and 348 Continuing education and Training adult learners.
Two diplomas – Infocomm Security Management and, Engineering Systems and Management – will also see their pioneer batch of students graduating this year.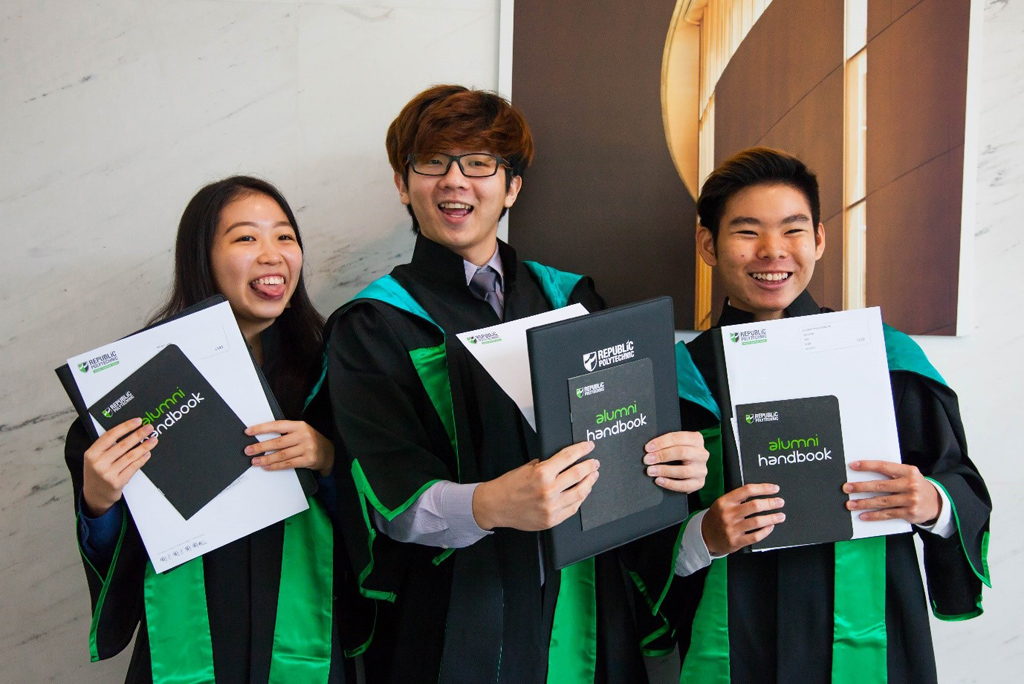 Lek Tai Yong, who was the valedictorian for the SMC graduation ceremony, called on his peers to contribute back to society.
The Diploma in Social Enterprise Management graduate was part of an international service-learning project to Siem Reap in Cambodia in 2015. Tai Yong said he was inspired by the locals' spirit of giving during the 12-day long trip. "It is not about how much you make, it is about how much you give," he added.
Tai Yong, who graduated with a perfect GPA of 4, also called on his peers to remain hopeful as they leave RP and embark on their next phase of their lives. He said: "If one day, you ever feel like you've hit rock bottom, be optimistic. Be optimistic of what your future might hold. Because if you don't, who will?"
The Polytechnic Foundation Programme (PFP) alumnus concluded his speech with a question that left everyone reflecting when he asked: "If today was your last day on earth, what would you do differently?"
After receiving their diplomas, the newly minted graduates took the chance to take pictures around RP with their family members, peers and lecturers. Some graduates were in reflective mood too.
Mass Communication diploma graduate Chiew Teng was bittersweet about his graduation. A PFP alumnus, he spent four years in RP which left him with many memories. The 21-year-old felt his last year in RP was the most challenging.
"Year 3 is when you've made a lot of friends, and internship is going to take a load of that away. You're going to see yourself juggling especially with internship, school commitments," he said. "Year 3 is the most important year, so it is the toughest yet fulfilling year."
Fellow Mass Communication graduate Fatimah Tasmeem expressed relief at completing her RP journey. "Even though it's a cert (certificate) and just a paper, I think it means a lot. It feels really good to have finally completed this following phase and journey," the 20-year-old said.