If you missed the first two editions of Rainforest Lumina, do not fret! The multi-sensory display is on its last leg at the Singapore Zoo.
The final season was launched on Jul 8 and it will be running till Feb 13, 2022 before we bid farewell to this well-known attraction.
As someone who has never been on the 1km night trail before, I had no idea what to expect. Most of my preconceptions on Rainforest Lumina were shaped by the experiences of those who visited the previous editions. Therefore, I decided to drop by with my family to find out if the last season would live up to its hype.
At first glance, the general admission rate for youth may be off-putting to some as it is $18 per ticket. However, I was fortunate to pay almost $6 less by booking the 7.15pm Sunday slot online. I highly recommend visitors to do the same while the offer still stands.
Visitors can be reassured to see staff at Singapore Zoo making the effort to keep everyone safe during the pandemic. They ensure visitors keep a safe distance from one another and sanitized their hands before being admitted into the venue.
JOURNEY INTO A FANTASY WORLD
Visitors can expect themselves to be awestruck like I was the minute they pull the vines aside and step through the luminous arch. The arch acts as a gateway to more than 10 interactive zones at Rainforest Lumina.
The tropical rainforest came to life as it transformed into a dreamy whimsical world. I was pleasantly surprised to be welcomed by an orchestrated symphony of light, special effects and sound installations. I felt that this definitely added to the magical atmosphere, evoking emotions such as wonder and serenity.
What shocked me even more was being greeted by a holographic white tiger named Tairee at Tairee's Treetops. Although it was simply a video projected onto a screen, I still marvelled at how realistic the tiger looked from afar, and felt my inner child-like self giggling in delight.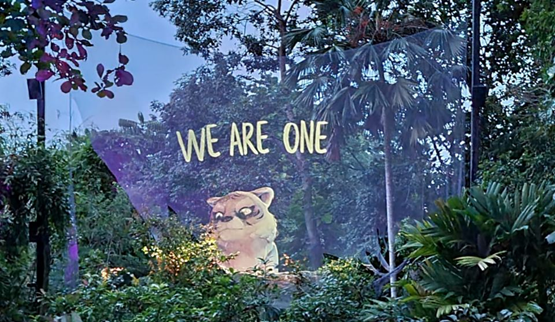 In fact, the trail engages visitors with many similar mini light shows and videos further down the trail. For example, visitors will be able to meet Bob, the playful otter, and watch as he brilliantly and quite amusingly leads an aquatic orchestra of light – literally illuminating the tropical rainforest.
Tairee and Bob are just two of the eight friendly members of the Creature Crew. I was later inspired by how each member had to work together in times of adversity in order to overcome the challenges posed their way and restore the beauty of their natural habitat.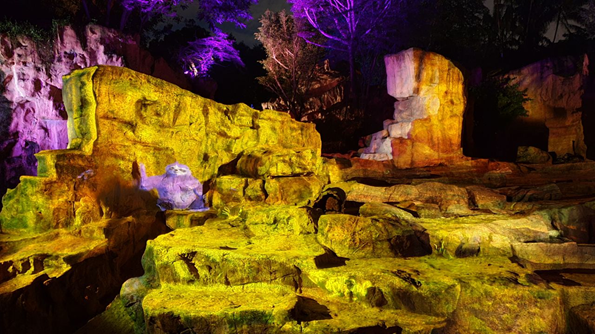 Don't know much about the Creature Crew? No worries, the trail will provide a clearer insight as to who each member is and the virtue that they embody. Visitors are able to choose the spirit animal that they feel they relate to the most.
Personally, I resonated with the resilient animal spirit – Waja the pangolin. Learning to become a journalist definitely means having to find a way to get back up and try again when being pushed back by obstacles around you.
INTERACTIVE ZONES
If, like me, you expected the trail to only consist of scenery, you'll be happy to find that Rainforest Lumina has gone above and beyond by retaining a few of the popular interactive play zones from prior editions for visitors to enjoy. I loved how these zones combined the usage of light and science to create magic.
For instance, by singing your heart out through a microphone, the sound waves that you make will be able to draw the Creature Crew out of hiding. You could also bring out your mischievous side by hopping onto neon lily pads and watching a hidden Creature Crew character jump in to join your antics.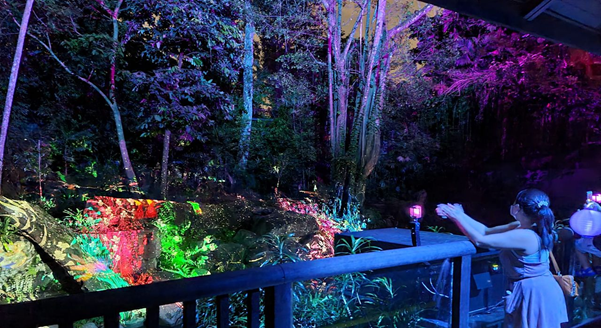 Ultimately, this was a spectacle that was definitely worth spending time to explore with family and friends. But just a word of advice if you are looking forward to snapping great photos to satisfy your Instagram cravings.
Unless you plan on carrying a camera or phone that can take high definition photographs, you could expect your pictures to turn out one way or the other – slightly grainy or too dark. I countered this by recording several videos.
Those were minor distractions to what was otherwise an illuminating experience that was overwhelmingly positive.
Rating: 4/5