Who wouldn't want to do what they love for a living? Meet Farris Rahman, a skateboarder who took one step closer to his dream when Red Bull approached him with an opportunity of a lifetime.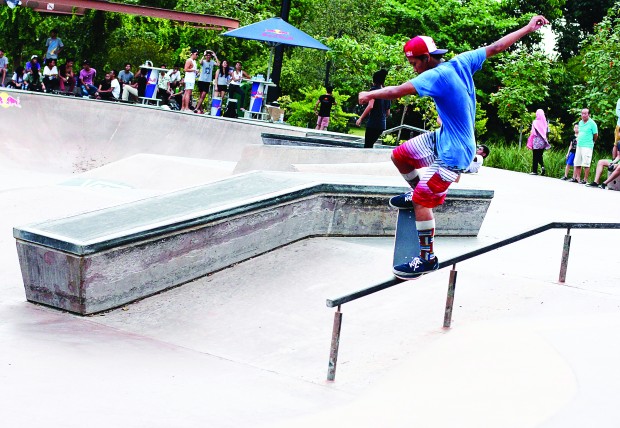 Possessing exceptional talent in skateboarding, he attracts big brand names such as Vans and Red Bull. 18-year-old Farris Rahman, a third year student from Outdoor and Adventure Learning at SHL, is the first Singaporean skateboarder who has been sponsored by Red Bull. Since then, he has been the center of attention in the skateboarding scene all over the world.
"It is an honor to be sponsored by companies like Red Bull and Vans. I would never have imagined being signed to these two huge companies," said Farris.
Influenced by his brothers, Feroze and Firdaus, he started skateboarding at the age of four. Fourteen years later, Farris has already won various titles from both local and international competitions.
One of his biggest highlights was clinching 2nd place in the world-renowned competition; the Asian Extreme Sports Championships 2013 – an event held in Malaysia which includes prodigious participants from all over Asia.
"Red Bull approached Farris as they wanted someone who has not only done well in local contests but global ones as well. They wanted a dependable ambassador that can promote their brand everywhere", said Feroze.
Feroze also mentioned that Farris was the only skateboarder in Asia who can skate a 'Mega Ramp' – a large-scale ramp which only the most daring and skilful athletes in the world could undertake.
The most recent competition that Farris participated in was Vans Go Skateboarding Day (VGSD). Held at East Coast Park, Republican Post sat down with him for a quick
interview.
Off the skateboard, Farris has a humble and laidback demeanor. On the skateboard, however, this trait deviated into an aura of seriousness and professionalism.
Despite having a laidback character, Farris could not deny the fact that he had a competitive spirit. "Once I set a goal, I won't give it up easily," he said.
Farris stole the limelight throughout the competition, pulling out risky high-level manoeuvres effortlessly, leaving everyone in awe. The night ended with Farris, alongside his two brothers, winning 1st place in the main section of the competition: The 'Team Battle'.
When asked about his relationship with his brothers, Farris described it as 'bittersweet'. They would always have a common topic to talk about and have company when they head out to skate, but he also sees them as his biggest rivals as they try to outdo each other all the time. "It really puts the phrase 'keep your friends close and your enemies closer' to a whole other level," he said.
People would see skateboarding as an action sport, but not Farris. He sees it as a form of art – a practice which stands out from conventional sports such as soccer and basketball.
"Skateboarding is like a form of art, something more than just showing off the physicality of the human. It makes you see the world in a whole different way, a way that only those who skateboard can see," said Farris.
With countless achievements and Red Bull backing him at such a young age, there is no stopping Farris from achieving his dream.