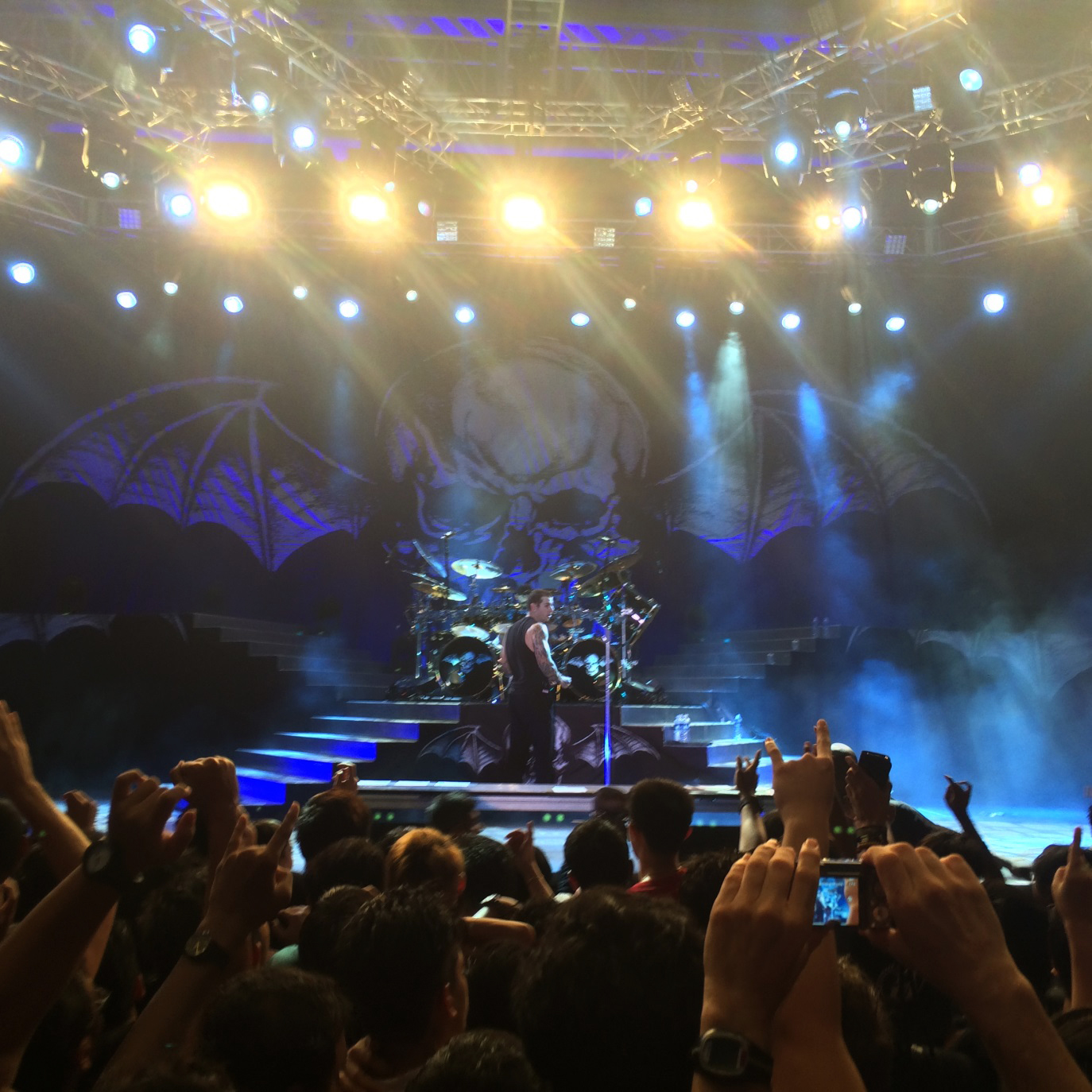 IT WAS a warm and sultry evening. But that didn't dampen the spirits of the thousands who had filled up The Coliseum at the Hard Rock Hotel in Resorts World Sentosa.
Like a war cry, they were chanting in unison, calling out one name – Avenged Sevenfold.
From Huntington Beach, California, the heavy metal band, which is also known as A7X, returned to Singapore for their third full-length concert on Jan 25.
The moment the signature Death Bat, the band's emblem, appeared on the backdrop, A7X wasted no time to wow their loyal fans that had waited for the band's return since their last performance here in 2012.
The heart-thumping drum beats of Shepherd of Fire that opened their act followed by Critical Acclaim sent the concertgoers into a frenzy.
At times, the decibel from the floor rose so high that it drowned out the heavy rasping of vocalist M Shadows. This prompted him to declare the Singapore audience the "loudest audience" in their South-east Asia tour.
As an ode to new band member Arin Ilejay, who has replaced The Rev after his death, A7X performed Welcome to the Family from their Nightmare album. That welcome was equally felt by the audience, especially among the band's newly- converted fans, as the crowd went wild to the tune.
The band's set list ran the gamut of their song catalogue from their earlier Waking the Fallen album to their latest release, Hail to the King. They were also not remiss in dishing out crowd-pleasers like Afterlife, Almost Easy, and Beast and the Harlot.
M Shadows was in top form as he effortlessly switched his vocal techniques from his trademark growling in heavier tracks like Chapter Four to raspy crooning in power ballad tracks like Seize the Day and Acid Rain. He also kept the crowd going with his energetic stage presence and constant request for audience participation to sing along with him.
But the real highlights in each song for Avenged Sevenfold's rabid fans had to be the solos and harmonies between lead guitarist Synyster Gates and rhythm guitarist Zacky Vengeance. The clashing chords executed amid complex melodic arrangements were undoubtedly the most sought-after treat for the eyes and ears.
At the end of the two-hour long concert, the band retreated backstage for a bit before returning on stage to perform their first encore of Unholy Confessions and Bat Country.
They cleared the stage once again. But, the crowds called out for more, chanting the band's name ceaselessly.
Not one to disappoint, A7X returned for a second encore with A Little Piece of Heaven, their only experimental piece which features less of the metal music that is characteristic of their songs.
What a fitting end to the night as the thousands in attendance seemed unwilling to leave the Coliseum, their little piece of heaven for that evening.