Education Minister Chan Chun Sing set RP abuzz with a visit to campus on Monday (Sep 5) as he engaged students and launched the Forward Singapore microsite to bring Singaporeans together and pledge their commitment to lifelong learning.
Mr Chan was accompanied by Minister of State for Education and Manpower Gan Siow Huang, Senior Minister of State for Manpower and Defense Zaqy Mohamad, and Senior Minister of State for Communications & Information and National Development Tan Kiat How.
They engaged 74 RP students in a dialogue and discussion as the students enthusiastically shared about their visions for developing lifelong learning.
Students were encouraged to share about the outcomes they wanted to see from the Equip Pillar.
The Equip Pillar is one of six Pillars under the Forward Singapore exercise launched by Deputy Prime Minister Lawrence Wong in June, aiming to shape Singapore's future with input from Singaporeans.
Equip Pillar focuses on lifelong learning to achieve education and manpower goals, as well as ensuring that education is a fruitful and fulfilling experience for students of all ages and backgrounds.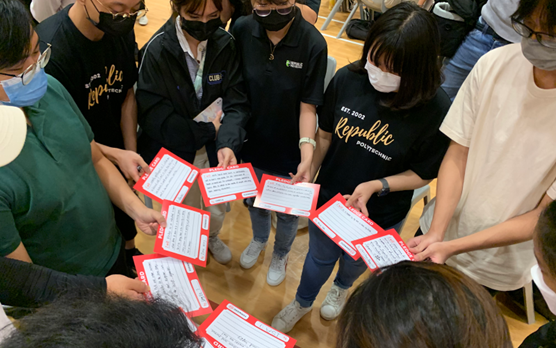 As part of Equip Pillar's outreach to engage students, the group of ministers have visited other Institutes of Higher Learning (IHLs).
This is the first such event in RP, and it marked the launch of the Forward Singapore microsite.
The microsite allows participants from anywhere to join in on the action and pledge what they will do to embrace lifelong learning.
Mr Chan said: "We didn't want this to be an exercise where we tell everyone what we want to achieve and put a full stop.
"What we want to see is an 'evolving document' of what we all want to achieve together, and how we, each and every one of us, are going to contribute to that. Because this is the next step of our nation building exercise."
Other themes discussed during the session included how to be more inclusive to diverse learners, broadening the definition of success, and students' experiences giving back to society through volunteering and community involvement projects.
Javier Chua, a Consumer Behaviour and Research student, who participated in the discussions, said that RP's problem-based learning (PBL) format was instrumental in helping him apply the skills and concepts taught to a real world scenario.
"It helps me to put these skills to practice, and PBL's open ended structure has taught me that there is no one right answer to a problem. This takeaway is very helpful to me solving problems outside of the classroom in the future," said Javier.
Students also reflected on the pressures of studying and how to make the learning journey less challenging.
Said Mr Zaqy after the event: "It's wonderful today to hear from our polytechnic kids in terms of their aspirations for Singapore… what their perspectives are with regard to how both the Government looks at policies that affect them and what change they would like to see."