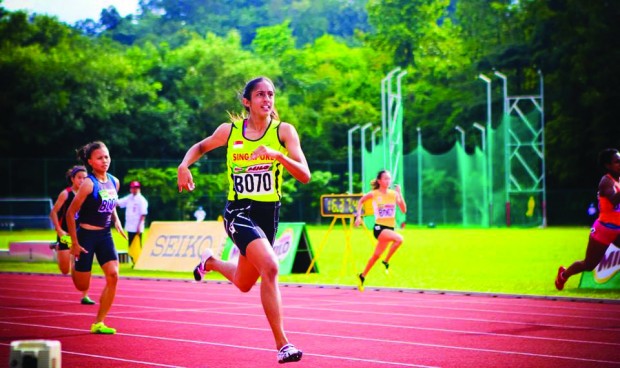 She may be the nation's fastest woman sprinter but Shanti Pereira is a Republic Polytechnic student trying to keep up her grades. The Republican Post sits down with the sprinter for a chat.
Football has Fandi Ahmad, badminton has Ronald Susilo and swimming has Tao Li. These are all Singaporean athletes who have made the country proud and become household names. In a sport where the likes of C. Kunalan and Dipna Lim-Prasad have blazed the track trail, the princess-in-waiting may very well be Shanti Pereira.
If anyone needs any reminder of her abundance of talent and potential, they need only look back on the IAAF World Youth championships held in Ukraine in July. Within two days of rewriting the record books with her new 100m timing of 11.89s, Shanti equalled Prema Govindan's 29-year-old national 200m record of 24.54s (this was eventually surpassed by Lim-Prasad at the Singapore U-23 Open Track and Field Championships on October 5th) – all at the age of 17.
Growing up in a family where both her brother and sister took up athletics, it was just a matter of when, rather than if, Shanti would pursue the sport that would eventually propel her to such heights. "It runs in our blood," she says.
Entering the athletics CCA in CHIJ Katong Convent School as a Primary 3 student, Shanti participated in her first ever race that same year. She went on to further develop her athletic potential at the Singapore Sports School (SSP) before joining RP through the former's through-train programme where student athletes bypass their O-Levels. This programme guarantees them a spot in a local polytechnic, whilst continuing with their athletic commitments.
Those on the through-train programme, attend lessons at SSP itself, where facilitators from RP's School of Sports, Health and Leisure come to teach them. A typical day starts with training at 9am and another session at 3pm. She has lessons twice a day at 12pm and 7.30pm for two hours each. It is a tiring cycle that is repeated from Monday to Friday, week in, week out, all for the sake of sporting greatness.
The shy and awkward teenager recounted her experience of breaking the 100m national record. With the 11.89s that she clocked up, the Diploma in Sports and Leisure Management student became the first Singapore woman to go under the 12-second mark for the 100m event.
Shanti credits her success to her sister Valerie, whom she was proud to point out as her motivation. "I look up to her. She is a sprinter too so she knows what I have to go through," she said.
There is intense pressure to perform and family and friends have to play second fiddle as she hardly has time to socialise. But she doesn't mind. Every drop of sweat, every aching muscle is worth it in the end.
Shanti's coach Margaret Oh, a former national sprinter who represented the nation from 1980 to 1986 has full confidence in her. With a wide smile on her face, she summed it up simply: "Shanti is the best that I have ever coached."