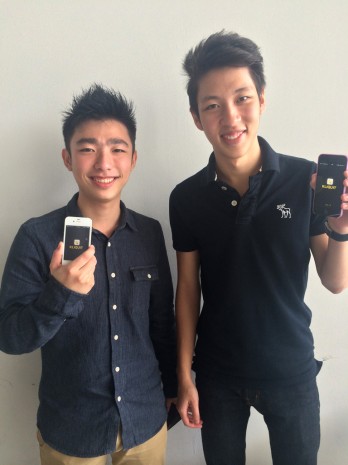 Facebook, Twitter and Instagram are social networking applications that have taken the world by storm. Used by millions all over the world, the applications are an everyday fixture in people's lives.
To get in on the social media juggernaut, one RP student and his friend has come up with an app they think will make it big. Nicholas Teo Woei Yian,19, a Diploma in Pharmaceutical Sciences student and his friend, Abel Chua Zhi Wei, 21, have teamed up to launch Kliquit, a free app that is available on the app store.
Designed to bring cliques together, Kliquit aims to cater to groups. Like other social networking applications, Kliquit has regular news feed, photo sharing and chat functions.
However, the application aims to stand out with certain features which are yet to be found on the more popular applications. With the "Call to meet up" and polling options, Kliquit aims to provide groups easier discussions.
As Nicholas explained the idea behind the features, he said: "Abel and I thought that with all the Whatsapp groups, finding a place to meet up is always a chore. So the idea is basically to allow groups to decide with a poll. So, the place with the most votes within the group is where the group will meet!"
Abel, a young entrepreneur first came up with the idea and he discussed it with Nicholas, his friend from church. Nicholas helped refine the idea before they decided to go public with it. The duo said the application is still in beta stages and they have raised about $100,000 in private funding.
"We want to help groups build memories together and to build identity as a group. Currently, the applications available are more towards an individual. We want to provide a platform for the groups and I think people will find it useful," said Abel.
With trips to Silicon Valley, home to many of the world's largest technology corporations planned, Nicholas and Abel hope to find investors who would support them and allow them to better their product.
Nicholas said: "The product is still new. With the feedback that the users give us, we will tweak it according to their needs and hopefully, one day it will be an application used by many around the world."