When it comes to competitions, students have to display innovation, creativity, passion for the topic and organisational skills. RP alumnus Wong Sokwei, 25, displayed these attributes, when she won Samsung's Solve for Tomorrow competition in 2020.
The Diploma in Consumer Behaviour and Research (DCBR) graduate did not feel she will get that far in the competition. Going up against students of science, technology, engineering and mathematics (STEM) backgrounds, no one really expected that two business students, would make it very far in the STEM-based competition.
Sokwei's team presented Suskin (a portmanteau of "sustainable" and "skin"), a vegan-based leather made from food waste. They won the first place as well as the People's Choice Award. This win garnered a sizeable amount of media attention for Sokwei's team as well as Republic Polytechnic.
"What I recall about this is not the fact that we won, but because throughout the process, almost all of our closest DCBR lecturers came down just to support us," Sokwei said.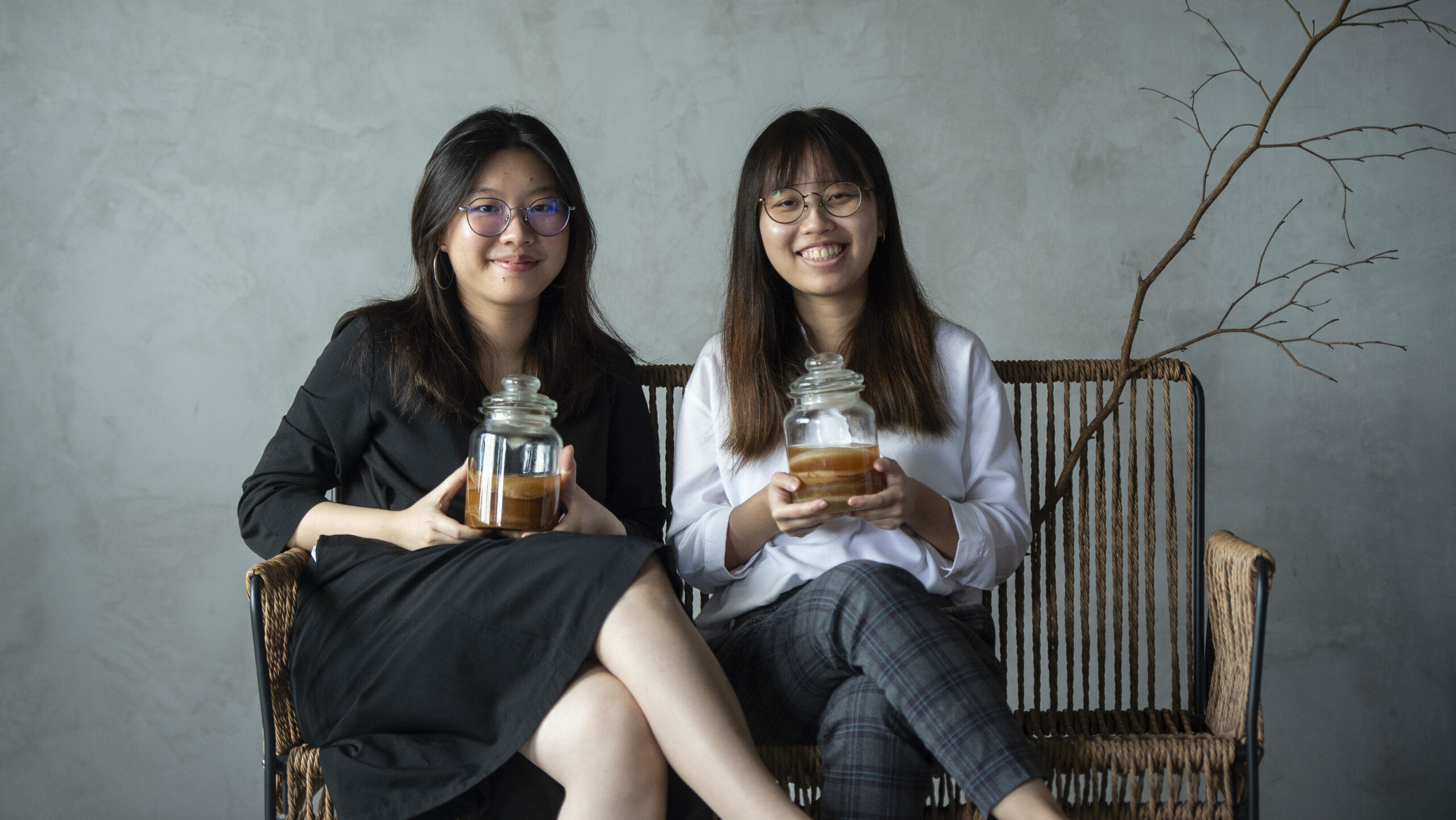 "There was no way of knowing whether we would win or lose, but the fact that they were just there to support us regardless was something I still remember till this day. When we really did win, my lecturers came up to us and said 'we knew you both could do it,' it may seem like nothing much. But it is in 'we' that made me realise that I found my sense of belonging in RP."
A MENTOR'S WORDS
Sokwei credits her mentor, Ms Amanda Cheok, for inspiring and supporting her during her RP journey.
"I used to have a lot of anxiety and worries about failure and making mistakes. But one of Ms Amanda's important life lessons to me is still stuck in my head – don't worry about choking on fish balls before you even eat it," said Sokwei.
From Ms Cheok's guidance, sharing of life experiences, and encouragement, Sokwei was able to utilise her time in RP and became a more confident presenter, a better researcher, and an innovator. From her experience with Suskin, she was able to apply her knowledge from her studies in consumer behaviour to the real world.
"Usually, when innovators build solutions, they tend to forget whether consumers would struggle to adopt the solution if there's a vast difference in what it is trying to be an alternative to. During the competition, the judges told us that it's great that we come from a consumer behaviour background, because we can innovate with that in mind," she added.
With this stepping stone, Suskin is currently working with the Agency for Science, Technology and Research to ensure that their products are commercially viable.
Suskin is aiming to work closely with business-to-business (B2B) companies and produce a more vegan-friendly alternative of leather to consumers within the next few years with this added research boost from A*STAR.
'PROUD STUDENT'
Looking back, the best thing about RP for Sokwei was the daily presentation that enabled her to work with all kinds of people. That is where she learnt the importance of teamwork.
"I still am a proud student of RP where I can say that the reason why I know how to work well in teams is because RP builds that skill in you after 3 years. Having the empathy and compassion for people no matter where they come from, and always having the heart to help your teammates even if "they don't have the best results" is one thing I took away from RP. We do not discriminate, we really are here just to help one another do our best," she said.
Sokwei is currently continuing her stellar performance as an innovator and student at National University of Singapore, studying Business Administration specialising in marketing. She hopes to be able to give back to RP and inspire her juniors who want to be innovators and entrepreneurs too.
"I definitely believe in giving back to the RP community that has given me everything and made me the person that I am today. I still believe in volunteering as a fellow alumni and look forward to more opportunities in me helping out any students who may be just like me back then, struggling to find a path, but eventually did because of the people who helped me along the way," said Sokwei.