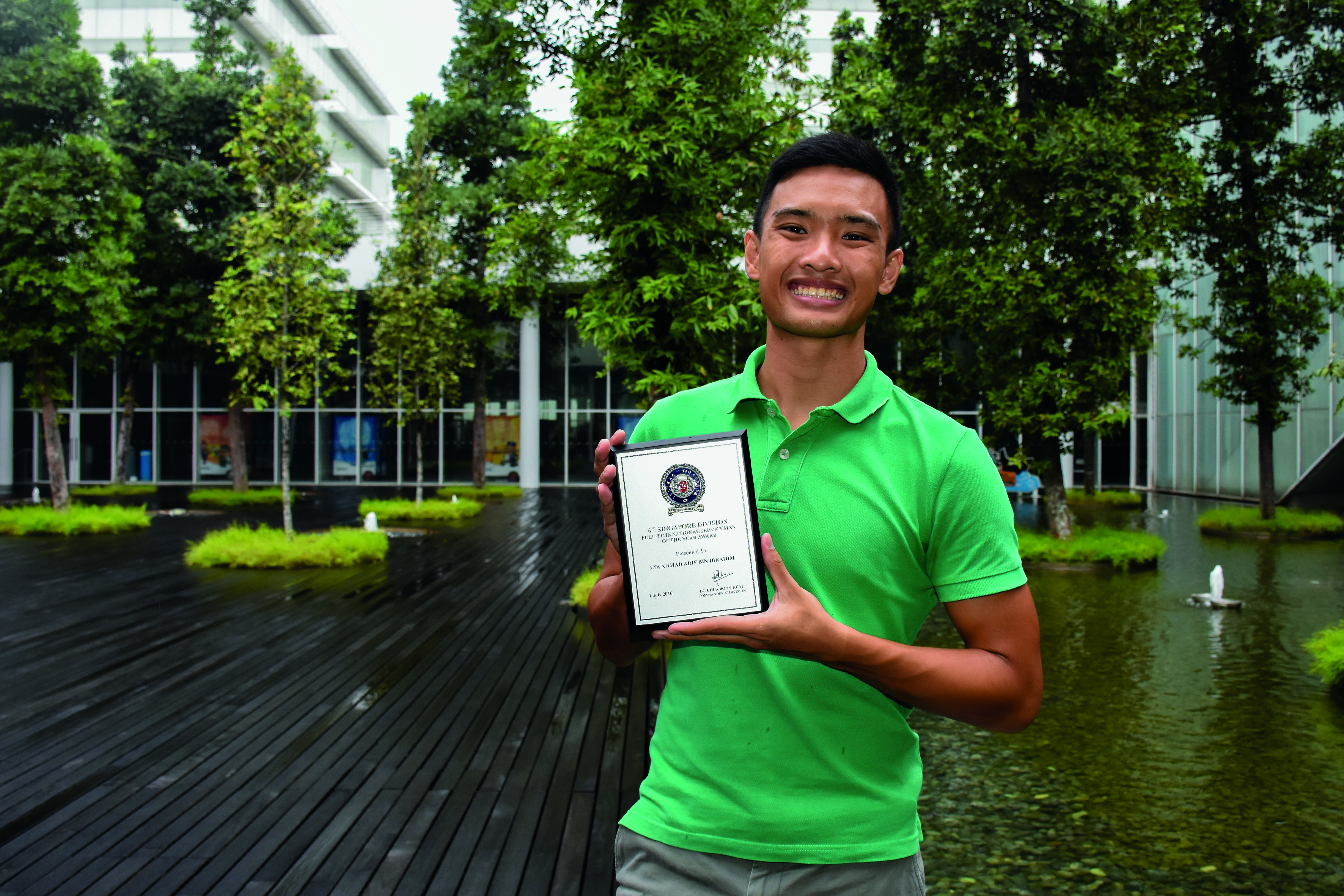 Like most Singaporean ­­­men, Ahmad Arif Ibrahim viewed National Service (NS) as an inevitable rite of passage. But the Republic Polytechnic graduate received a surprise just as he was completing his two-year journey.
Arif, 23, was given the Soldier of The Year Award by the Singapore Army in July, this year. The award is given annually to recognise full-time National Servicemen (NSF) for their contributions. The award recipients were nominated by their superiors based on their conduct and performance.
"I did not really expect any achievements in the army," said Arif, who graduated with a Diploma in Sports and Exercise Sciences in 2014.  "My idea for the army was just to go in and do my best for the nation."
When Arif enlisted, he set his sights on entering the prestigious Officer Cadet School (OCS) as he wanted to contribute more by being a leader. Arif's leadership qualities were already evident when he was in RP.
Jonathan Pang Zhi Xian, 21, who was involved in both the SHL club and Student Council with Arif, said: "He is a natural leader. He may not have the official appointment, but you can always count on him to step up and do a good job."
After emerging as the best trainee in his platoon during his Basic Military Training (BMT), Arif entered OCS. There were many times during the nine-month training that he was pushed to his limits, Arif recalled.
Despite his struggles, he would still make the effort to assist another cadet whenever he could. These would include tasks as simple as folding the army uniform to ensuring even the last man would finish his OCS training.
With the support of his family and friends, as well as his platoon mates and commander, Arif kept his morale and focus on completing the course. "It usually helps when someone is doing the same thing as you, so they can relate to you," he said. "So during all those tough times, we would just laugh with each other and carry on."
Arif's platoon commander at OCS also served as an inspiration. He would lead by example and trained alongside his trainees.
Arif believes that keeping an open-mind ­will help anyone survive NS, but also in finding his calling in service.
Arif, who is studying at the National Institute of Education, offered this piece of advice to future enlistees: "Go in with an open mind. Once you break the negative mentality, and you are willing to put your best, you can do wonders."